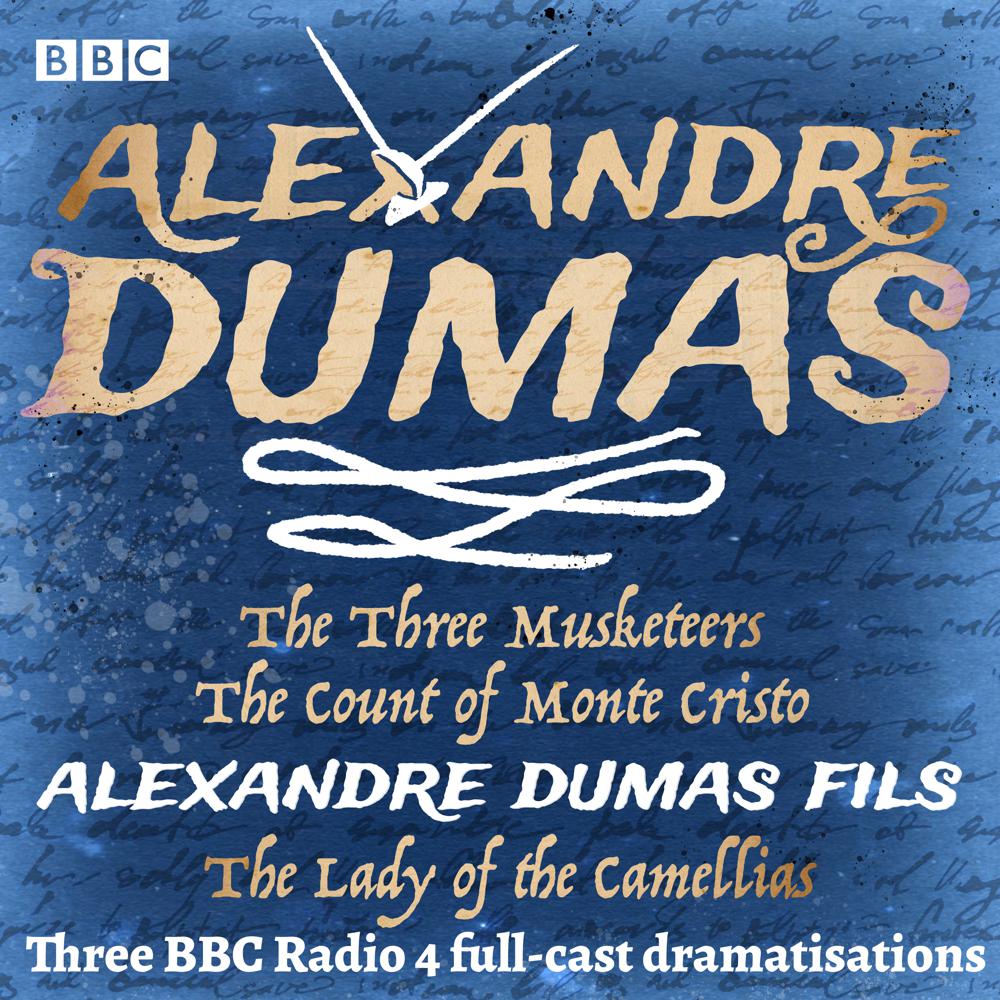 Narrated By: Anton Lesser, Dan Stevens, , Iain Glen, Jamie Glover, Jane Lapotaire, Paul Rhys, Robert Glenister, Ruth Wilson, Timothy Spall, Toby Jones
Duration: 7 hours and 42 minutes
What to expect
A BBC Radio collection bringing together much-loved works by Alexandre Dumas and Alexandre Dumas fils, starring Timothy Spall, Anton Lesser, Iain Glen, Ruth Wilson and Dan Stevens.
Alexandre Dumas père and fils are among the most popular and widely read authors in French literature, whose works have been adapted numerous times for stage, screen and radio. This BBC radio collection brings together three of their most famous tales of chivalry, heroism and romance.
The Three Musketeers
In this immortal tale of intrigue and derring-do, dashing young swordsman D'Artagnan and three members of King Louis XIII's elite royal guard – Athos, Porthos and Aramis – embark on a series of adventures full of duelling, danger, courage and camaraderie.
The Count of Monte Cristo
Marseilles, 1815. Nineteen-year-old seaman Edmond Dantès is engaged to the beautiful Mercédès and about to be promoted to Captain. But his luck runs out when three acquaintances betray him, and he is condemned to fourteen years' solitary confinement in the Chateau D'If. Escaping the notorious prison, Dantès plots his enemies' destruction. His revenge will prove devastating…
The Lady of the Camellias
Written by Alexandre Dumas fils, this poignant tale of doomed love tells the story of Marguerite Gautier, a Parisian courtesan who goes on a journey through worldliness, romance, renunciation and atonement, thanks to a passionate affair with young Armand Duval.
The Three Musketeers
Written by Alexandre Dumas
D'Artagnan – Jamie Glover
Athos – Robert Glenister
Porthos – Timothy Spall
Aramis – Anton Lesser
D'Artagnan's father – James Taylor
Jussac/Des Essarts – David Jarvis
De Treville – Malcolm Ward
King – Nicholas Boulton
Planchet – Dominic Letts
Bonacieux – Norman Bird
Musketeer/Rochefort – Michael Onslow
Narrator – John Rowe
Madame Bonacieux – Helena Breck
Duke of Buckingham – Michael Cochrane
Queen – Teresa Gallagher
Cardinal Richelieu – Julian Glover
Magistrate – John Evitts
Warder/Grimaud – Tom Bevan
Bazin – David Rowan
De Wardes – Kim Wall
Milady de Winter – Imelda Staunton
Lord de Winter – Gareth Armstrong
Felton – Lyndam Gregory
With Rachel Atkins, Nicholas Murchie, Peter Kenny, Frances Jeater and Stuart Organ
Dramatised by James Saunders
Produced and directed by Martin Jenkins
The Count of Monte Cristo
Written by Alexandre Dumas
Edmond Dantes – Iain Glen
Haydee – Jane Lapotaire
Abbe Faria – Richard Johnson
Monsieur Morrell/Operator – Robert Blythe
Danglars – Toby Jones
Fernand de Morcerf – Zubin Varla
Caderousse – Ben Crowe
Jacopo – Joe Sims
Captain Patin – Patrick Brennan
Albert de Morcerf/Antoine/Andrea Cavalcanti – Will Howard
Claude/Coachman/Bertuccio/Banker – Paul Stonehouse
Max Morrell – Adam Nagaitis
Mathilde– Liza Sadovy
Julie Morrell/Eugenie Danglars – Eleanor Crooks
Younger Haydee – Amber Rose Revah
Gerard de Villefort – Paul Rhys
Mercédès de Morcerf – Josette Simon
Heloise de Villefort – Kate Fleetwood
General Noirtier – Karl Johnson
Hermine Danglars – Stephanie Racine
Valentine de Villefort – Lizzy Watts
Madame Lascelles/Actor – Sarah Thom
Edourd de Villefort – Finn Monteath
Adapted for radio by Sebastian Baczkiewicz
Produced and directed by Jeremy Mortimer and Sasha Yevtushenko
Music by David Tobin and Jeff Meegan
The Lady of the Camellias
Written by Alexandre Dumas fils
Marguerite – Ruth Wilson
Duval – Dan Stevens
Dumas – Joseph Kloska
Marguerite's sister/Prudence/Maid – Manon Edwards
Gravedigger/Ernest/Count – Dick Bradnum
Gaston/Porter – Keiron Self
Duval Senior – Steffan Rhodri
Olympe – Lynne Seymour
Adapted by Frances Byrnes
Produced and directed by Polly Thomas
Genre
Adventure fiction, Classic fiction
Listen to a sample