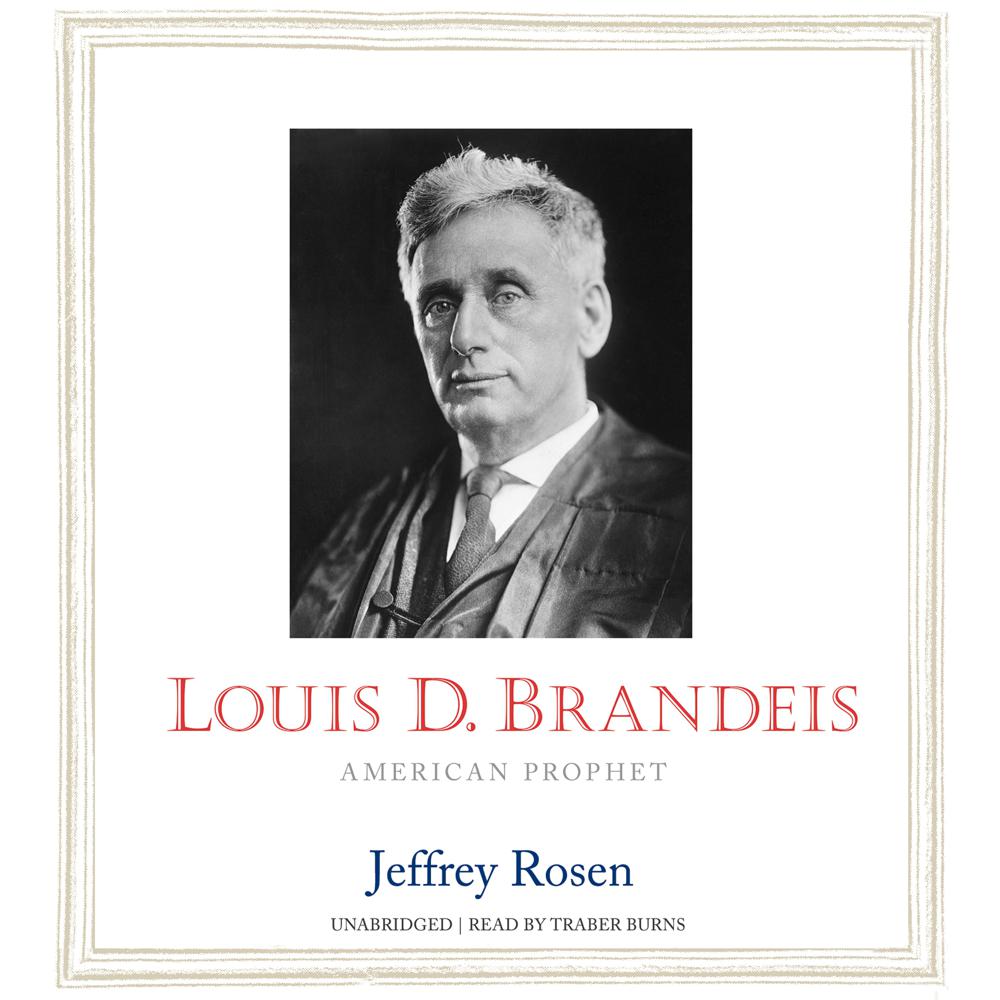 Narrated By: Traber Burns
Duration: 7 hours and 45 minutes
What to expect
A riveting new examination of the leading progressive Supreme Court justice of his era
According to Jeffrey Rosen, Louis D. Brandeis was "the Jewish Jefferson," the greatest critic of what he called "the curse of bigness" in business and government since the author of the Declaration of Independence. Published to commemorate the hundredth anniversary of his Supreme Court confirmation on June 1, 1916, Louis D. Brandeis: American Prophet argues that Brandeis was the most farseeing constitutional philosopher of the twentieth century. In addition to writing the most famous article on the right to privacy, he also wrote the most important Supreme Court opinions about free speech, freedom from government surveillance, and freedom of thought and opinion. And as the leader of the American Zionist movement, he convinced Woodrow Wilson and the British government to recognize a Jewish homeland in Palestine.
Combining narrative biography with a passionate argument for why Brandeis matters today, Rosen explores what Brandeis, the Jeffersonian prophet, can teach us about historic and contemporary questions involving the Constitution, monopoly, corporate and federal power, technology, privacy, free speech, and Zionism.
Genre
Biography: general, Legal profession: general, Biography: religious and spiritual, History of the Americas
Listen to a sample
"The brilliant, crusading Brandeis is the subject of Jeffrey Rosen's excellent Louis D. Brandeis: American Prophet. The book, part of the Yale Jewish Lives series, is…a concise and sympathetic exploration of Brandeis' main intellectual causes. It is well titled: Brandeis resembled an Old Testament prophet…with his highly articulated moral vision and true believer's zeal. It is also well timed: Mr. Rosen persuasively makes his case that recognizing Brandeis as an 'American prophet' 'seems more important today than ever.'"
"As we debate today's issues of free speech and privacy, or wrestle with the powers of big government and corporations, we should be guided by the wisdom of Brandeis. In this insightful biography, Jeffrey Rosen shows why this visionary philosopher matters today."
"An elegant and judicious look at the extraordinary jurist whose pioneering opinions on the sanctity of privacy and the dangers of bigness remain pertinent in the era of the internet and of institutions said to be too big to fail."
"Rosen's excellent Louis D. Brandeis: American Prophet…is not a full biography…but rather a concise and sympathetic exploration of Brandeis' main intellectual causes…[that] speak powerfully to our times…Today's polemics about what unfettered capitalism is doing to ordinary Americans…is terrain Brandeis covered, more deeply, with more cogent suggestions for reform."
"Eloquent, insightful, and compact…Rosen's accessible prose makes a difficult intellectual feat look easy. He provides an excellent introduction to Brandeis' ideas about government regulation and big business, free speech, technology and privacy, and Zionism."
"A compact biography that manages to cover and examine the key political, social, and judicial aspects of Brandeis' long and fruitful life…In this fast-moving and easily digestible chronicle, Rosen pays ample tribute to Brandeis' achievements, which included his judicial contributions, his political activism, and his promotion of Zionism. This is an ideal introduction to Brandeis' life for general readers."
"[This] compact yet insightful book frames Supreme Court Justice Louis Brandeis as…much more than a distinguished jurist; he was a prophet and philosopher in the Jeffersonian democratic tradition…His opinions profoundly influenced his successors, such as Justice Ruth Bader Ginsburg and Justice Elena Kagan."
"Rosen traces the justice's influence today, specifically on three contemporary Supreme Court justices: Ruth Bader Ginsburg, Elena Kagan, and Stephen Breyer. A tightly written, tightly reasoned biography aimed at readers who are not legal scholars."
"Rosen's angle on Brandeis is crisp, fresh, and incisive, with striking relevance to modern-day issues concerning (among other things) corporate power, the problems of big government, an economy at risk from huge financial institutions that are too big to fail, and the future of Israel as a democratic Jewish state."