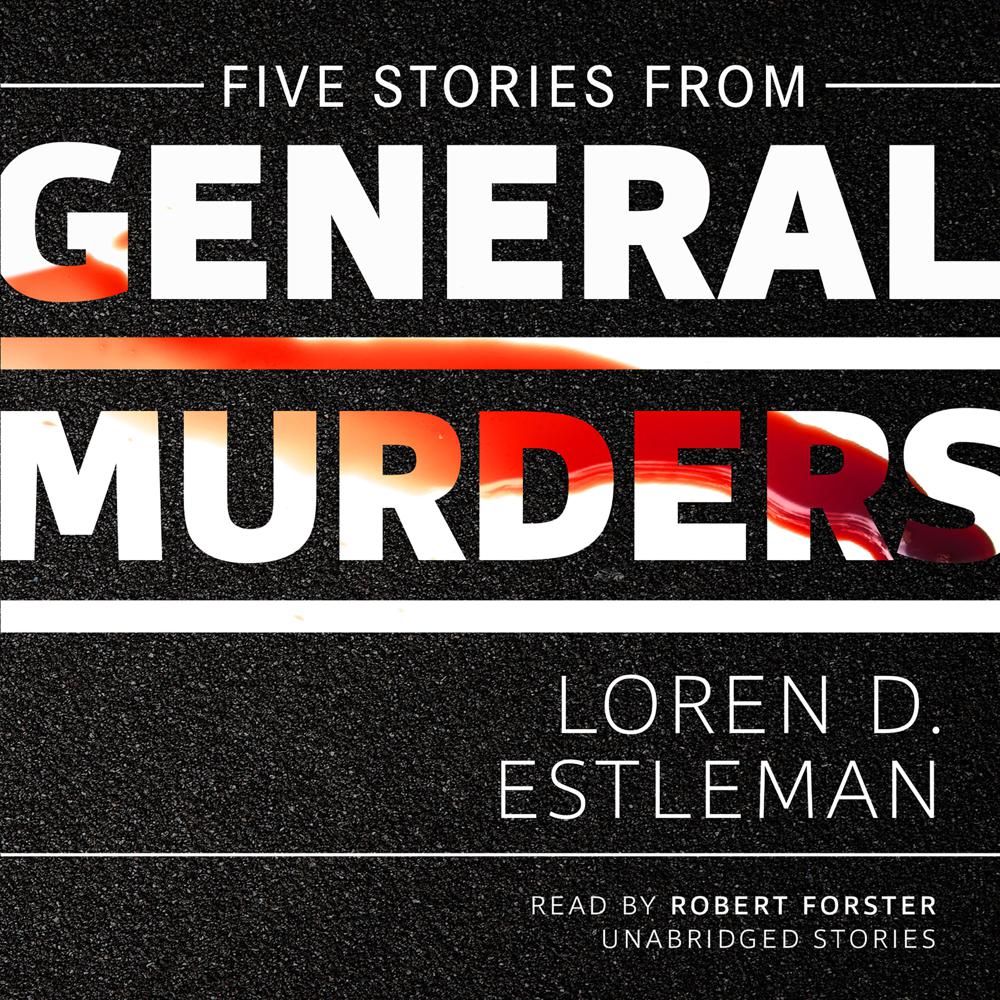 Narrated By: Robert Forster
Duration: 2 hours and 42 minutes
What to expect
With his usual knife-sharp prose in cutting form, Loren D. Estleman proves that he can carve a short story as cleanly as the full-length Amos Walker detective novels.
Detroit's favorite private investigator, Amos Walker, barrels through this collection of five short stories by Shamus Award winner, Loren D. Estleman. General Murders upholds Estleman's reputation as a master of the short story. Both card-carrying fans of Amos Walker and those who are new to the series will devour these stories as they, with Walker, expose crime in some of the most corrupt alleys and steamy streets of Detroit.
In this collection are five vintage Walker stories: "Greektown," "Robbers' Roost," "Fast Burn," "Dead Soldier," and "Eight-Mile and Dequindre."
In five stories that typify the best of the private-eye fiction genre, you will experience big-city corruption and scandal along with hard-edged, wise-cracking PI Amos Walker, whom critics place "at or near the top of the list of hard-boiled private eyes" (Publishers Weekly).
Genre
Crime and mystery: hard-boiled crime, noir fiction, Crime and mystery fiction, Crime and mystery: private investigator / amateur detectives
Listen to a sample
"Estleman's Amos Walker is at or near the top of the list of hard-boiled private eyes and…these samplings are good indicators of the pleasures in Estleman's longer works…'Greektown,' 'Eight Mile and Dequindre'…convey especially well the gritty flavor of Detroit. 'Robbers' Roost'…[is] evocative of the lurid days of Prohibition…Walker is a wonderful creation, the epitome of the handsome, hard-drinking, hard-punching tough guy with a heart. His first-person narrative style is probably what appeals most, both to moderns and to devotees of the Hammett-Chandler tradition of cracking wise…A must for private-eye buffs."
"Robert Forster's low, gravelly voice is the perfect accompaniment for Estleman's five hard-boiled detective stories…Forster is particularly good in his portrayal of the wise-cracking, streetwise detective. He also moves easily from one character to another and quickly engages listeners in his smooth performance. Forster's flat, gritty style perfectly suits the plots of these quick-paced, ruthless, and utterly entrancing stories…This well-performed presentation will please Estleman fans as well as those who simply enjoy murder mysteries."
"These stories offer no gimmicks, no new perspective on the PI's world…but only sterling impressions cast right from the classic mold…The characters glimmer photo-sharp, and…it's the shamus' jaunty yet knowing worldview, filtered through Estleman's patina prose, that richly satisfies. Few writing in the PI field can turn a phrase as well as Estleman…Familiar mean streets, then, but today no one walks down them with more affection and spirit than Estleman."