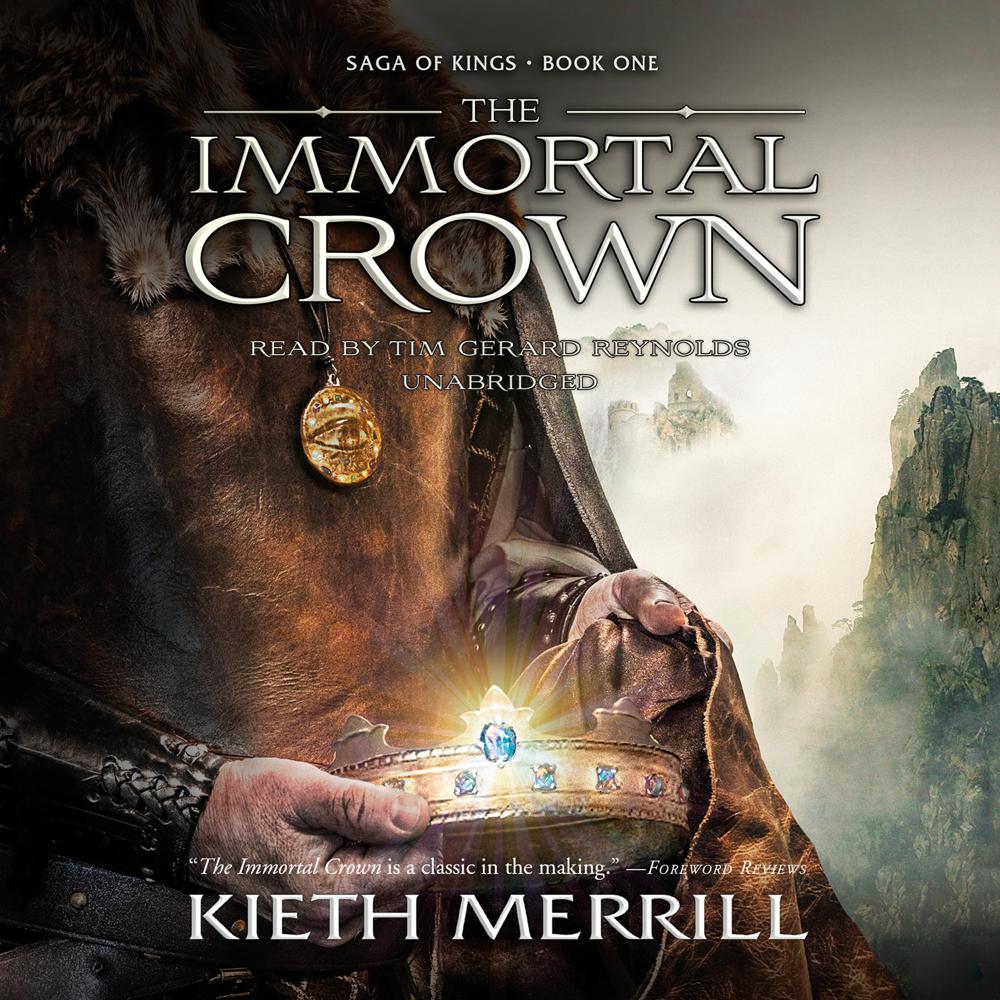 Narrated By: Tim Gerard Reynolds
Duration: 20 hours and 43 minutes
What to expect
From the acclaimed director and producer Kieth Merrill comes an epic, high fantasy saga and the quest to fulfill the prophecy.
A thousand years ago, the Navigator crossed the great deep in ships lit with sixteen stones touched by Oum'ilah, the God of Gods. Over time the stones were scattered and a prophecy arose declaring that a "child of no man" would gather them again, obtain immortality, and reign forever as god and king of Kandelarr.
Two religious groups have sprung up around the prophecy, each with their own champion: the sorceress of the cult of she-dragon has chosen Drakkor, a warrior and mercenary. After surviving a series of rigorous tests to prove his worth, he is given one of the stones and begins his quest to fulfill the prophecy. He swears to return all sixteen stones to the sorceress, but the truth is he will let nothing stop him from claiming immortality for himself.
The Oracle of Oum'ilah has placed his faith in Ashar, a young postulant studying the Way of the Navigator on the Mountain of God. But when Ashar discovers he is a direct descendant of the Navigator himself, the Oracle reveals that it is his destiny to fulfill the prophecy and reunite the sixteen stones for good. But he must hurry before Drakkor claims the stones and corrupts them.
Meanwhile, miles away, a slave named Ereon Qhuin dreams of freedom. Abandoned at birth, his only possession is a strange stone that his mentor, the blacksmith Rusthammer, promises is the key to Qhuin's destiny and freedom.
A mercenary, a postulant, and a slave—which one is truly the child of prophecy?
Genre
Epic fantasy / heroic fantasy, Historical fantasy, Generational sagas, Fiction: general and literary
Listen to a sample
"Reynolds has a seemingly limitless store of voices to draw from…His pace is quick and flows with the action to provide a strong sense of narrative drive that includes scenes of intense action and suspense."
"An addicting fall into the precarious times of the age of Kandelarr…The Immortal Crown is a classic in the making."
"Legend has it that there exist sixteen stones, each touched by Oum'ilah, the God of Gods, and scattered throughout the land. Each stone is imbued with certain powers, and whoever unites all sixteen will be granted immortality…An enjoyable read."