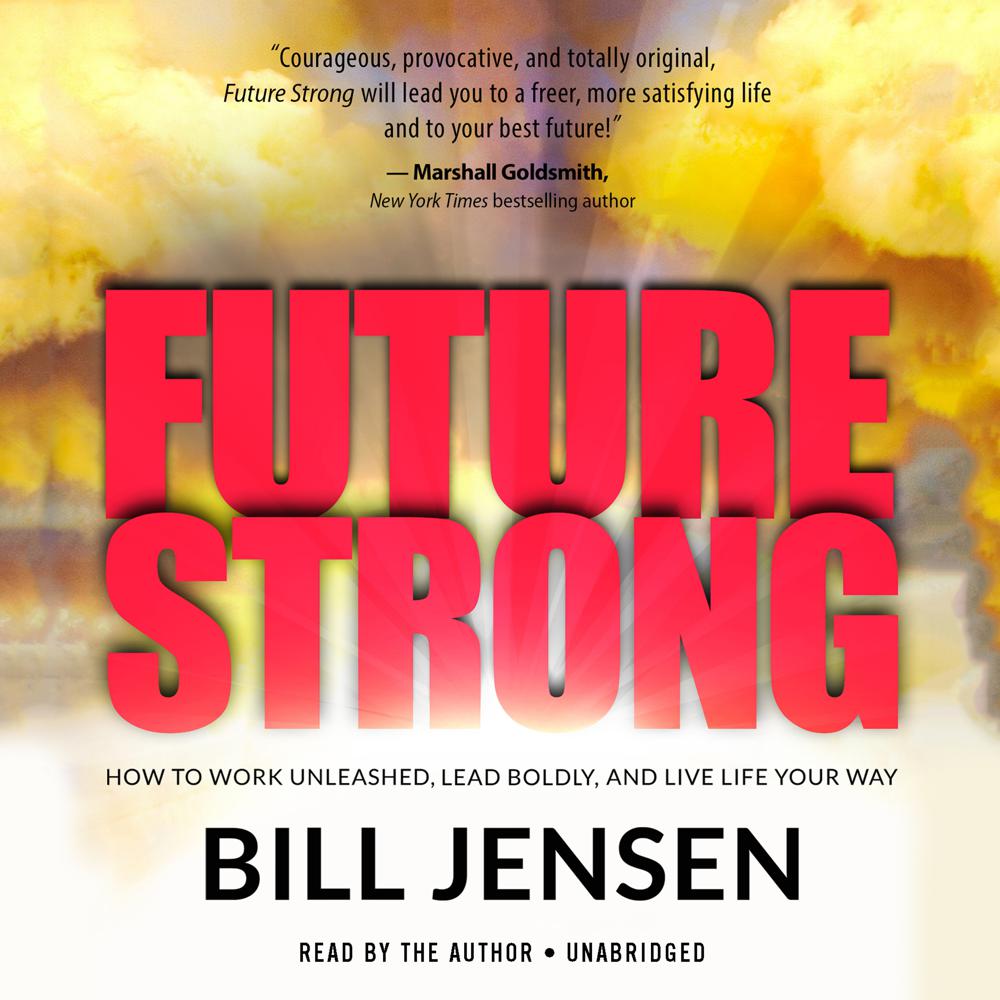 Narrated By: Bill Jensen
Duration: 6 hours and 5 minutes
What to expect
In his powerful new book, internationally acclaimed change agent and simplifier Bill Jensen maps your future and the future of work as no one else could.
What are your toughest choices as you lead yourself and others into the future? Jensen has spent years studying that one question, and Future Strong answers it fully, simply, powerfully.
Despite all the hyperventilating and shiny-object syndrome, technology and massive disruptions do not determine your future. Your future reveals itself only after you have made deeply personal choices about how you will embrace those changes.
Jensen here reveals the five personal choices that determine your relationship with the future, choices relating to:
Inner truths,Soul on fire,Humble self,Sacrifice, andReliance.
Working through each choice is crucial. Because most of today's approaches are not future strong, they are future shackled. You can and must change that. Now.
Future Strong is the road map leaders and individuals need to create strong futures for their themselves and their teams. Each choice is narrated by leaders sharing their extremely compelling stories, followed by practical and easy-to-use how-tos.
Jensen's goal for every listener is to know, feel, and be able to declare #IAmFutureStrong. What an amazing future awaits you! Limitless possibilities, yours to shape. If you so choose. Because your choices are where your future begins.
Genre
Management decision making, Education, Decision theory: general, Educational strategies and policy
Listen to a sample
"Courageous, provocative, and totally original, Future Strong will lead you to a freer, more satisfying life and to your best future."
"Future Strong exemplifies truly human leadership—where everyone can discover, develop, and share all their potential. The greatest joy leaders will experience in the journey that Bill Jensen has laid out is the lives you inspire by deeply caring for people. I know. That's the joy I experience every day."
"Bill Jensen is on point in taking today's corporate environments to task—far too many are holding back human capacity. He then details the twenty-first-century solutions we need: surrendering rigidity, adaptive thinking, social intelligence, virtual collaboration, connected by courageous leaders. Run, don't walk, to read Future Strong!"
"Bill Jensen has done it again! Every chapter of Future Strong gave me multiple Aha moments. So many that I felt electrocuted over and over—to the point where I realized many of our strategies needed to be rethought within the context he has brilliantly laid out. A practical primer on the future of all workplaces."