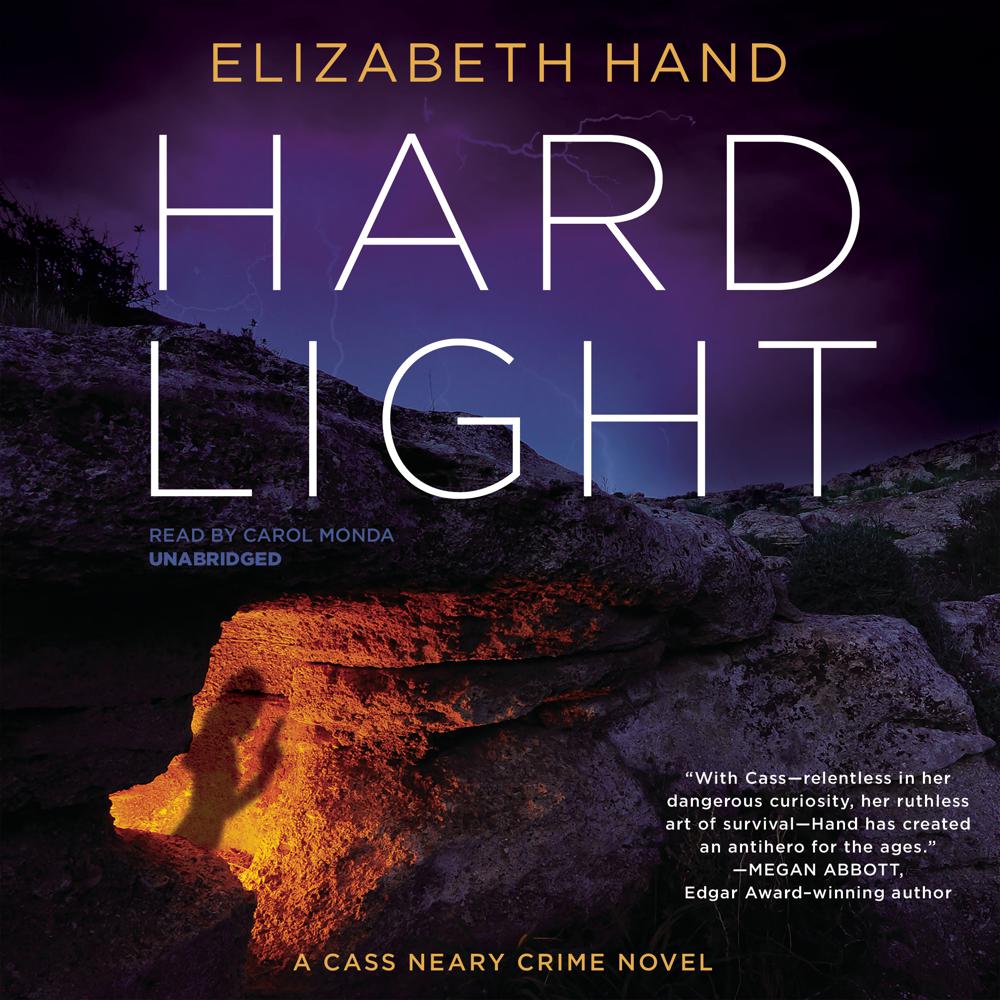 Narrated By: Carol Monda
Duration: 10 hours
What to expect
As her passionately devoted fans know, Elizabeth Hand is a uniquely gifted storyteller. Readers were introduced to her iconoclastic crime novels, featuring offbeat photographer Cass Neary, in the underground classic Generation Loss, which was followed by the brilliant Available Dark.
In Hard Light, the third book in the series, Cass makes a remarkable discovery that could change our understanding of human history—if she lives long enough to share it.
As the story opens, Cass arrives in London where she's arranged to meet her long-lost lover, Quinn O'Boyle. When Quinn fails to show at their rendezvous point, Cass meets the eccentric couple Mallo and Morven Dunfries. When Mallo catches Cass rifling his medicine cabinet in search of drugs, he threatens to turn her in to the authorities, then puts her to work as a runner for his illegal goods.
Cass makes a delivery to Poppy Teasel, a famous singer from long ago. Cass leaves Poppy's flat but returns a short time later to find the place ransacked and Poppy dead. Fearful she'll become the next victim, Cass goes on the run.
Genre
Thriller / suspense fiction, Crime and mystery fiction, Crime and mystery: women sleuths, Religious and spiritual fiction, Fiction: general and literary
Listen to a sample
"In Hard Light, Hand has created another fascinating puzzle—and another instant classic."
"There's intelligence and style [and] Cass' voice, as deep as a dungeon and as dark as a grave, is addictive."
"Part of [this novel's] power derives from the sheer exuberant strangeness of Hand's storytelling…The spooky finale of Hard Light leads readers deep into a macabre murder scene—courtesy of Edgar Allan Poe—that holds clues to the beginning of the art of photography itself. It's a bravura ending that both lays some questions to rest and exhumes even more."
"The imagery is dark and intense, pushing readers to the edge of their comfort level, and it's not for the faint of heart. Despite Cass' drug and alcohol addictions, she has a brilliant mind, and her immense knowledge of art history catches readers by surprise…Fans will be longing for the next installment of this dangerous and warped story."
"This great adventure story starring a troubled but intriguing protagonist will please Cass fans, those who like their kick-ass heroines north of 22, and readers who fancy a walk on the wild side."
"Cass conveys an expert's knowledge of the 1970s East Village punk scene, Iron Age rituals, Paleolithic icons, and the intricacies of photography and film noir…Gripping."
"[A] gripping urban suspense novel…One of the strengths of Hand's mystery is her incredible rendering of the dark side of London…The other great strength is Cass herself…[who] still maintains a sense of compassion that elevates the mystery and increases its resonance."
"Elizabeth Hand writes like an angel, and Carol Monda has a beautiful cello-like voice, used with impressive skill here…Monda's supple performance finds the emotional truth in every scene and makes you feel it.
"Hard Light is noir at it's very best…This novel will haunt your dreams."
"An addictive novel that brings the sordid glories of the seventies' arts scene into the hard light of today."
"Like the chilling female characters of Tana French or Gillian Flynn, Elizabeth Hand's smart Cassandra Neary will freeze your blood and set your imagination ablaze. I dare you to close your eyes on Hard Light. "