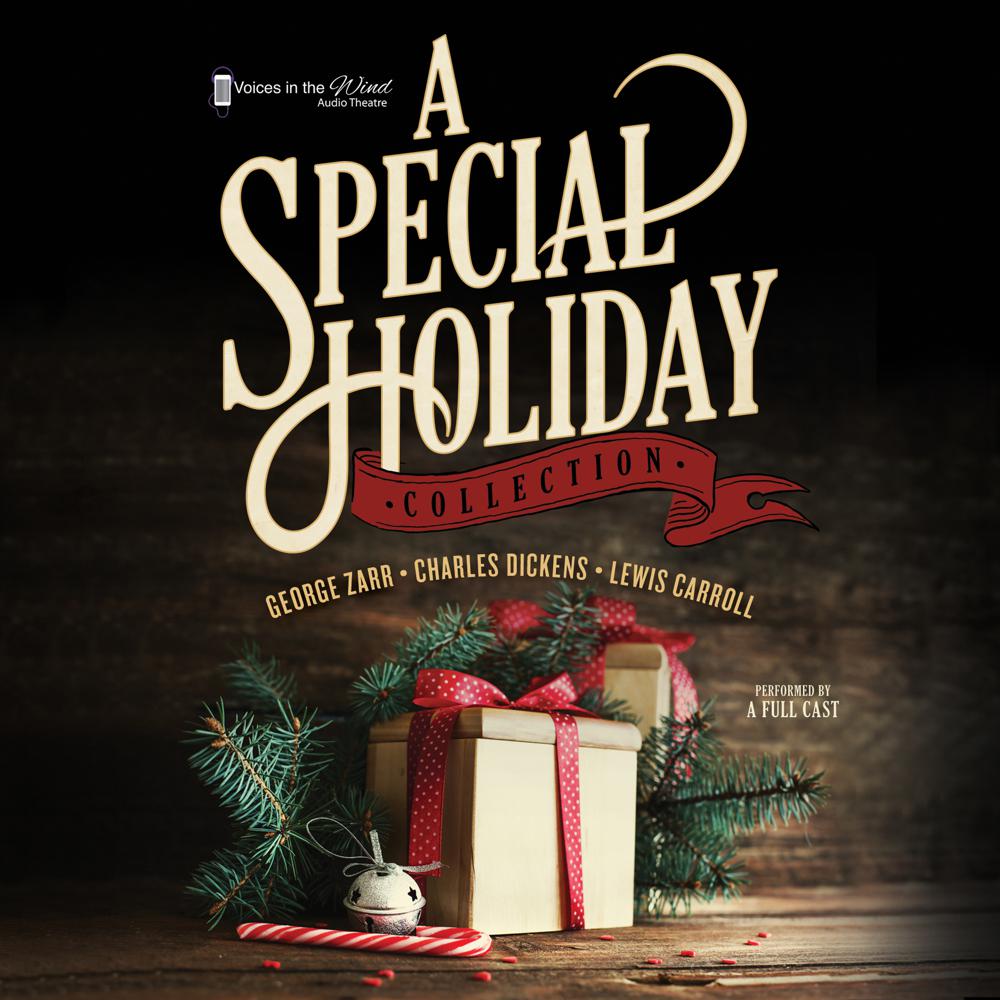 Narrated By: a full cast
Duration: 3 hours and 2 minutes
What to expect
This is the perfect stocking stuffer for the audiobook lovers on your list. This special holiday collection features three entertaining and delightful stories for the entire family to enjoy.
The Spirit of Christmas Day (The First Noelle Productions) by George Zarr is an uplifting and humorous story filled with an inspirational message of hope. John, a stressed-out working father, embarks on a journey of reconnection with the true meaning of today's Christmas. This is a new holiday tradition featuring a full cast of characters, music, and sound effects. Also includes The Week After It's Christmas Day.
A Christmas Carol by Charles Dickens tells the classic tale of a miserly man who comes to realize the true spirit of Christmas. This recording features virtuoso performances from the entire cast, riveting sound effects, and original music.
Alice in Wonderland by Lewis Carroll comes to life again in this dramatized version of the timeless classic, with stellar performances by Georgia Lee Schultz as Alice, and multi-award-winning Barbara Rosenblat as the Mouse, Duchess, Cheshire Cat, and the Queen. This version features a full cast of characters, music, and sound effects.
Credits:
The Spirit of Christmas Day / The Week After It's Christmas Day
FEATURING KEITH BURNETT AS THE DAD
Cast: Denise Benoit, Sarah Buchanan, Keith Burnett, Bill Craven, Georgia Craven, Sam Craven, Will Craven, Celeste Dupuis, Noelle Dupuis, Emma McDonald, Georgia Lee Schultz, and Laura Van Veen
Written, directed, and music composed by George Zarr
Executive producer: Noelle Dupuis
Recording engineer: David Farquhar
A Christmas Carol
FEATURING MICHAEL DICK AS EBENEZER SCROOGE
MICHAEL DICK: Ebenezer Scrooge BOB TELFER: Narrator, Fezziwig and Businessman BILL TYE: Marley's Ghost and Businessman NORM MCLEOD: First Spirit JAN HOLT: Second Spirit, Charwomen and Party Guest OLIVER GEORGIOU: Young Scrooge and Nephew Fred NOELLE DUPUIS: Mrs. Cratchit KEITH BURNETT: Bob Cratchit and Old Joe ALEX TOMASZEWSKI: Charity Seeker Poole and Peter Cratchit LAURA VAN VEEN: Martha, Belle and Third Spirit ALEXANDRAPOOLE: Kate PAT GOUGH: Mrs. Dilber HOPE O'BRIEN: Fan and Party Guest SHANESSA HARRIS: Peggy, Buck and Street Kid BURKE BECHARD: Belinda and Boy Caroler CELESTE DUPUIS: Tiny Tim DAVID FARQUHAR: Party Guest GEORGE ZARR: Businessman
Directed by George Zarr and Noelle Dupuis
Executive Producer/Recording Engineer/Post Production: David Farquhar
Recording/Mastering: Brett Sansom
Alice in Wonderland
FEATURING GEORGIA LEE SCHULTZ AS ALICE
AND
BARBARA ROSENBLAT AS THE MOUSE, DUCHESS, CHESHIRE CAT, AND THE QUEEN
Along with
ALEXANDRA POOLE: Sister, MICHAEL DICK: Rabbit and March Hare, BOB TELFER: Dodo, Pat, Fish and Mad Hatter, BRADY VAN VAERENBERGH: Parrot and Caterpillar, ALAINA WALKER: Duck and Two, BILL TYE: Bill, Mock Turtle and Five, KEITH BURNETT: Dormouse, NORM MCLEOD: Seven, DAVID FARQUHAR: Knave, GREG SHEEN: King
Adapted for Audio by Diane Vanden Hoven
Codirected by Pat Gough and Laura Van Veen
Executive producer: David Farquhar
Recording engineer/sound design/mixing: David Farquhar
'My Garden Back Home' music and lyrics by George Zarr, performed by Georgia Lee Schultz, used by permission
Genre
Fiction: general and literary, Classic fiction
Listen to a sample