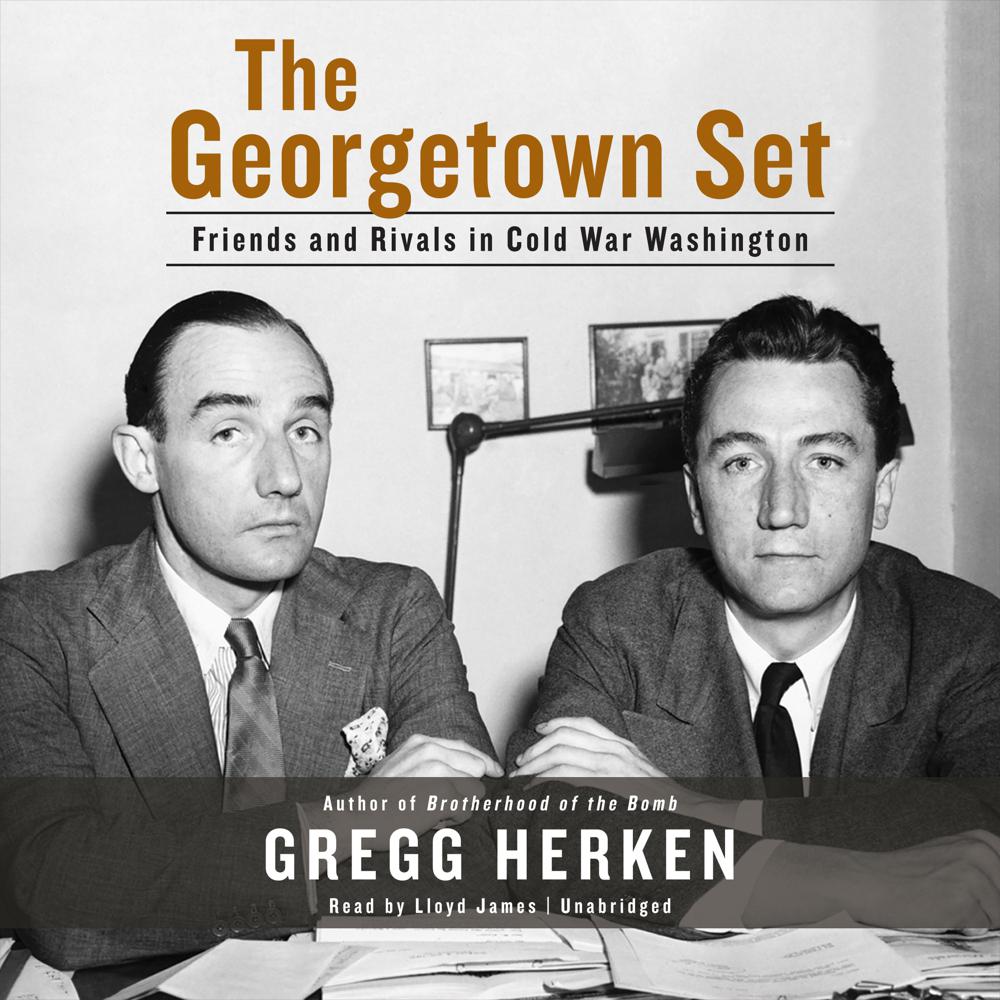 Narrated By: Lloyd James
Duration: 17 hours and 2 minutes
What to expect
This fascinating, behind-the-scenes history of postwar Washington is a rich and colorful portrait of the close-knit group of journalists, spies, and government officials who waged the Cold War over cocktails and dinner.
In the years after World War II, Georgetown's leafy streets were home to an unlikely group of cold warriors: a coterie of affluent, well-educated, and well-connected civilians who helped steer American strategy from the Marshall Plan through McCarthyism, Vietnam, and the endgame of Watergate. This Georgetown set included Phil and Kay Graham, husband-and-wife publishers of the Washington Post; Joe and Stewart Alsop, odd-couple brothers who were among the country's premier political pundits; Frank Wisner, a driven, manic-depressive lawyer in charge of CIA covert operations; and a host of diplomats, spies, and scholars. It was a time when presidents made foreign policy in consultation with reporters and professors—often over martinis and hors d'oeuvres—and columnists like the Alsops promoted those policies in the next day's newspapers.
Gregg Herken illuminates the drama of these years and brings this remarkable roster of men and women and their world not only out into the open but vividly to life.
Genre
History of the Americas, Social and cultural history, Military history, History of the Americas, Local history
Listen to a sample
"The past really is another country. Gregg Herken's intriguing volume is a passport that enables us to visit the vanished country of Georgetown during the Cold War. There the braided political and social networks of a small cohort made, and reported, history."
"Gregg Herken has diligently brought the old Eastern Establishment back to life in The Georgetown Set. A whole host of luminaries—Joseph Alsop, Dean Acheson, Paul Nitze, Phil and Kay Graham among them—make grand appearances in this group biography. Herken has connected the dots between these so-called 'Wise Men of the twentieth century' better than anybody else. An absolutely wonderful read!"
"Cold War America was largely shaped by a close-knit group of individuals known as the 'WASP ascendancy': well-off, well-educated journalists, politicians, and socialites who lived in Washington, DC's Georgetown neighborhood…Herken covers, among a host of post-WWII milestones, the Marshall Plan, the Truman Doctrine, the founding of the CIA, McCarthyism, the Korean War, Vietnam, and Watergate. The skill with which he describes the players in Georgetown is not to be missed."
"Herken offers a fascinating, faintly nostalgic inside look at Washington's Cold War–era elites who defined America's foreign policy while hosting exclusive cocktail parties in upscale Georgetown…Dense and scholarly with over eleven hundred endnotes, this work will delight committed lay readers and scholars interested in political and diplomatic history, biography, and old-fashioned high society scandal."
"A meticulous Cold War historian, Herken here dissects the social and political interconnections of prominent spies, diplomats, and journalists of Cold War Washington…Combining the social gatherings of the Georgetown elite—the Eastern Establishment in concentrated form—and the serious matters it impacted, such as CIA operations, the arms race, and Vietnam, Herken provides an intimate perspective on Washington salons of power. A solid, readable addition to Cold War scholarship."
"Herken takes a rather clever idea promising titillating gossip among neighbors Joseph Alsop, Phil Graham, and John F. Kennedy during the 1950s and '60s and amplifies it into a spiraling delineation of the official American response to the perceived Soviet threat…An intricate study of the personalities that shaped US Cold War policy."
"An absolutely fascinating look into a world that has long remained half hidden but was at the center of America's postwar global supremacy. This book was waiting to be written, and Gregg Herken delivers with insight and panache."