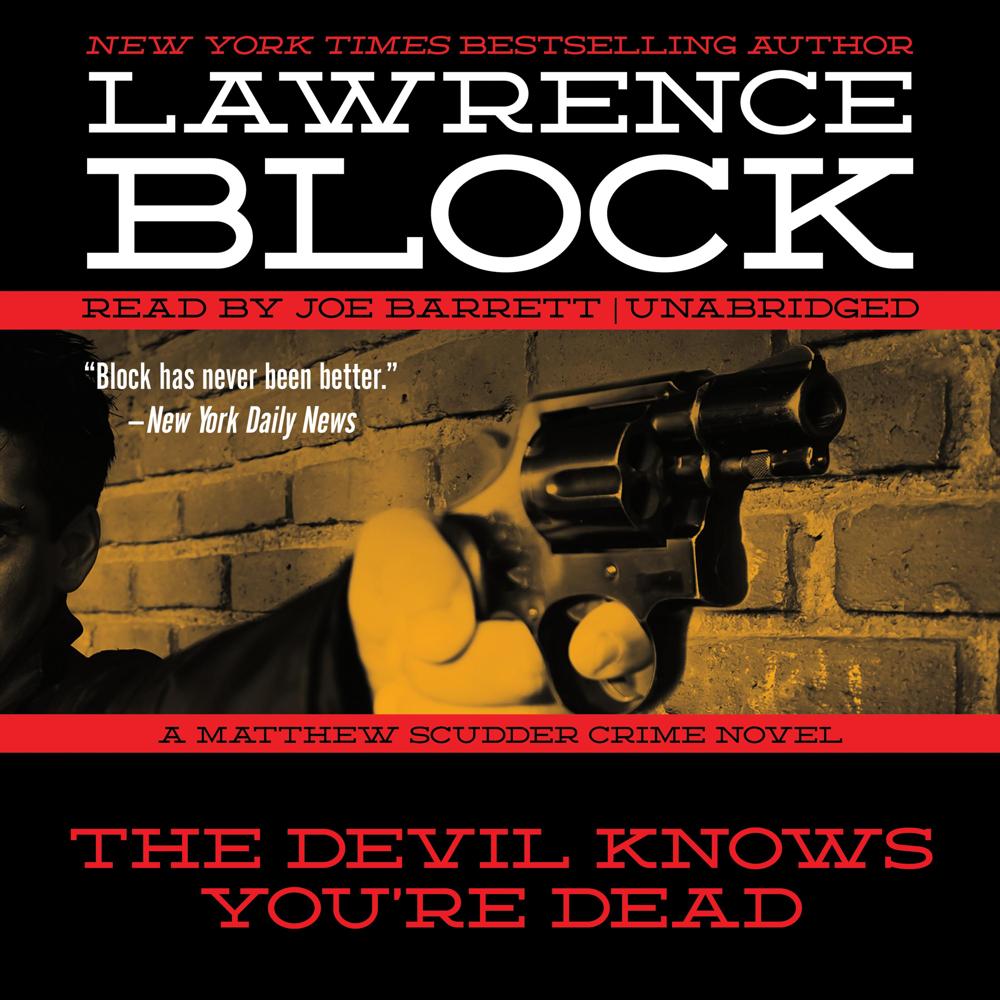 Narrated By: Joe Barrett
Duration: 8 hours and 44 minutes
What to expect
In New York City, there is little sense and no rules, and those who fly the highest often come crashing down the hardest.
A deranged, derelict, crazed Vietnam vet has been arrested for gunning down successful young lawyer Glenn Holtzmann at a corner phone booth on Eleventh Avenue—and the suspect's brother wants unlicensed private investigator Matthew Scudder to prove the madman innocent. But Scudder's curiosity and dedication are leading him to dark, unexplored places in his own heart … and to passions and secrets that could destroy everything he loves.
In this unmerciful metropolis, no one is truly innocent—including Matthew Scudder.
Genre
Crime and mystery: hard-boiled crime, noir fiction, Crime and mystery fiction, Crime and mystery: private investigator / amateur detectives, Crime and mystery fiction, Thriller / suspense fiction
Listen to a sample
"Lawrence Block is a master…The Matthew Scudder novels are among the finest detective books penned in this century."
"For clean, close-to-the-bone prose, the line goes from Dashiell Hammett to James M. Cain to Lawrence Block. He's that good."
"It takes the steady hand of a cool pro like Lawrence Block to monitor the erratic pulse beat of New York City without faking it…Mr. Block has the offhand grace to make it look easy, with his sharply focused vignettes of the human transactions that go down in the city and with his quick life studies of the transvestite hookers, teen-age hustlers, and insulated professionals who share this hard turf and call it home."
"Dark, moody, and intelligent…a thriller for thinkers…Few authors can create the textural terrain of a Block…Readers, go get his book. He deserves your purchase, you deserve his gifts."
"Block has never been better."
"Highly successful and eminently readable…Block's moody page-turners depict a world that is all warts…The Devil Knows You're Dead shows Scudder's continuing appeal."
"No one familiar with contemporary American crime fiction can be unaware of Lawrence Block and Matthew Scudder, his great addition to the PI pantheon. The Devil Knows You're Dead is more of the same good thing."
"A grim and gritty New York City is as much a character as the victim and the murderer in this excellent example of the detective noir…Block plays fair with the reader, taking him along each step with patience and intelligence. He draws a dramatic picture of New York, of the denizens of the underside of the city, and of a man who is trying to make his own life make sense in a senseless universe."
"When Lawrence Block is in his Matt Scudder mode, crime fiction can sidle up so close to literature that often there's no degree of difference."
"Lawrence Block's novels are as good as the crime thriller gets."
"Block is better than almost anyone."
"Wry dialogue, appealing characters, and convincing New York atmosphere…Block writes terrific stories…It's always a kick to watch Scudder work."
"An intriguing mystery…as fresh and compelling a read as the first in the series…In plot and character, this is a thriller written by a master."
"It is wonderful to know that Lawrence Block—with his street smarts, his innate system of right and wrong, and his quirky vision of who we all are—knocks the ball out of the park each time he's at bat."
"Mysteries of the heart eclipse those of the street in Matt Scudder's quietly compelling new case…loyalists…will hang on every word as Scudder makes his fascinatingly uncertain way through an increasingly uncertain world."