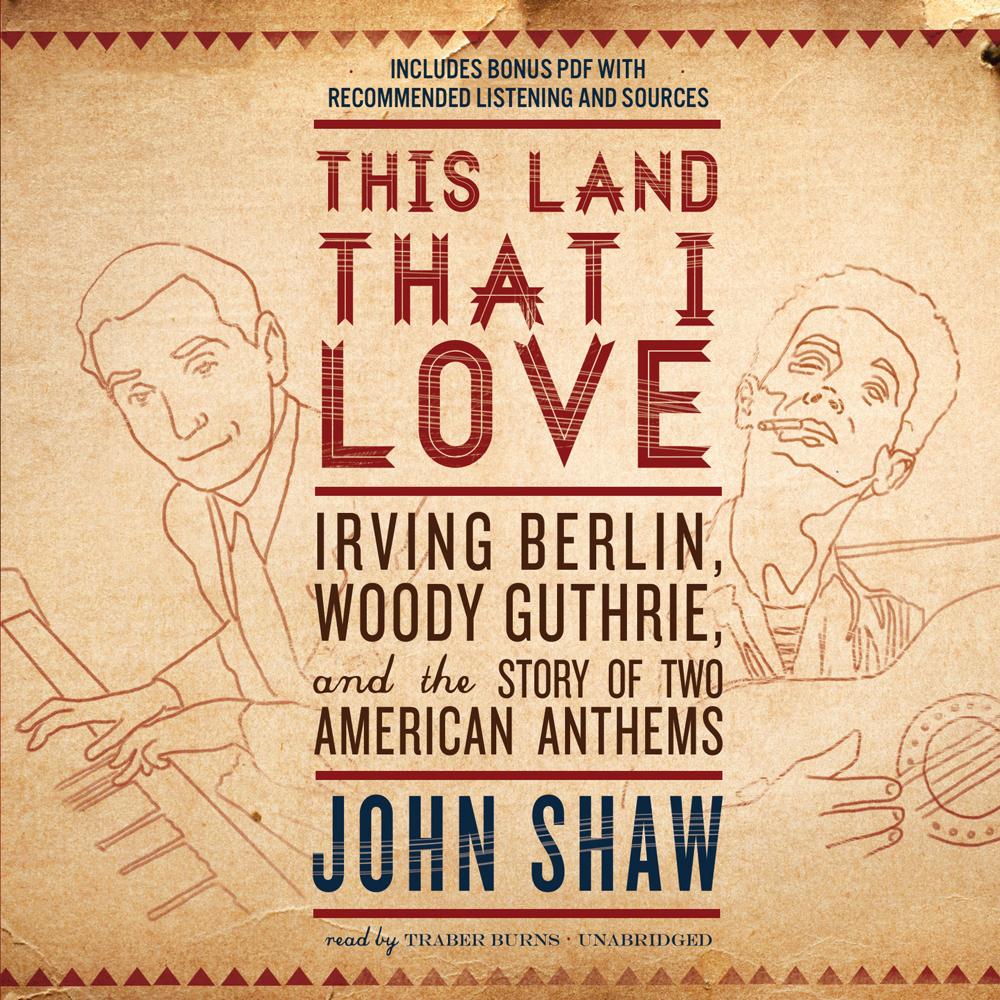 Narrated By: Traber Burns
Duration: 7 hours and 20 minutes
What to expect
A narrative history of the writing of "This Land Is Your Land" and "God Bless America" that uncovers the conflicts and common ground between two classic patriotic songs
February, 1940. After a decade of worldwide depression, World War II had begun in Europe and Asia. With Germany on the march and Japan at war with China, the global crisis was in a crescendo. America's top songwriter, Irving Berlin, had captured the nation's mood a little more than a year before with his patriotic hymn "God Bless America."
Woody Guthrie was having none of it. Near-starving and penniless, he was traveling from Texas to New York to make a new start. As he eked his way across the country by bus and by thumb, he couldn't avoid Berlin's song. Some people say that it was when he was freezing by the side of the road in a Pennsylvania snowstorm that he conceived of a rebuttal. It would encompass the dark realities of the Dust Bowl and Great Depression, and it would begin with the lines "This land is your land, this land is my land."
In This Land That I Love, John Shaw writes the dual biography of these beloved American songs. Examining the lives of their authors, he finds that Guthrie and Berlin had more in common than either could have guessed. Though Guthrie's image was defined by train-hopping, Irving Berlin had also risen from homelessness, having worked his way up from the streets of New York.
At the same time, This Land That I Love sheds new light on our patriotic musical heritage, from "Yankee Doodle" and "The Star-Spangled Banner" to Martin Luther King's recitation from "My Country 'Tis of Thee" on the steps of the Lincoln Memorial in August 1963. Delving into the deeper history of war songs, minstrelsy, ragtime, country music, folk music, and African American spirituals, Shaw unearths a rich vein of half-forgotten musical traditions. With the aid of archival research, he uncovers new details about the songs, including a never-before-printed verse for "This Land Is Your Land." The result is a fascinating narrative that refracts and reenvisions America's tumultuous history through the prism of two unforgettable anthems.
Genre
Biography: arts and entertainment, History of the Americas, Traditional and folk music, History of music, Music reviews and criticism
Listen to a sample
"John Shaw, who has written about music for various publications, attacks his subject with the enthusiasm of a fan and the dedication of a scholar…Shaw has much to say about the lives and careers of Berlin and Guthrie and about the musical traditions from which they emerged. (He is particularly insightful about Guthrie's debt to the country-music pioneers the Carter Family)…When he sticks to his subject—as when he examines the distinctly American strain of mysticism at the heart of both "God Bless America" and "This Land Is Your Land"—Shaw can be entertaining and informative."
"Engaging…Shaw wields an impressive grasp of American musical history."
"The juxtaposition of two of America's most enduring national anthems. The beginning of this provocative history of Woody Guthrie's persistent folk song and elementary school staple "This Land is Your Land" and Irving Berlin's overly sentimental "God Bless America" is a visceral scene."
"[Shaw] is particularly good at nailing down the melodic ancestors for these great American anthems and for tracing the various revisions Berlin and Guthrie made to their songs along the way…This Land That I Love traverses, in a relatively small number of pages, the whole canvas of America."
"[Shaw] effectively connects ['This Land Is Your Land'] to earlier anthems…Ultimately, This Land That I Love is about more than two songs or the two men who created them."
"In telling the stories of those unofficial US national anthems…Shaw tells those of most of their predecessors, too, including the official one, 'The Star-Spangled Banner'…The recommended listening essay is full of fascination.
"Shaw…traces the similarities between Berlin's and Guthrie's upbringings, comparing some of the forces that may have led each writer to what would eventually become his most recognizable song."
"Within a frame of the deepest familiarity, John Shaw rescues forgotten stories and excavates stories never told before. The book is generous, open, questing, and blazingly incisive: with a sentence, maybe two or three, he gets to the heart of such unsolved mysteries as blackface, the concept of folk, or the loop of celebrity and history in modern life."
"John Shaw analyzes the songs 'God Bless America' and 'This Land Is Your Land' and the men who wrote them, Irving Berlin and Woody Guthrie. Occasionally, Traber Burns' reading of the lyrics of these familiar songs sounds a little bit odd; they should be sung, after all. There's also some discomforting dialect, since Berlin used racial and ethnic themes in songs earlier in his career. Still, this is an engaging reading, with particularly good voice work on historical figures like Teddy Roosevelt. It brings listeners into the world that Berlin and Guthrie worked in. With the additional examination of the earlier 'Yankee Doodle,' listeners get a good look at the American psyche through music."