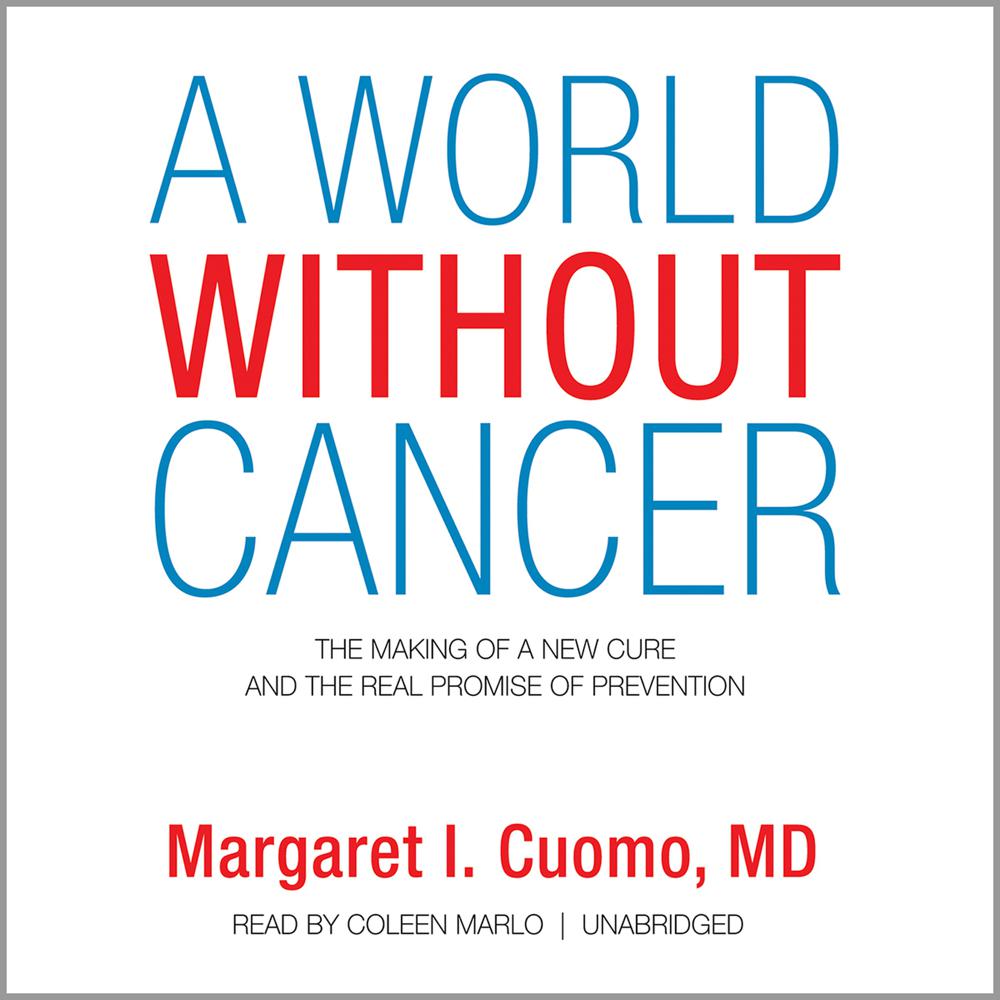 Narrated By: Coleen Marlo
Duration: 7 hours and 33 minutes
What to expect
A provocative and surprising investigation into the ways that profit, personalities, and politics obstruct real progress in the war on cancer—and one doctor's passionate call to action
As a diagnostic radiologist who has watched patients, friends, and family suffer with and die from cancer—and who was deeply affected by the enraged husband of one particular patient—Dr. Margaret I. Cuomo has been inspired to seek out new strategies for waging a smarter war on cancer.
About 1.6 million new cases of cancer are diagnosed a year, and more than 1,500 people die each day. We've been asked to accept the disappointing strategy to "manage cancer as a chronic disease." We've allowed pharmaceutical companies to position as breakthroughs cancer drugs that extend life by mere weeks and may cost $100,000 for a single course of treatment. Where is the bold leadership that will transform our system from treatment to prevention? Have we forgotten the mission of the National Cancer Act of 1971 to "conquer cancer"?
Through an analysis of more than forty years of medical evidence and interviews with the top cancer researchers, drug company executives, and health policy advisers, Dr. Cuomo reveals the intriguing answers to these questions. She shows us how all cancer stakeholders—the pharmaceutical industry, the government, physicians, and concerned citizens—can change the way we view and fight cancer in this country.
Genre
Coping with cancer, Popular medicine and health, Coping with illness and specific health conditions, Medicine: general issues
Listen to a sample
"A grippingly insightful game plan to eradicate cancer…We need to hear and heed Dr. Cuomo's advice."
"Two things that I have learned since beginning my nutrition journey are, first, a healthy lifestyle that is good for your heart is also good for all your organs and also helps prevent many forms of cancer. Second, if we do not become more aggressive with prevention strategies, then whatever healthcare system we adopt will be overwhelmed by chronic disease including cancer. That is why I strongly support Dr. Cuomo's timely and very important message. Three cheers."
"A World without Cancer is an eye-opening look at the way we fight cancer. Margaret Cuomo's call for bold leadership to transform our system from treatment to prevention is urgent, powerful, and sure to start a national conversation."
"Dr. Cuomo challenges us to think in new ways about making disease prevention a national priority."
"A harsh view of current efforts to battle cancer, certain to alarm patients and anger many researchers and clinicians."