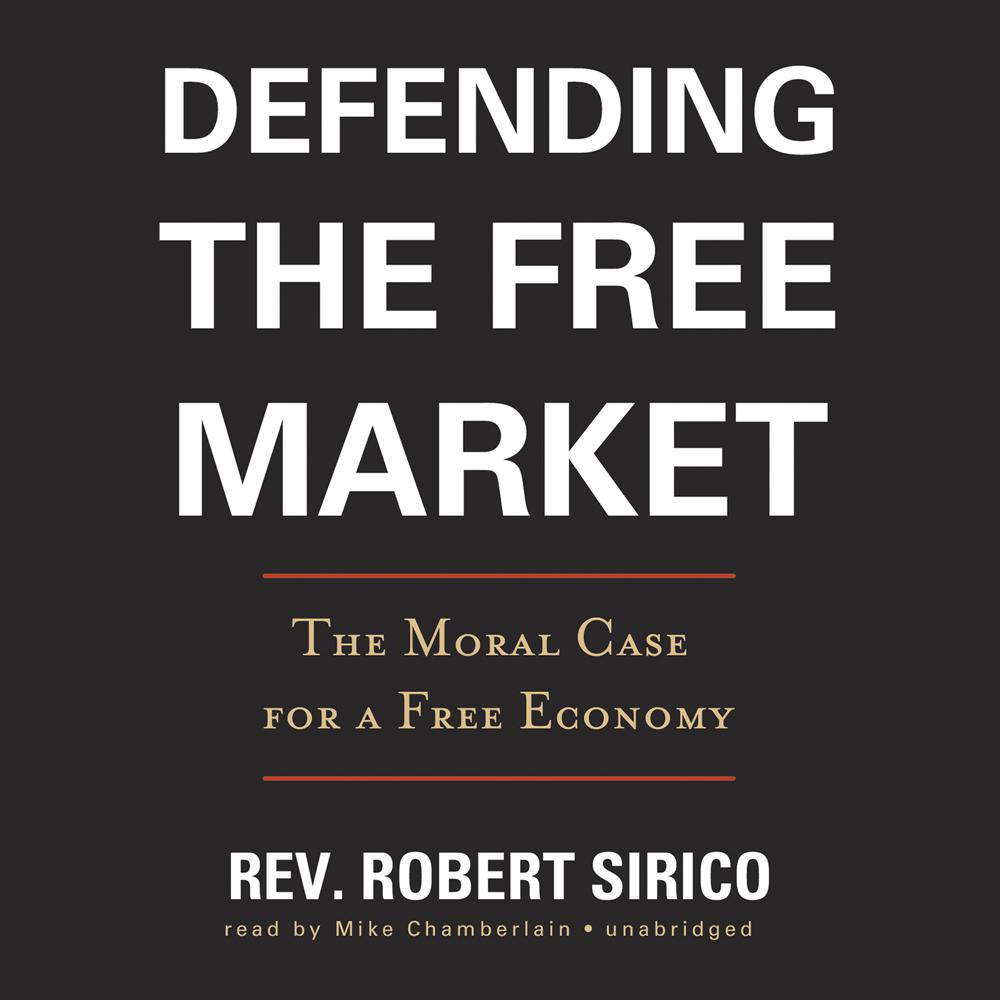 Narrated By: Mike Chamberlain
Duration: 7 hours and 12 minutes
What to expect
The Left has seized on our economic troubles as an excuse to "blame the rich guy" and paint a picture of capitalism and the free market as selfish, greedy, and cruel. Democrats in Congress and Occupy protesters across the country assert that the free market is not only unforgiving, it's morally corrupt. According to President Obama and his allies, only by allowing the government to heavily control and regulate business and redistribute wealth can we ensure fairness and compassion.
Exactly the opposite is true, says Father Robert Sirico in his thought-provoking book, Defending the Free Market: The Moral Case for a Free Economy. Father Sirico argues that a free economy actually promotes charity, selflessness, and kindness. In Defending the Free Market, he shows why free-market capitalism is not only the best way to ensure individual success and national prosperity but also the surest route to a moral and socially just society. Father Sirico shows why we can't have freedom without a free economy, why the best way to help the poor is to a start a business, why charity works—but welfare doesn't, and how he himself converted from being a leftist colleague of Jane Fonda and Tom Hayden to recognizing the merits of a free economy.
In this heated presidential election year, the Left will argue that capitalism may produce winners, but it is cruel and unfair. Yet as Sirico proves here, capitalism does not simply provide opportunity for material success—it ensures a more ethical and moral society as well.
Genre
Right-of-centre democratic ideologies, Centrist democratic ideologies, Politics and government, Political ideologies and movements
Listen to a sample
"Defending the Free Market addresses the morality of entrepreneurship from the point of view of a sophisticated economist who is also an inspiring theologian, leading us on a journey to the free and virtuous society, animated by human creativity in the image of the Creator."
"I've been doing financial counseling and education for over two decades, and one thing that has always stood out to me is how much money is connected to every part of our lives, from relationships to politics to ministry. Money is never just about money; it's always just part of the issue. That's why I appreciate Father Robert Sirico's ministry. Sure, he talks about money, but he also shows how all of these different aspects of our lives interact with and impact each other."
"I've been eagerly anticipating such a book from Father Sirico for a long time. The man has delivered magnificently. Defending the Free Market does more than the title suggests. It celebrates the miracle of freedom and points a lost generation back to the free and virtuous society."
"Father Robert Sirico is a voice who must be heard. Defending the Free Market provides a solidly Christian perspective on capitalism and free markets—and makes the compelling case that we cannot possibly understand economics and how markets function without understanding the true nature of man."
"Every American concerned about our economy and the erosion of individual liberty should read Father Sirico's insightful and well-reasoned book. As he makes crystal clear, our prosperity will continue to be provided not by government but through the proven power of the economic and personal freedoms we enjoy within American free enterprise."