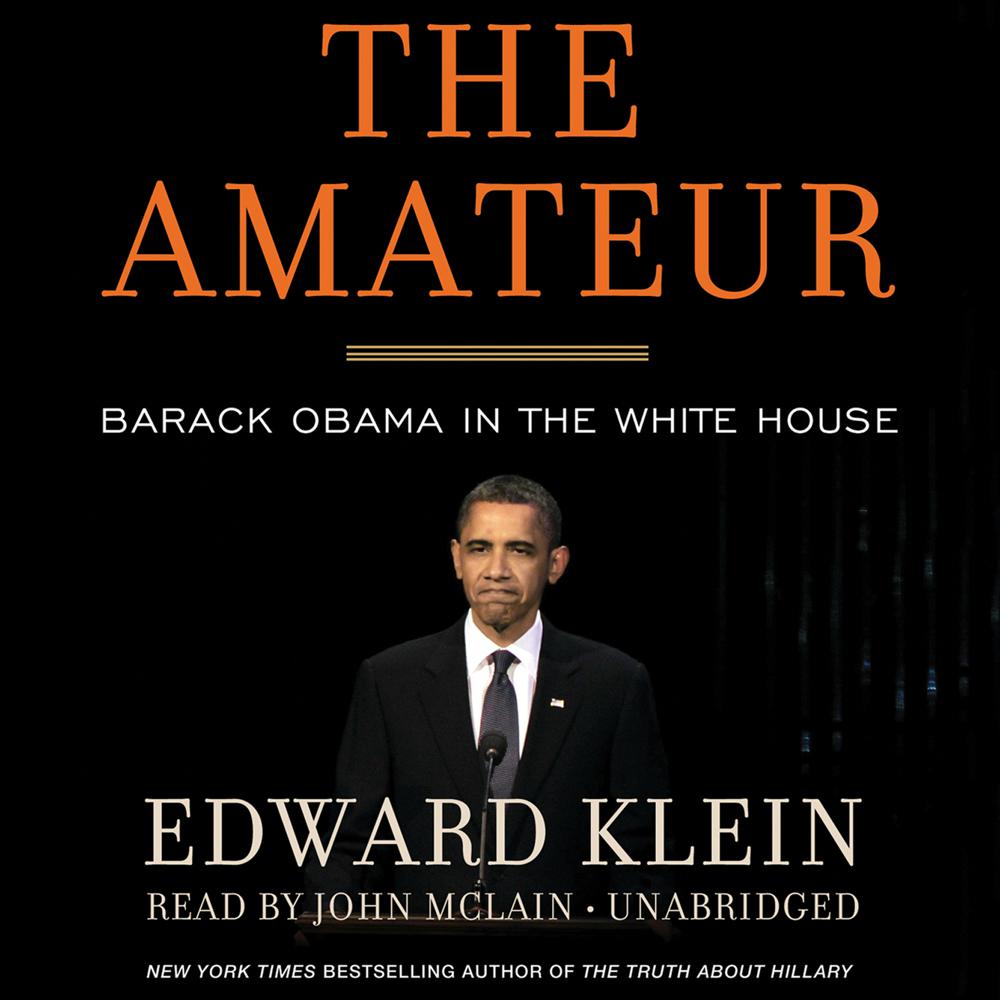 Narrated By: John McLain
Duration: 6 hours and 31 minutes
What to expect
It's amateur hour at the White House. So says New York Times bestselling author Edward Klein in his political expos├® The Amateur. Tapping into the public's growing sentiment that President Obama is in over his head, The Amateur argues that Obama's toxic combination of incompetence and arrogance has run our nation and his presidency off the rails.
"Obama was both completely inexperienced and ideologically far to the left of most Americans when he entered the White House," says Klein. "And he was so arrogant that he didn't even know what he didn't know."
Klein, who is known for getting the inside scoop on everyone from the Kennedys to the Clintons, reveals never-before-published details about the Obama administration's political inner workings, as well as Barack and Michelle's personal lives, including:
–The inordinate influence Michelle wields over Barack and her feud with a high-profile celebrity
–The real reason Rahm Emanuel left the White House (it wasn't for family reasons)
–Why Valerie Jarrett's role is closer to that of Rasputin than impartial senior advisor
–How Obama has purposefully forgotten and ignored those who put him in power, including the Kennedys and the Jewish and African American communities in Chicago
From Obama's conceited and detached demeanor, to his detrimental reliance on Michelle Obama and Valerie Jarrett's advice, to the Obamas' extravagant and out-of-touch lifestyle, The Amateur reveals a president whose ignorance and incompetence are sabotaging himself, his presidency, and America.
Genre
Political ideologies and movements
Listen to a sample
"The Amateur is the best book I've read on how Barack Obama is wrecking our country. I urge everyone who cares about America to read Edward Klein's eye-opening book."
"This is a racy, entertaining, informative book that illuminates apects of Obama and his team that have not been previously reported. A necessary antidote to the Obama worship that is sure to characterize the election debate."
"A devastating indictment of the lethal combination of incompetence and radicalism that has made Obama into one of the worst presidents in American history."
"All the horrors I predicted in Welcome to Obamaland have now been definitively proven true by Edward Klein's rip-roaringly readable new book The Amateur, which uses great stories and great reporting to illustrate just how ideological, arrogant, and hapless Obama and his administration really are. An outstanding demolition job on the most overrated president of our time."