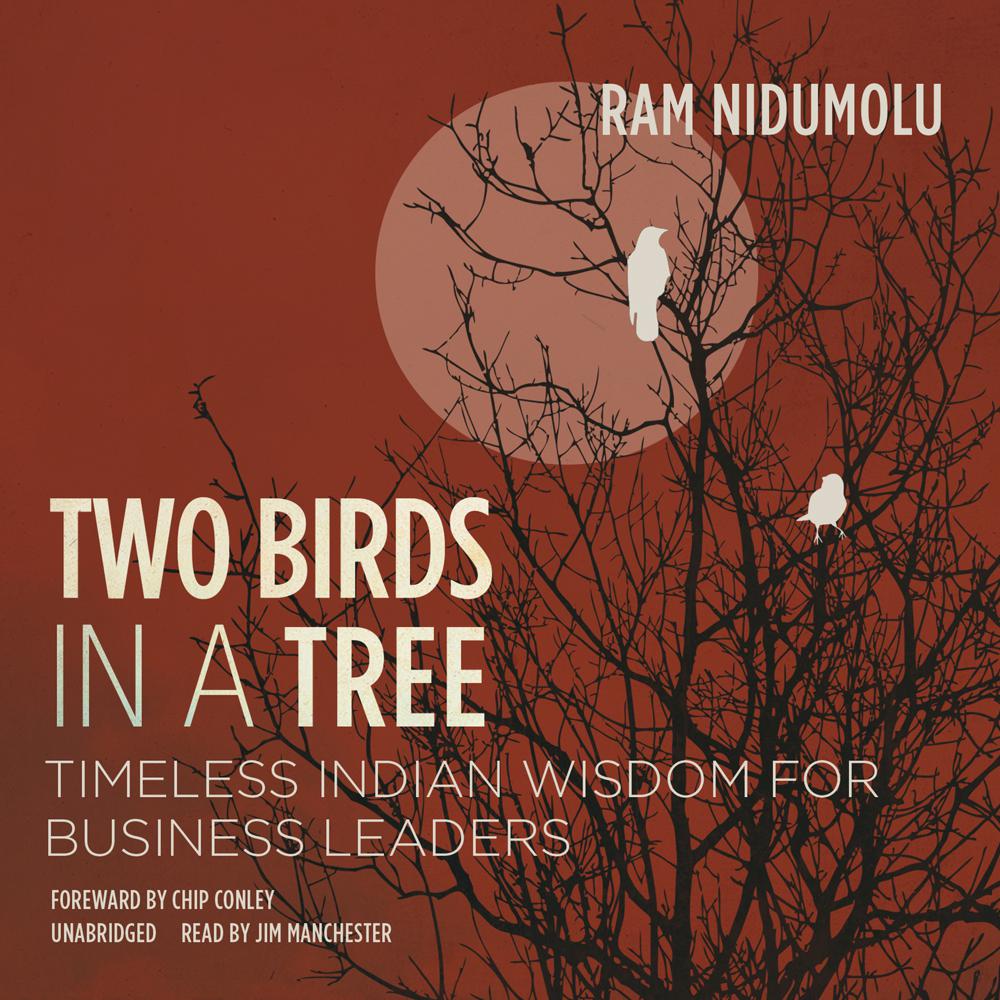 Narrated By: Jim Manchester
Duration: 6 hours and 32 minutes
What to expect
Looking back to the ancient knowledge of the Indian scripture, the Upanishads, Ram Nidumolu finds the core philosophy of sustainable leadership that's needed today. In this remarkable book, he uses a powerful parable from these scriptures to create a business vision that our world desperately needs.
"There are two birds, two sweet friends, who dwell in the selfsame tree," says the Upanishads. The first bird, dwelling on the lower part of the tree, lives "in sorrow and anxiety." Unable to see beyond the branches, it hops around compulsively indulging its appetites, eating every fruit, sweet and sour. The other bird, higher up, can see the whole tree and the wider world—this perspective puts it in touch with its innate sense of being, the quality of existence that it shares in common with all other living beings and the natural world. Content, it "looks on in compassionate silence" at the other bird.
Ram Nidumolu's beautiful book on business leadership uses this allegory to highlight why many businesses are distrusted by the public and contribute to social ills like environmental destruction, wealth inequality, and climate change: they mimic the bird on the lower branch. But can business, compassion, and stewardship really coexist? Ram's surprising insight is to hearken back to ancient wisdom traditions to reclaim their lessons for acting in accordance with our connection to Being.
Two Birds in a Tree uses evocative parables and stories from the Upanishads to introduce Being-centered leadership. Being-centered leaders are guided by an innate sense of interconnection—the good of the whole becomes an integral part of their decisions and actions. Using the experiences of over twenty trailblazing CEOs, as well as those from his own life, Nidumolu describes a four-stage road map every aspiring leader can use to reconnect business to the wider world—to the benefit of all. It is time, he writes, to "look up from our rickety perch on the lower branch of a storm-tossed tree and begin the journey to the higher branch."
Genre
East Asian and Indian philosophy, Hinduism, Management: leadership and motivation, Development economics and emerging economies, Sustainability
Listen to a sample
"A brilliant and inspirational look at how business—which today controls global economics and politics—can fix the messes it created. Two Birds encourages those responsible, now and in the future, to take the reins of leadership and truly lead."
"If we are to make a transition to a humane world where business restores equality, ecology, and equanimity, it will be based on the principles revealed in our ancient collective wisdom as so beautifully portrayed herein."
"Ram Nidumolu has done a beautiful service by reintroducing us to the ancient wisdom of the Upanishads. Far from being out of date, this wisdom is a contemporary, brilliant lamp that both exposes our current destructive ways and illuminates the way out of this perilous time. For those who yearn to offer meaningful leadership in service to this time, this book offers clear guidance."
"This book provides a timely—and eloquent—reminder that business does not operate in a moral vacuum and that tomorrow's business leaders will need to be driven by a deeper sense of purpose. After reading it, no one can doubt that business can—and should—become a giver and not a taker in a system that gives it life in the first place."
"People forget facts and figures, but they remember good stories. It's no accident that the world's great spiritual leaders all teach by storytelling. Great business leaders know this too. Ram Nidumolu is a master storyteller. Read him and reap—great results!"
"Two Birds in a Tree beautifully describes principles that enable leaders to give back to humanity and nature while running successful companies. It is a book filled with wonderful images and stories, both ancient and modern, that are worth savoring."
"The conversation about a new level of consciousness in business leadership is overdue. Two Birds in a Tree not only informs this important conversation. It inspires us with powerful stories rooted in ancient wisdom. I will share these beautiful allegories with colleagues and clients for years to come."