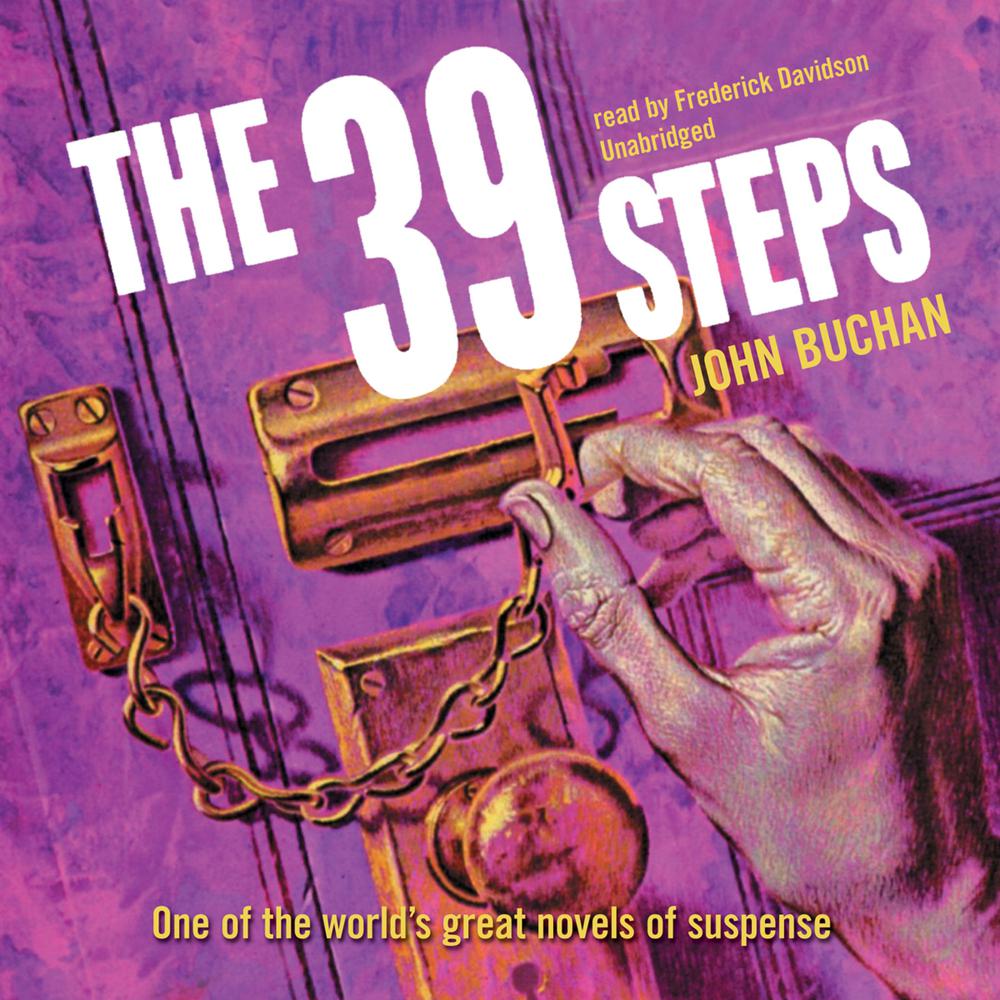 Narrated By: Frederick Davidson
Duration: 3 hours and 53 minutes
What to expect
Perhaps more than any other book The Thirty-Nine Steps has set the pattern for the story of the chase for a wanted man. And, of the many writers who have attempted this kind of thing since Buchan, only a very few, like Graham Greene, have managed to sustain the tension in the same way. The story's extended chase scene inspired Alfred Hitchcock's movie of the same name.
The Thirty-Nine Steps, Buchan's best-known thriller, introduces his most enduring hero, Richard Hannay—who, despite claiming to be an "ordinary fellow," is caught up in a dangerous race against a plot to devastate the British war effort.
It begins calmly enough with a rather boring trip to London. Returning to his flat, Richard is shocked to find his neighbor dead on the floor with a knife in his back. Near the deceased is a small black notebook containing cryptic notes about the "thirty-nine steps" and a black stone. As the situation escalates, Hannay is mistaken for a secret agent by the police. Now he must run for his life across the Scottish highlands, thinking his way through narrow escapes while trying to decode the thirty-nine steps.
With wit and flair, this old-fashioned roller coaster ride offers soaring suspense with a comic touch.
Genre
Classic fiction, Adventure fiction, Espionage and spy thriller, Crime and mystery fiction, Thriller / suspense fiction
Listen to a sample
"It is the dimension of the mysterious that makes Buchan's writing so unfailingly compelling."
"Frederick Davidson's voice is properly sardonic, and his supercilious British articulation is just right. The story's extended chase scene inspired Alfred Hitchcock's movie of the same name."
"It is just the kind of fiction for here. One wants something to engross the attention without tiring the mind. The story is greatly appreciated in the midst of mud and rain and shells, and all that could make trench life depressing."
"Buchan's technique as a writer is simple enough and well displayed in The Thirty-Nine Steps. He understood that in a thriller…what matters above all is to keep the reader focused on what is going to happen next…It doesn't matter that the reader has no clue where he is being taken or, when he gets there, how the thing happened as it did. All that matters is that once you've started, you can't put the book down."
"Buchan essentially invented the espionage novel with his Richard Hannay yarns."