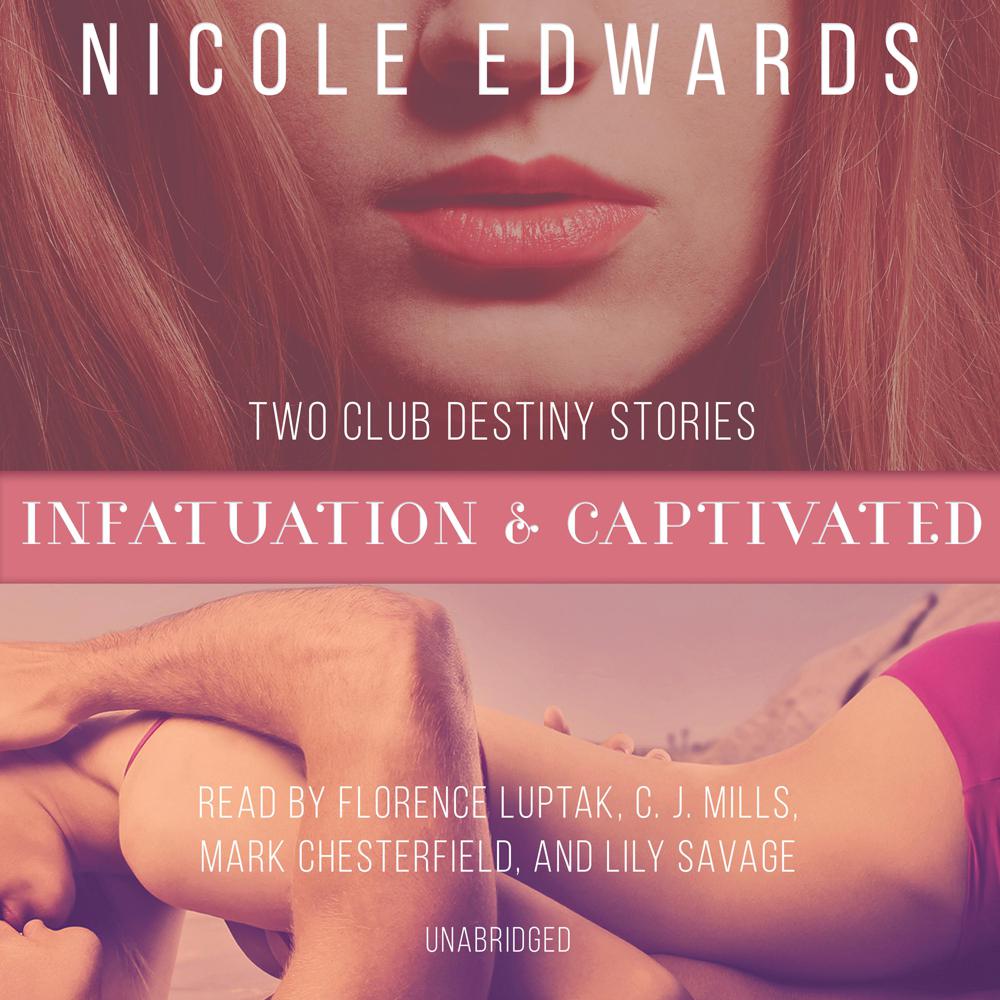 Narrated By: Florence Luptak, C. J. Mills, Mark Chesterfield, Lily Savage
Duration: 13 hours and 42 minutes
What to expect
Two novellas from New York Times bestselling author Nicole Edwards' sinfully sensual Club Destiny series are brought together—for double the pleasure.
Infatuation
McKenna Thorne, owner of Sensations, Inc.—an online magazine geared toward libidinous carnality and erotic lifestyles—is intimately familiar with the lifestyle that Club Destiny is famous for. As a journalist, she's interested in understanding just what makes the swinger's club so popular. When she comes face-to-face with Tag Murphy, the sophisticated, sexy attorney representing the club and its owners, she finds a new reason to be curious. It only takes one encounter for McKenna to realize the heat the two of them generate together is hot enough to melt her internal thermostat. That doesn't stop her from requesting an exclusive on the club that might just turn into more than she bargained for.
Tag Murphy, a highly successful corporate attorney who represents some of Dallas' wealthiest companies, is not only Club Destiny's legal counsel—he's also a member. It's during his time in the public spotlight, representing the club in a volatile lawsuit against one of its former members, that Tag gets his first glimpse of a fiery redheaded journalist bent on exploiting his personal life for the benefit of her readers. In order to protect his own personal interest and that of the club he represents, Tag decides to take McKenna up on her offer, only he adds his own stipulations. If she wants to learn more about the club, she's going to get the guided tour … from him.
Captivated
Lucie Werner's life has never followed the path she envisioned for herself, and five years ago it veered off course yet again—this time after one erotic night of passion with the man she'd been captivated by since the day they'd met. Only Kane doesn't remember that night, and until recently, he didn't know that what they'd shared resulted in the birth of a beautiful little girl. Now that he does, Lucie fears he'll never want anything to do with her again because she kept it secret from him for so long. The sad truth is, she wouldn't blame him.
Kane Steele had never known the type of rage he was consumed by when Lucie told him he was a father—and that she had kept his daughter a secret from him for nearly five years. Although he can't remember the events of that fateful night, Kane can't ignore the feelings he's had for Lucie all this time. Now, with the secret out and his relationship with his daughter on the mend, he finds he still can't fight what he feels for her. Since his memories of that night are out of reach, Kane's ready to make some new ones.
Can the two of them overcome Lucie's deceit and give in to the maelstrom of heat between them? Will Lucie be able to overcome the guilt she feels for keeping this monumental secret for so long? And will Kane be able to forgive her?
Genre
Erotic fiction, Erotic romance, Erotic fiction, Erotic fiction, Anthologies: general
Listen to a sample