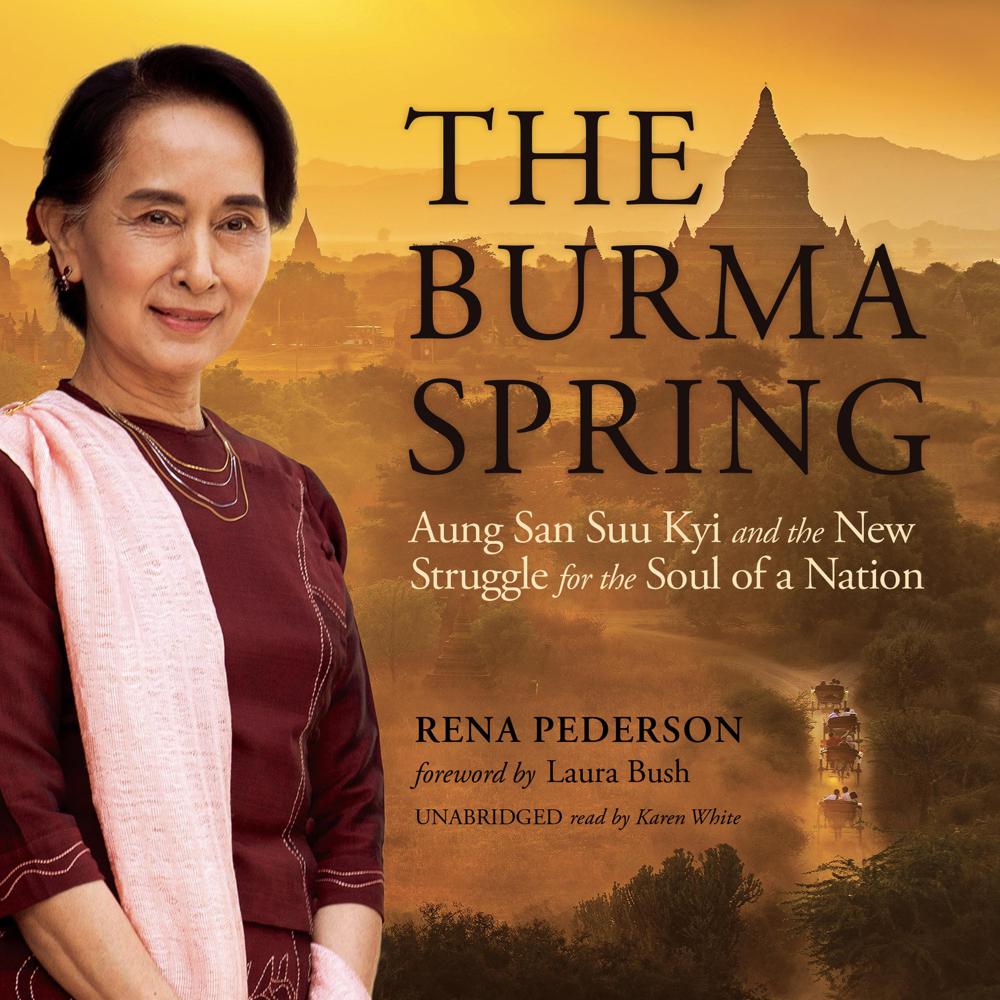 Narrated By: Karen White
Duration: 1 day and 39 minutes
What to expect
Aung San Suu Kyi, Burma's "woman of destiny" and one of the most admired voices for freedom in the world today, comes alive through this brilliant rendering of Burma's tumultuous history.
Award-winning journalist and former State Department speechwriter Rena Pederson brings to light fresh details about the charismatic Nobel Peace Prize winner Aung San Suu Kyi: the inspiration for Burma's (now Myanmar) first steps towards democracy. Suu Kyi's party will be a major contender in the 2015 elections, a revolutionary breakthrough after years of military dictatorship. Using exclusive interviews with Suu Kyi since her release from fifteen years of house arrest, as well as recently disclosed diplomatic cables, Pederson uncovers new facets to Suu Kyi's extraordinary story.
The Burma Spring also reveals the extraordinary steps taken by First Lady Laura Bush to help Suu Kyi, as well as how former Secretary of State Hillary Clinton injected new momentum into Burma's democratic rebirth. Pederson provides a never-before-seen view of the harrowing hardships the people of Burma have endured and the fiery political atmosphere in which Suu Kyi has fought a life-and-death struggle for liberty in this fascinating part of the world.
Genre
Biography: historical, political and military, Political leaders and leadership, Biography: general, Gender studies: women and girls, Biography: historical, political and military, Political activism, Asian history, Biography: general
Listen to a sample
"Daw Aung San Suu Kyi is one of the towering figures of our age: a tireless champion of democracy, freedom, and reconciliation. Rena Pederson captures Suu Kyi as few others have, producing a vivid account of the life of this remarkable woman. The Burma Spring is a valuable resource for anyone interested in contemporary Burma."
"Tart and witty. Pederson's book shines."
"An ambitious and necessary work. An illuminating dossier about a heroic woman and a nation walking, slowly, toward a freer land."
"The riveting story of Suu Kyi's brutal imprisonment, deplorable maltreatment, astonishing inner strength, and ultimate survival is told with a historian's appreciation for context and circumstance…in a complex and sweeping history of Burma's centuries-old struggle to maintain a closed society, yet manifest its power on a global scale."
"Journalist Pederson delivers a penetrating portrait of Aung San Suu Kyi, the 1991 Nobel Peace Prize winner and leader of the Burmese National League for Democracy party, in a thoughtful biography that reveals the 'moody, temperamental' side of its charismatic and visionary subject…Pederson charts Myanmar's 'winter thaw,' which earned Suu Kyi a seat in Parliament, and while Suu Kyi's fearlessness and Buddhist faith have carried her far, observers continue to wonder what impact her work will have on a country that has stymied US presidents since Reagan."
"Engagingly written and intelligently documented."
"The long, hard road to 'national reconciliation' wrought by Burmese national heroine Aung San Suu Kyi. Dallas journalist Pederson evokes the quiet, stubborn dignity of this rather improbable political icon of Myanmar, a multiethnic country of mostly Buddhists…Pederson visited her subject several times, and she draws a deeply nuanced portrait of the enigmatic, inspiring leader."