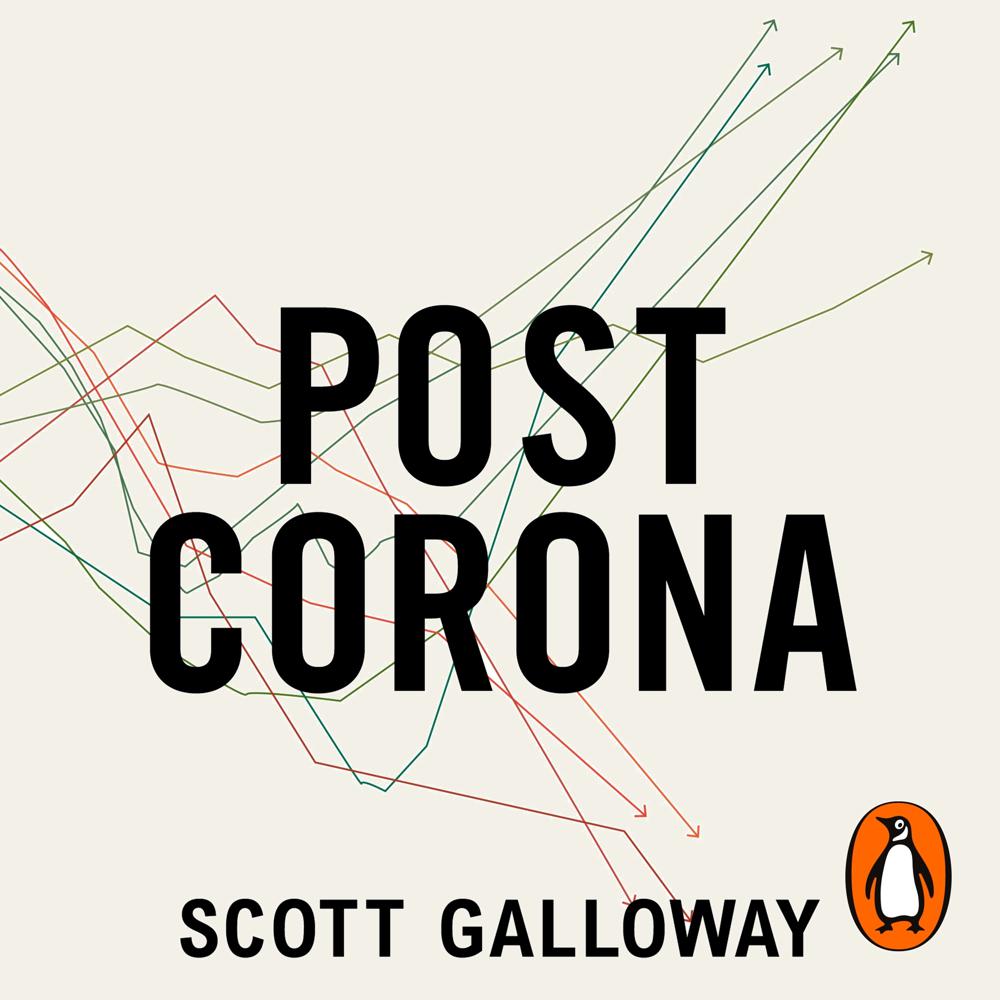 Narrated By: Scott Galloway
Duration: 5 hours and 39 minutes
What to expect
Brought to you by Penguin.

The New York Times bestselling author of The Four and NYU Business School professor delivers an insightful, urgent analysis of who stands to win and who's at risk to lose in a post-pandemic world.

The Covid-19 outbreak has turned bedrooms into offices, pitted young against old and widened the gaps between rich and poor, red and blue, the mask-wearers and the mask-haters. Some businesses, like Amazon and video conference software maker Zoom, woke up to find themselves crushed under an avalanche of consumer demand. Others, like the restaurant, travel, hospitality and live entertainment industries, scrambled to not become instantly obsolete. But the pandemic has not been a change agent so much as an accelerant of trends that were already well underway. In Post Corona, Galloway outlines the contours of both crisis and opportunity that lie ahead. While the powerful tech monopolies will thrive in the disruption other businesses, like higher education, will struggle to maintain a value proposition that no longer makes sense when we can't stand shoulder to shoulder. Combining his signature humour and brash style with razor-sharp business insights, Galloway offers both warning and hope in equal measure.

© Scott Galloway 2020 (P) Penguin Audio 2020
Genre
Business innovation, Entrepreneurship, Economic and financial crises and disasters, Organizational theory and behaviour
Listen to a sample
Few are better positioned to illuminate the vagaries of this transformation than Galloway, a tech entrepreneur, author and professor at New York University's Stern School. In brisk prose and catchy illustrations, he vividly demonstrates how the largest technology companies turned the crisis of the pandemic into the market-share-grabbing opportunity of a lifetime.
If there is a blunter, more opinionated, faster-talking expert on the internet than Scott Galloway, I haven't come across him. Or her.
Scott is a genius at engaging an audience in an intelligent, thoughtful, sometimes snarky and often humorous manner.
Fast, fluent and persuasive. For anyone interested in a clear-eyed overview of what is happening now, and what that might mean in future, this is as good an analysis as you could wish to read.
Entertaining and informative.