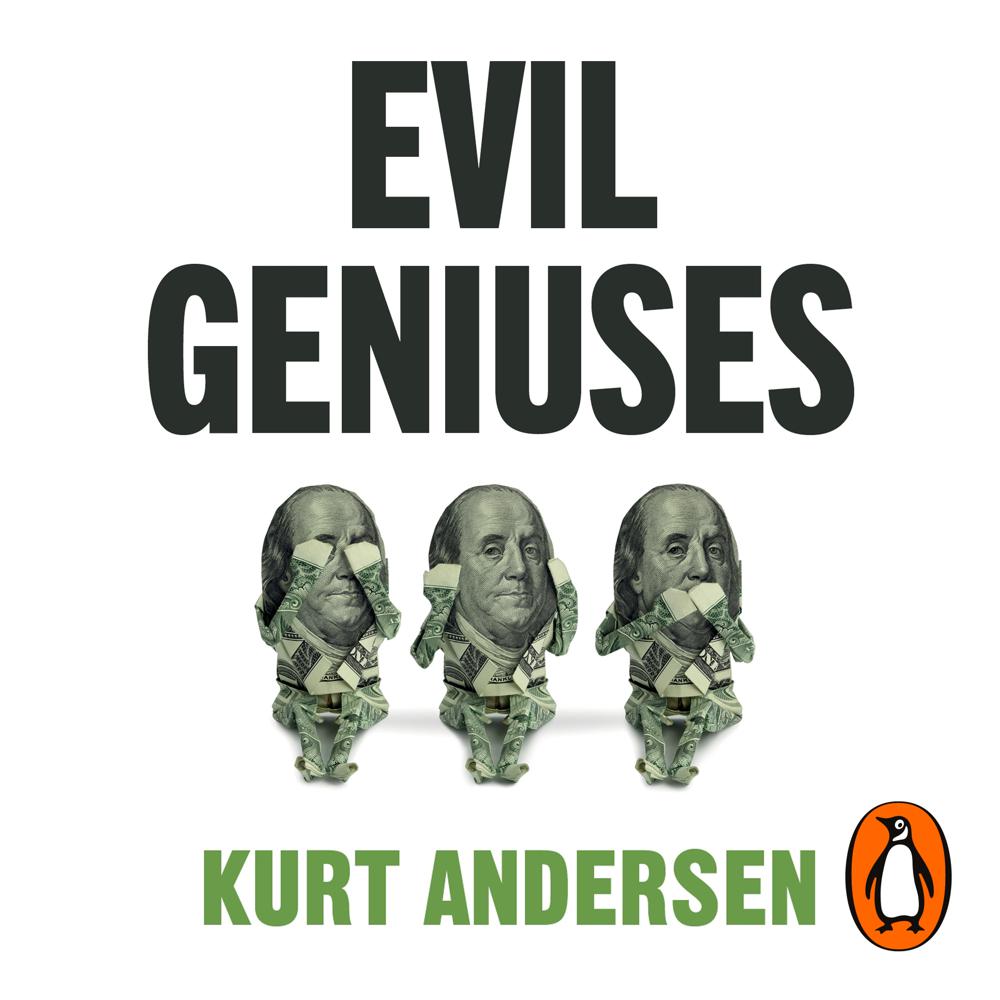 Narrated By: Kurt Andersen
Duration: 16 hours and 25 minutes
What to expect
Brought to you by Penguin.

How an elite cabal rewrote the American dream for their gain - and left the rest of world behind.

Evil Geniuses is the secret history of how, over the last half century, from even before Ronald Reagan through Donald Trump, America has sharply swerved away from its dream of progress for the many to a system of unfettered profit and self-interest for the few.

As the social liberation of the 1960s finally ended in the chaos of Vietnam and Watergate, a cabal of rich industrialists, business chiefs, wide-eyed libertarians and right-wing economic radicals were waiting, determined to claw back everything they saw as rightfully theirs.

Largely out of sight, they rapidly built and funded a new empire of think tanks and academic institutions and professional organisations, lobbying and political groups, using them to transform politics, media, finance, the legal system and US laws to reinvent and control the political economy. A throwback to the robber barons of a century earlier, they sold the remade system to the people as a nostalgic return to traditional American values. Within a decade, America's flourishing forward-thinking vision was incarcerated by the unchecked financial accumulation and political power of the super-rich.

Now, the moneymen are running the show.

In this hugely entertaining and deeply researched cultural and economic exposé, New York Times bestselling author Kurt Andersen maps the rich history of intricate networks, unlikely connections and dark truths which are controlling a nation, revealing how on earth America got to where it is now - and what it might do to win its progressive future back.

© Kurt Andersen 2020 (P) Penguin Audio 2020
Genre
Political economy, History of the Americas, Politics & government
Listen to a sample
This is the one book everyone must read. . . With lucid writing and head-snapping insights, Kurt Andersen explores how the right and big business, with unabashed greed, deliberately reengineered our economy. To fix that will require understanding the roots of the problem. . . A triumph.
Essential, absorbing, infuriating, full-of-facts-you-didn't-know, saxophonely written. This is one of those situations where the book is better than the review, so you should read it... a radicalized moderate's moderate case for radical change.
Evil Geniuses is Kurt Andersen at his riveting best - a genuinely original exploration of the forces that have shaped today's economy and society, and what can be done to repair the damage. A route map out of the strange season of pandemic.
Elegantly written, full of insight, and ultimately optimistic, Evil Geniuses challenges America to do better, to be better. A wry look at what went wrong and sober thinking about what needs to happen now. If you want to know why America is where it is and how it can change, this is your book.
Nostalgia is the antithesis of history. Anderson brilliantly exposes how nostalgia — the strategic oversimplification of our past — has erased complexity and friction from our country's narrative to serve a single goal: to preserve the status quo for the benefit of those in power. As such, Evil Geniuses documents how history and nostalgia are engaged in a hand to hand combat that may determine our future.