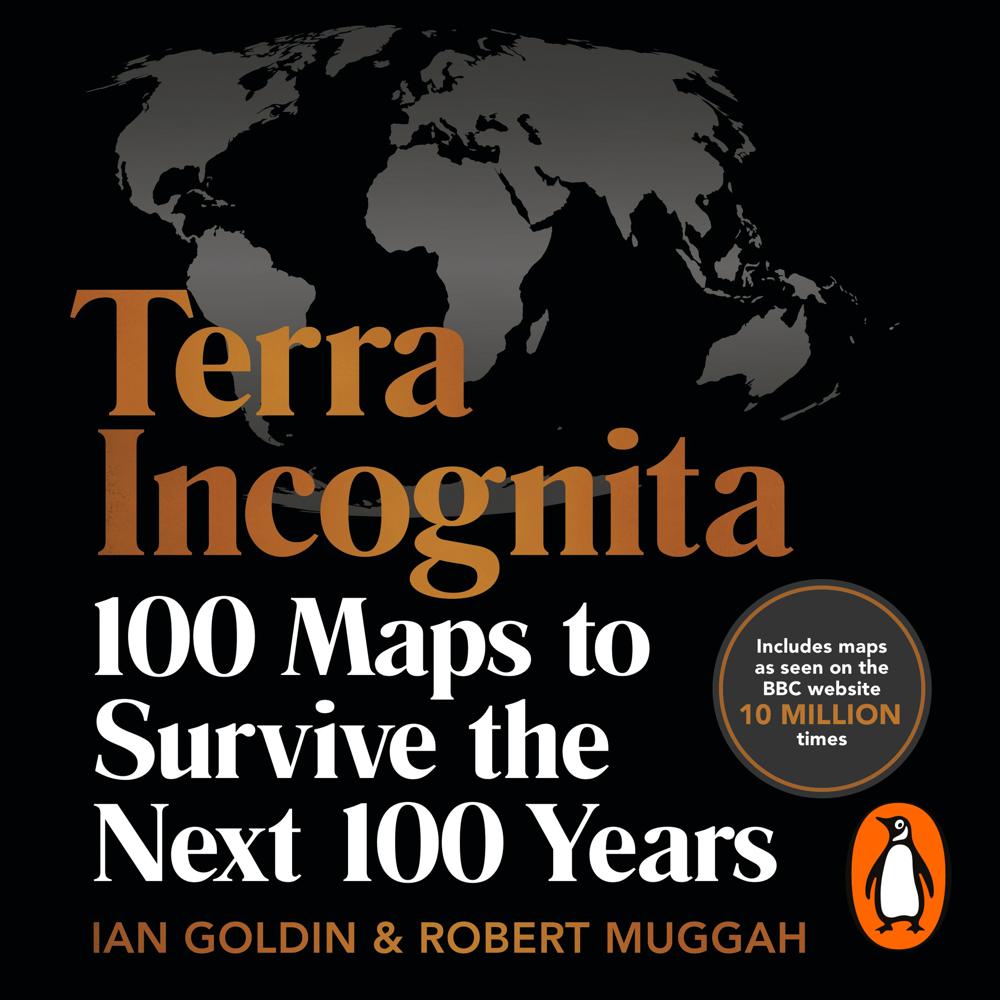 Narrated By: Al Weaver
Duration: 13 hours and 42 minutes
What to expect
Brought to you by Penguin.

'Fascinating, beautiful, alarming and revelatory use of mapping and infographics' – Stephen Fry

From the global impact of the Coronavirus to exploring the vast spread of the Australian bush fires, join authors Ian Goldin and Robert Muggah as they trace the ways in which our world has changed and the ways in which it will continue to change over the next hundred years.

Map-making is an ancient impulse. From the moment homo sapiens learnt to communicate we have used them to make sense of our surroundings. But as Albert Einstein once said, 'you can't use old maps to explore a new world.' And now, when the world is changing faster than ever before, our old maps are no longer fit for purpose.

Welcome to Terra Incognita. Based on decades of research, and combining mesmerising, state-of-the-art satellite maps with enlightening and passionately argued analysis, Ian and Robert chart humanity's impact on the planet, and the ways in which we can make a real impact to save it, and to thrive as a species.

Learn about: fires in the arctic; the impact of sea level rise on cities around the world; the truth about immigration - and why fears in the West are a myth; the counter-intuitive future of population rise; the miracles of health and education that are waiting around the corner, and the reality about inequality, and how we end it. The book traces the paths of peoples, cities, wars, climates and technologies, all on a global scale. Full of facts that will confound you, inform you, and ultimately empower you, Terra Incognita guides readers to a new place of understanding, rather than to a physical location.

© Ian Goldin, Robert Muggah 2020 (P) Penguin Audio 2020
Genre
Popular science, Social forecasting, future studies, World atlases / world maps, Climate change, Geopolitics
Listen to a sample
Terra Incognita draws readers into multiple worlds and provides the tools to navigate between them. Goldin and Muggah use powerfully-engaging maps to help understand and confront our biggest challenges - from climate change to inequality. By inviting readers to traverse a vast range of disciplines and ideas, their volume helps each of us better appreciate how our problems are interconnected. This is a must read for everyone striving to make a better world.
Amazing . . . it would be my desert island choice! This extraordinary book - with 100 fascinating maps, embedded in a richly informative text - offers a comprehensive perspective on global trends. It is amazing how much analysis the distinguished authors have distilled into a single volume. The book is especially welcome at a time when COVID-19 is disrupting our interconnected planet. It would be hard to imagine a better text to guide and enlighten us as we aim to 'remake' a better world. It deserves a very wide readership.
Terra Incognita take us on an exhilarating journey of the mega-trends that are remaking our world. Using powerful maps and graphics, it provides much-needed guideposts to the incredible shifts and challenges going on all around us. Ian Goldin and Robert Muggah provide a necessary antidote to the paralyzing uncertainty and pessimistic fatalism that threatens to overwhelm us all. This book offers a bold new perspective not just on the challenges we face, but how, armed with the right data and information, we can go about fixing them
Amidst an abundance of global crisis and unrest, it's easy to feel as if there's no prescription for the future. But Terra Incognita provides us with just that, through stunning maps and visual aides that illuminate the most pressing issues of our time.
A completely brilliant guide to global survival