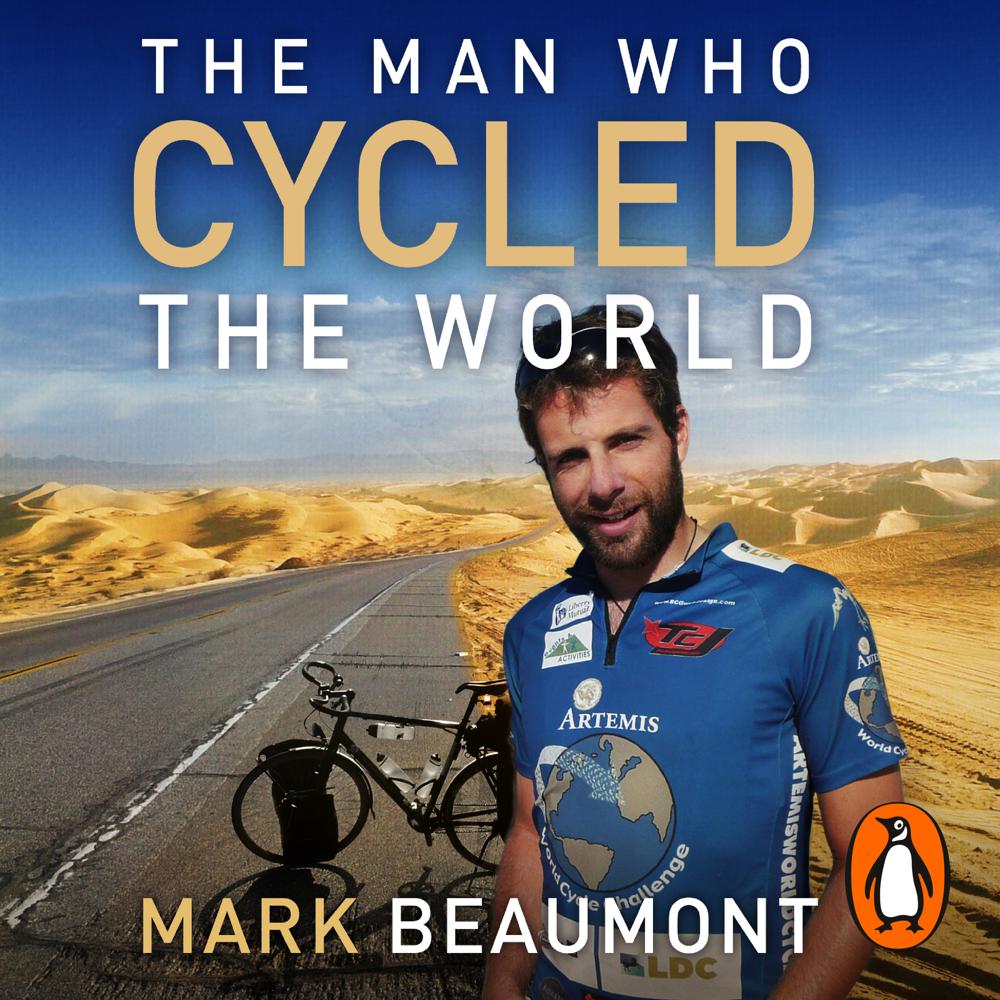 Narrated By: Mark Beaumont
Duration: 18 hours and 25 minutes
What to expect
Brought to you by Penguin.

The inspiring story of one young man's record-breaking solo cycle journey around the world
On 15 February 2008, Mark Beaumont pedalled through the Arc de Triomphe in Paris. 194 days and 17 hours previously, he had begun his attempt to circumnavigate the world in record time. Mark smashed the Guinness World Record by an astonishing 81 days. He had travelled more than 18,000 miles on his own through some of the harshest conditions one man and his bicycle can endure, camping wild at night and suffering from constant ailments.
The Man Who Cycled the World is the story not just of that amazing achievement, but of the events that turned Mark Beaumont into the man he is today. From the early years of his free-spirited childhood in the Scottish countryside to present day, he has been equally determined not to settle for an average existence, but to break free and follow his dreams.
Mark Beaumont grew up in the foothills of the Scottish Highlands. When he was twelve, he cycled across Scotland, then a few years later, completed the 1,000 mile solo ride across Britain from John O'Groats to Land's End. His next long-distance ride took him the length of Italy, a journey of 1,336 miles, helping to raise £50,000 for charity. After graduating from Glasgow University, and having also qualified as a professional ski instructor, he decided against a conventional career and devoted himself full-time to raising money for his endurance adventures.
Visit his website at www.markbeaumontonline.com
© Mark Beaumont 2009 (P) Penguin Audio 2020
Genre
Cycle racing, Autobiography: sport
Listen to a sample
The narrative is infused with human drama to keep the pages turning... impressive
There is much that is remarkable about Mark Beaumont and he has produced a well-written and highly readable account of his endeavour. What he does is something close to a blow-by-blow account of the enormous resolve and determination that were necessary to undertake the journey... Unusually for round-the-world accounts it picks up towards the end, rather than tailing off. Chasing a record at times seems like an odd reason for travellling so far - but by the end, I was willing him through the final few days
In 2008 Mark Beaumont completed the fastest ever circumnavigation of the world by bicycle, covering 18,296 miles in 194 days 17 hours and beating the previous record by 81 days. Here Beaumont describes that astonishing journey and how he became one of modern cycling's genuine heroes
Readers will remember Mark Beaumont's staggering achievement of racing around the world in 2008. This is Mark's personal story of his marathon. I have scanned it once and read it twice thoroughly yet I'm not sure I've got all there is to be had from it. The journey was epic and it took a hero's mindset to contemplate the project, never mind actually carry it out. He includes laconic entries from his diary which really bring home how hard things were on the road. These often terse statements come across as very immediate and give the reader a very clear insight into how he was feeling. You'll have to buy the book to find out more... and by buying it you help keep a modern hero awheel!
If you think cycling on British roads is perilous, spare a thought for Mark Beaumont, the man who pedalled around the world in a record 194 days and 17 hours. His epic trek saw him battle hostile terrain in Turkey and Pakistan, endure fierce weather in Australia and get back in the saddle after a crash in America