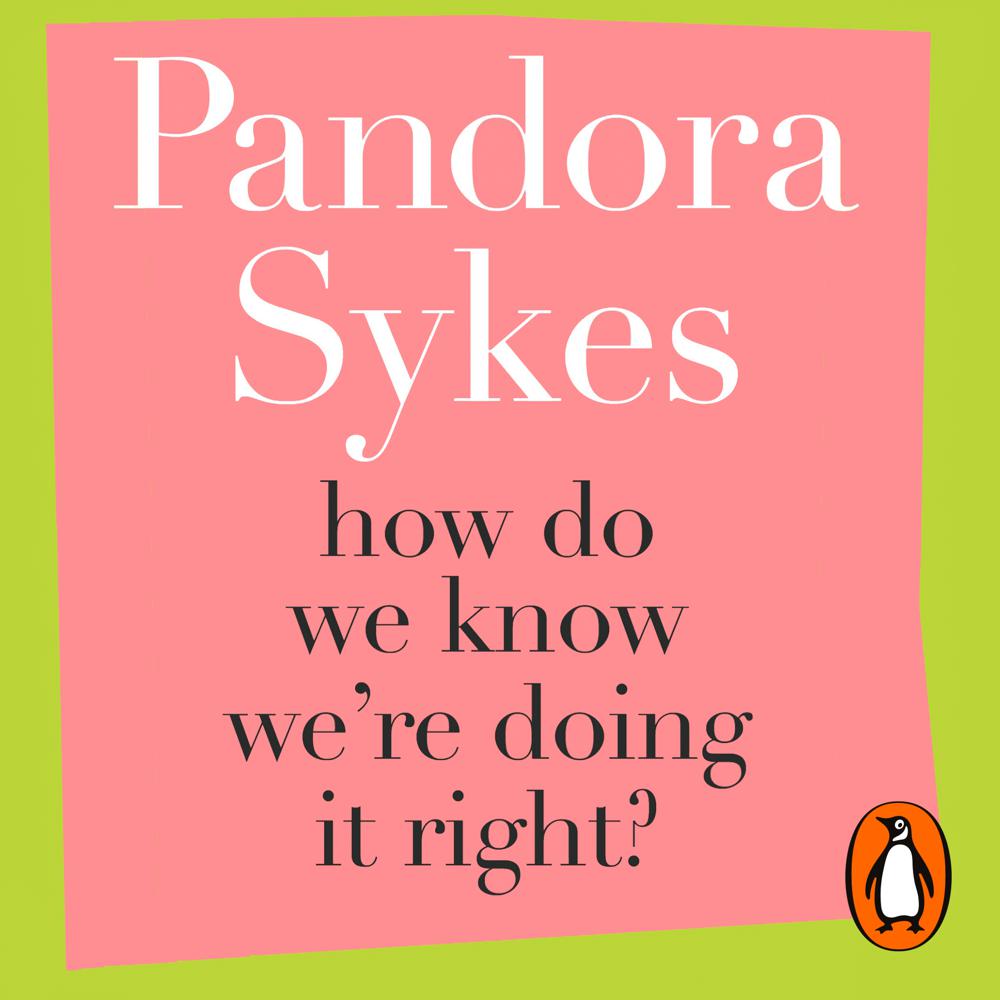 Narrated By: Pandora Sykes
Duration: 8 hours and 28 minutes
What to expect
______________________________
'Pandora is my personal guru on all things relating to the zeitgeist. How lucky you are that she can now be yours too.' DOLLY ALDERTON

Modern life is full of choices. We're told that happiness lies within and we can be whoever we want to be. But with endless possibility comes a feeling of restlessness; like we're somehow failing to live our best life. What does doing it right even look like? And why do so many women feel like they're getting it wrong?

From faster-than-fast fashion to millennial burnout, the explosion of wellness to the rise of cancel culture, Pandora Sykes interrogates the stories we've been sold and the ones we tell ourselves. Wide-ranging, thoughtful and witty, How Do We Know We're Doing It Right? explores the anxieties and myths that consume our lives and the tools we use to muddle through.

So sit back and take a breath. It's time to stop worrying about the answers ­- and start delighting in the questions.
______________________________
'Like a very clever, lucid, charming friend unpacking all the messy anxieties of modern existence with tremendous intelligence and elan. Read this book. It will help your life.' INDIA KNIGHT

'Thrillingly, DELICIOUSLY fascinating . . . philosophy, science, literature, stats, all pulled together in her coolly elegant prose. I could not put it down!' MARIAN KEYES

'Energetic and compelling' OLIVIA SUDJIC

'Self-aware, self-deprecating, relatable, funny, and brilliantly curious.' STACEY DOOLEY

'Plainly and hotly ahead of its time. It is a masterful collection of essays.' LISA TADDEO, author of THREE WOMEN

'Brilliant and incisive' EVENING STANDARD

'Witty and zeitgeisty ... strikes a fresh, honest note' VANITY FAIR

'Refreshing ... thoughtful, considered' STYLIST
______________________________
Readers love Pandora's first book:

'A truly marvellous debut'
'Insightful and beautifully written'
'Totally brilliant ... I devoured this masterpiece in one sitting'
'A bright book in a gloomy year'
'Feeling a lot better about life after finishing this!'
'I adored Pandora's book and will be thinking about it for a long time.'
'So clever and thought-provoking'
'Pandora is a wonderful writer and I found myself unexpectedly in tears by the end'
Genre
Literary essays, Popular culture, Feminism & feminist theory
Listen to a sample
I absolutely loved How Do We Know We're Doing It Right?. It's like a very clever, lucid, charming friend unpacking all the messy anxieties of modern existence with tremendous intelligence and elan. Women will recognise parts of the themselves on every page, regardless of their age, whether Sykes is writing about authenticity, social media or the need to always seem busy. I found it deeply interesting and often enlightening: I kept putting it down to think about something the author had said. Read this book. It will help your life.
Sykes's essays, written pre-pandemic, could have read like a relic from a pampered bygone age with nothing bigger to worry about. Yet, instead, it feels like a cleareyed warning of the world to which we may now be returning.
Tackles subjects that some might dismiss as trivial (texting, social media, why women increasingly want to dress like one another) with striking intellectual rigour ... refreshing for the depth and breadth of its research. Rather than making generalisations about womanhood based on anecdotes from her own life, Sykes draws on statistics, philosophy, pop culture and more to make thoughtful, considered observations.
A collection of essays that feel like I'm in a deep and open conversation with the person who peered inside my head and saw exactly what I've been thinking about all these years. Thorough, timely and fulsome.
A timely collection of essays from journalist and podcast host Pandora Sykes that touch on everything from happiness to wellness; womanhood to consumerism and the anxieties and agendas that consume our lives ... Sharp and observant writing ... A manifesto for the millennial woman.