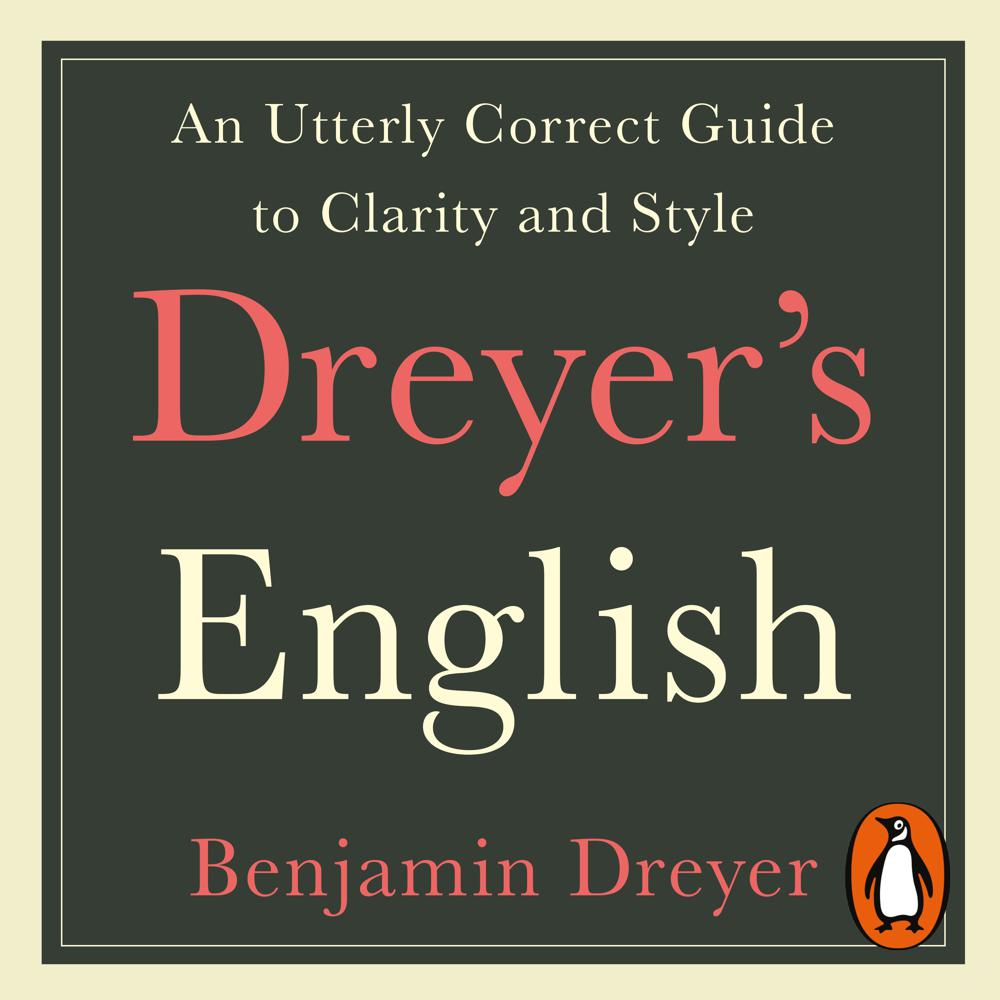 Narrated By: Benjamin Dreyer, Alison Fraser
Duration: 9 hours and 39 minutes
What to expect
Brought to you by Penguin.
'An utterly delightful book to read, Dreyer's English will stand among the classics on how to use the English language properly.' ELIZABETH STROUT
'A complete joy. Wise, funny, no-nonsense, stylish and brilliantly practical.' RACHEL JOYCE

An indispensable, New York Times-bestselling guide to the craft of writing from Random House's long-time copy chief and one of Twitter's leading language gurus.

We all write, all the time: books, blogs, tweets, emails, emails, emails – and we all want to write better. Benjamin Dreyer is here to help.
As Random House's copy chief, Dreyer has upheld the standards of the legendary publisher for more than two decades. He is beloved by authors and editors alike – not to mention his followers on social media – for playfully, brilliantly deconstructing the English language. Dreyer's English is the distillation of everything he has learned from copyediting thousands of books, the perfect guide not just for writers but for everyone who wants to put their best prose foot forward.
Both authoritative and amusing, Dreyer's English offers lessons on punctuation, from the underloved semicolon to the enigmatic en-dash; the rules and non-rules of grammar, including why it's OK to begin a sentence with 'And' or 'But' and to confidently split an infinitive; and why it's best to avoid the doldrums of the Wan Intensifiers and Throat Clearers, including 'very', 'rather', 'of course', and the dreaded 'actually'.
And yes: 'Only godless savages eschew the Oxford comma.'
Stuffed with advice, insider wisdom, and fun facts, this book will prove to be invaluable to everyone who wants to shore up their writing skills, mandatory for people who spend their time editing and shaping other people's prose, and – perhaps best of all – an utter treat for anyone who simply revels in language.

This book is written in British English.
Genre
Language learning: grammar, vocabulary & pronunciation, Writing & editing guides, Biography & non-fiction prose
Listen to a sample
Dreyer can help you . . . with tips on punctuation and spelling. . . . Even better: He'll entertain you while he's at it.
It is Benjamin Dreyer's intense love for the English language and his passion for the subject that make the experience of reading Dreyer's English such a pleasure, almost regardless of the invaluable and practical purpose his book serves in such dark and confusing times for grammar and meaning.
An informative and entertaining handbook on how to write clearer English. It's pithy, witty and a near perfect example of the kind of writing it advocates.
Benjamin Dreyer's brilliant, pithy, incandescently intelligent book is to contemporary writing what Geoffrey Chaucer's poetry was to medieval English: a gift that broadens and deepens the art and the science of literature by illustrating that convention should not stand in the way of creativity, so long as that creativity is expressed with clarity and with conviction.
Playful, smart, self-conscious, and personal . . . One encounters wisdom and good sense on nearly every page of Dreyer's English.