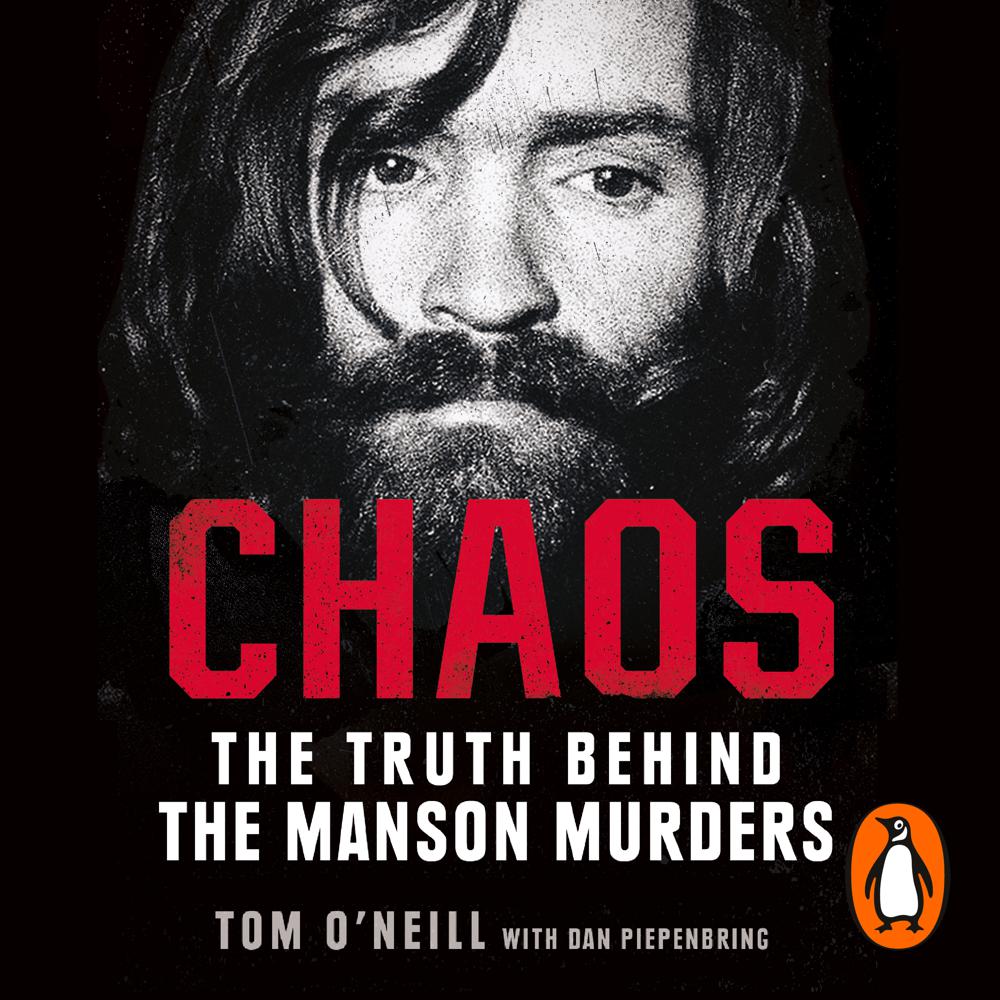 Narrated By: Kevin Stillwell
Duration: 16 hours and 15 minutes
What to expect
As featured on The Joe Rogan Experience
Penguin presents the audiobook edition of Chaos written by Tom O'Neill with Dan Piepenbring, read by Kevin Stillwell.
______________________________
A journalist's twenty-year obsession with the Manson murders leads to shocking new conspiracy theories about the FBI's involvement in this fascinating re-evaluation of one of the most infamous cases in American history.

In 1999, when Tom O'Neill was assigned a magazine piece about the thirtieth anniversary of the Manson murders, he worried there was nothing new to say. Weren't the facts indisputable? Charles Manson had ordered his teenage followers to commit seven brutal murders, and in his thrall, they'd gladly complied. But when O'Neill began reporting the story, he kept finding holes in the prosecutor Vincent Bugliosi's narrative, long enshrined in the bestselling Helter Skelter. Before long, O'Neill had questions about everything from the motive to the manhunt. Though he'd never considered himself a conspiracy theorist, the Manson murders swallowed the next two decades of his career. He was obsessed.
Searching but never speculative, CHAOS follows O'Neill's twenty-year effort to rebut the 'official' story behind Manson. Who were his real friends in Hollywood, and how far would they go to hide their ties? Why didn't law enforcement act on their many chances to stop him? And how did he turn a group of peaceful hippies into remorseless killers? O'Neill's hunt for answers leads him from reclusive celebrities to seasoned spies, from the Summer of Love to the shadowy sites of the CIA's mind-control experiments, on a trail rife with cover-ups and coincidences.
Featuring hundreds of new interviews and dozens of never-before-seen documents from the LAPD, the FBI and the CIA, CHAOS mounts an argument that could be, according to Los Angeles Deputy District Attorney Stephen Kay, strong enough to overturn the verdicts on the Manson murders. In those two dark nights in Los Angeles, O'Neill finds the story of California in the sixties: when charlatans mixed with prodigies, free love was as possible as brainwashing, and utopia-or dystopia-was just an acid trip away.
______________________________
'Riveting … Sensational revelations … True crime fans will be enthralled.' PUBLISHERS WEEKLY
'[Full of] scandalous findings … to me it seems only too plausible. O'Neill's intricately sinister 'secret history' often sounds incredible; that doesn't mean that it's not all true.' OBSERVER
Genre
True crime, Conspiracy theories, True crime: serial killers & murderers
Listen to a sample
Whatever you think you know about the Manson murders is wrong. Just flat out wrong. Tom O'Neill's twenty years of meticulous research has unearthed revelations about the murders, the murderers, the prosecutors who tried them and a rogues gallery of cops, drug dealers, bent doctors, famous celebrities, grotesque government research, secret agents and shadowy figures in a conspiracy/cover up so sweeping and bizarre, you'll be as astounded as you are terrified. If your friends call you paranoid, maybe they're just ignorant.
A 20-year quest for the truth may have not found any definitive answers — but it definitely changes the story … Chaos offers a slew of newly reported information that proves one thing: There's more to it than we thought.
Chaos explodes a bomb under Manson's Helter Skelter race war … Tantalizing … Founded on prodigious research, it convincingly impugns key tenets of Bugliosi's [Helter Skelter] narrative and exhumes a trove of provocative data … Explosive revelations … O'Neill's 20-year investigation reads like a thriller with overtones of Philip Marlowe.
O'Neill's investigations started twenty years ago…and they have continued ever since … His research monomaniacally took over his life … [Full of] scandalous findings … As it develops, O'Neill's tale embroils an increasingly stellar cast of accomplices or enablers … No unified field theory of malfeasance would be complete without a link to the JFK assassination and the ensuing cover-up. O'Neill supplies one, and to me it seems only too plausible. Inevitably there are contemporary resonances … O'Neill's intricately sinister 'secret history' often sounds incredible; that doesn't mean that it's not all true.
A kaleidoscope swirl of weird discoveries and mind-bending hypotheticals that reads like Raymond Chandler.