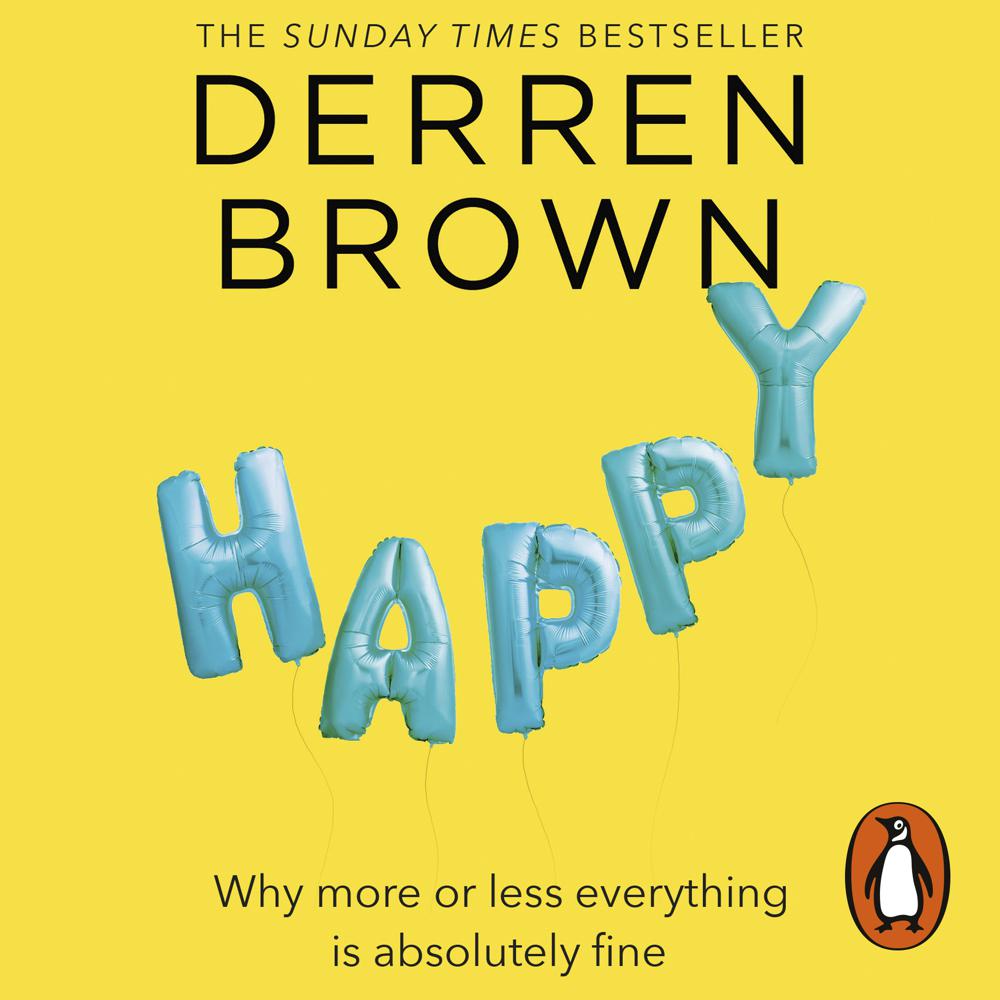 Narrated By: Derren Brown
Duration: 14 hours and 33 minutes
What to expect
Brought to you by Penguin.

The audiobook edition of Happy, read by Derren Brown.

Everyone says they want to be happy. But that's much more easily said than done. What does being happy actually mean? And how do you even know when you feel it?

In Happy Derren Brown explores changing concepts of happiness - from the surprisingly modern wisdom of the Stoics and Epicureans in classical times right up until today, when the self-help industry has attempted to claim happiness as its own. He shows how many of self-help's suggested routes to happiness and success - such as positive thinking, self-belief and setting goals - can be disastrous to follow and, indeed, actually cause anxiety.

Happy aims to reclaim happiness and to enable us to appreciate the good things in life, in all their transient glory. By taking control of the stories we tell ourselves, by remembering that 'everything's fine' even when it might not feel that way, we can allow ourselves to flourish and to live more happily.

"Crammed with wisdom and insight . . . I'm going to recommend it to everyone I know" Stephen Fry

"Witty, useful and beautifully written" The Sunday Times

© Derren Brown 2016 (P) Penguin Audio 2018
Genre
Philosophy, Psychology, History of philosophy, philosophical traditions, Psychology: emotions, Popular psychology, Philosophy of religion, Agnosticism & atheism
Listen to a sample
Witty, useful and beautifully written... this book grapples expansively with the most profound questions any of us face
Brilliant. Really brilliant and just crammed with wisdom and insight. It will genuinely make a difference to me and the way I think about myself. I'm going to recommend it to everyone I know.
Til now, we've known Derren Brown as a supreme illusionist and magician. Now he surprises us with a new and brilliant identity: as a philosopher. Not just any philosopher. Brown takes philosophy back to its truest task: that of helping us to live and die well. His book is deeply informative, moving, wise and full of love. It sets out to change lives - and it will. Derren has pulled off a properly implausible trick: that of making the deepest ideas relevant, humane and urgent.
In this wise and perceptive book Derren Brown has conjoined personal experience, profoundly sensible psychology and the magic of philosophy to produce a really excellent account of how to be happy - really, maturely, properly happy. This is a wonderfully educative - and enjoyable! - book, and should be on everyone's reading list, always.
Brown tries to resurrect the original Stoic ambitions here: not just to live well but to die well, too. His book is thoughtful, insightful and ultimately, well, helpful.