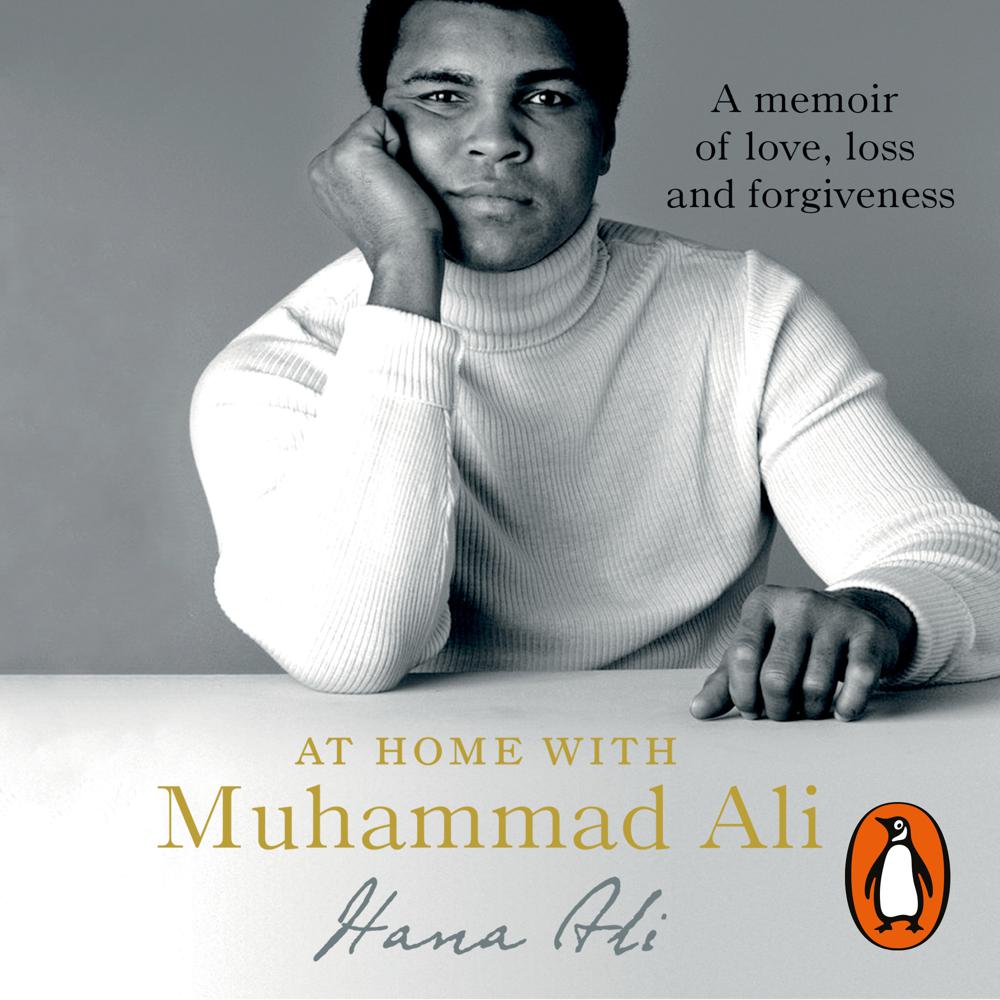 Narrated By: Kim Staunton
Duration: 15 hours and 10 minutes
What to expect
Random House presents the audiobook edition of At Home with Muhammad Ali by Hana Ali, read by Kim Staunton.

At Home with Muhammad Ali is an intimate, behind-the-scenes portrait of a legend, a man admired and respected as the greatest sporting icon of our age, written by Ali's daughter Hana.
As Muhammad Ali approached the end of his astonishing boxing career, he strove to embrace a new purpose and role in life beyond the ring. It was a role that would see him take centre stage as an ambassador for peace and friendship, whilst at the same time attempting to find balance and harmony with his many commitments and responsibilities as a husband, devoted father, son and friend.
In the 1970s Ali began recording a series of audio diaries, mostly in his LA home. Through these private tapes, as well as personal journals, love letters and many never-before-seen photographs, we discover Ali the family man and see how, despite the complexities of his personal life, he went to extraordinary lengths to keep all of his nine children united and to help others – be they family, friend or stranger. We also hear of the everyday adventures the family experienced, with visitors such as Michael Jackson, Clint Eastwood and John Travolta dropping by.
Candid and revealing, At Home with Muhammad Ali is more than Hana's family memoir. It is a moving and poignant letter of love and affection from a daughter to a father.
Genre
Intergenerational relationships: advice & issues, Biography: general, Memoirs, Family psychology
Listen to a sample
This book is an amazing insight into an incredible man
Intimate... Moving... [This] memoir charts Hana's treasured memories of a man hailed as one of the first global superstars of sport.
How wonderful, after decades of thoughtful but at-a-distance portraits of Muhammad Ali, we have this exquisite and movingly intimate one. His daughter, Hana, has permitted us all to fill out—with love—our own sense of the real man behind all the mythology. This is a hugely important addition to our understanding of the Greatest of All Time.
A famous man will be viewed one way by the public. Another by his wife. Another by his children. Hana brings together these vantage points — and allows everyone to see Muhammad Ali in a new light.
To millions of fans his reputation went beyond the boxing ring. In At Home With Muhammad Ali, Hana Ali tells what it was like to grow up with the most legendary name in sport. [The book] vividly evokes an Ali who is barely recognisable as the cocky, complicated boxer and incendiary political figure depicted in obituaries. Instead, Hana fleshes out the Ali of his later years... She presents her father as a funny, doting family man who looks for ways to bring joy to ordinary people. Ultimately, his final victory is his greatest: coming to terms with this illness after realising that it was the one opponent he would never beat.