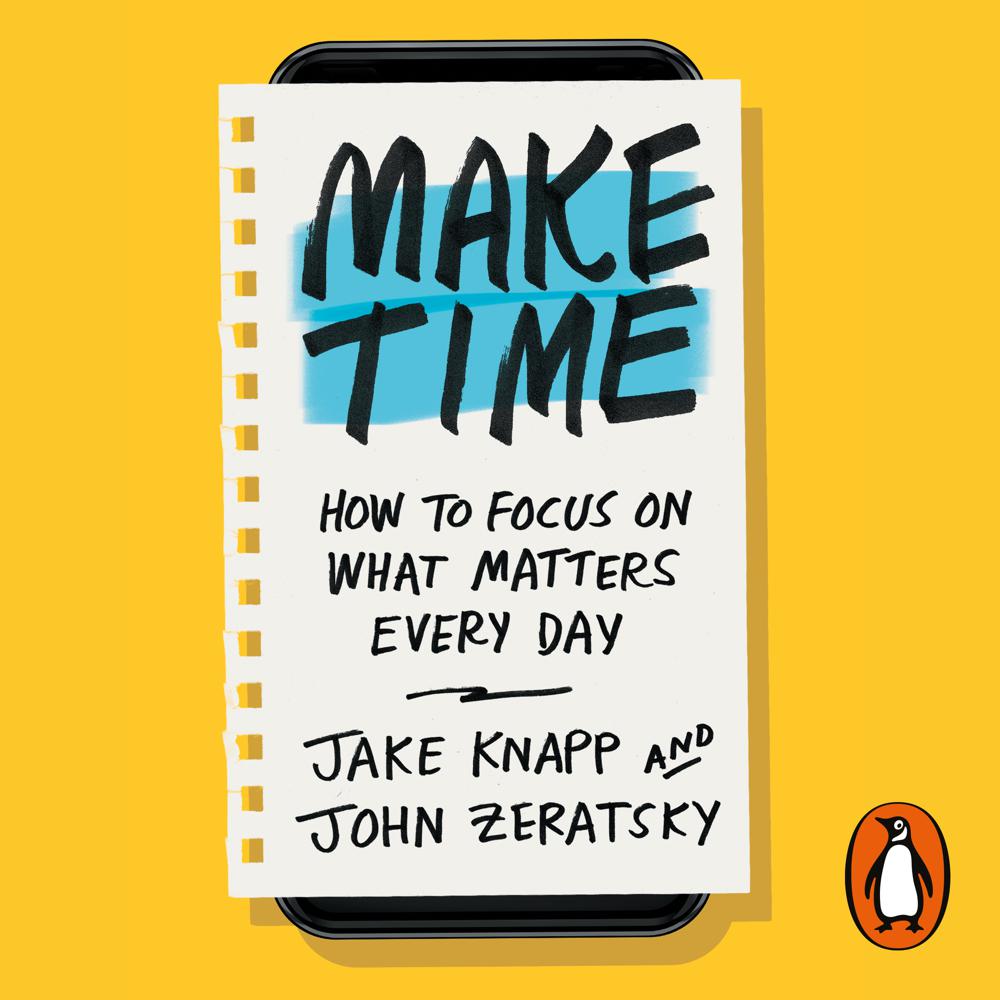 Narrated By: Jake Knapp, John Zeratsky
Duration: 4 hours and 58 minutes
What to expect
Random House presents the audiobook edition of Make Time, written and read Jake Knapp and John Zeratsky.

'If you want to achieve more (without going nuts), read this book.' Charles Duhigg, author of The Power of Habit

What if you could step off the hamster wheel and start taking control of your time and attention?
As creators of Google Ventures' renowned 'design sprint', Jake and John have helped hundreds of teams solve important problems by changing how they work. Building on the success of these sprints and their experience designing ubiquitous tech products like Gmail and YouTube, they spent years experimenting with their own personal habits and routines, looking for ways to help individuals optimize their energy, focus, and time. Now they've packaged the most effective tactics into a four-step daily framework that anyone can use to systematically design their days.
Making time isn't about radically overhauling your lifestyle; it's about making small shifts in your environment to liberate yourself from constant busyness and distraction. Make Time is a must-read for anyone who has ever thought 'if only there were more hours in the day...'
Genre
Time management, Organizational theory & behaviour, Working patterns & practices, Advice on careers & achieving success
Listen to a sample
Make Time is a charming manifesto - as well as an intrepid do-it-yourself guide to building smart habits that stick. If you want to achieve more (without going nuts), read this book.
Time is the single biggest ingredient for creative work. Time to focus, time to experiment, time to master creative skills. Make Time provides ways for each of us to find new reserves of that precious commodity. It is an excellent guidebook for taking control of the design of your life.
I defy you to read this book and not come away with ideas that make you happier and/or more effective in accomplishing what you want in life. It's smart, entertaining and packed with field-tested insights.
Too often, we get bogged down in the demands of each day and struggle to find time for what really matters. In this powerful book, Jake Knapp and John Zeratsky explain how small changes in the design of our days can give us more time for the people and activities that energize and fulfil us. Make Time is essential reading for anyone who wants to create a happier, more successful life.
As someone obsessed with time and how to spend it wisely, I loved this fun and useful book. Not your normal productivity fare.