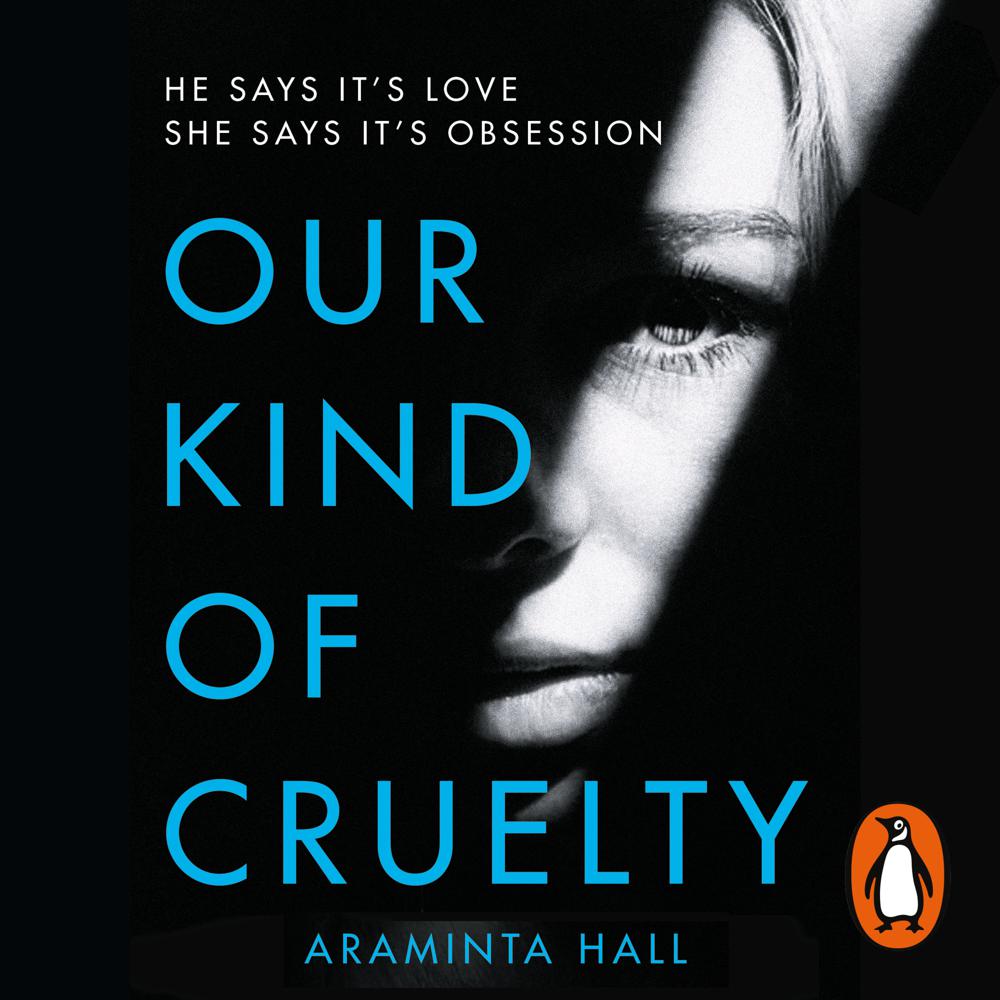 Narrated By: Nick Hendrix, Eleanor Matsuura
Duration: 8 hours and 8 minutes
What to expect
Random House presents the audiobook edition of Our Kind of Cruelty by Araminta Hall, read by Nick Hendrix and Eleanor Matsuura.
_________________________________
LOVE. OBSESSION.
DANGER.

'Simply one of the most disturbing thrillers I've read in years. In short I loved it, right down to the utterly chilling final line' – Gillian Flynn, author of GONE GIRL

Our Kind of Cruelty is:
'Astonishingly dark.'
'Chilling. Disturbing. Addictive.'
'Gripping, unsettling, and brilliantly constructed.'
'The year's best thriller.'
_________________________________
VERITY
Things were difficult with Mike by the end. He was too much, too controlling – sometimes, I was afraid of him. But I've moved on now. I'm getting married to the man of my dreams – he looks after me, but he doesn't stifle me. Mike and the games we used to play – that's all in the past now.

It's time to move on.
Mike and I are finished.


MIKE
It was just a matter of time until she came back to me. After what I did, maybe she's right to make me wait. But Verity knows how sorry I am. And the messages she sends me, the way she calls me, the way she acted last time I saw her – no-one acts like that if they've stopped caring.

She'll be mine again.
No matter who stands in my way.
_________________________________

'A propulsive and addictive study of the darkness of obsessive love. I was completely gripped from the first word to the last.' LISA JEWELL

'As merciless a thriller as I've ever read. Astonishingly dark and sensationally accomplished.' AJ FINN, author of The Woman in the Window

'A tense intelligent thriller that kept me gripped and guessing until the last page – and thinking long after that.' ERIN KELLY

'A searing, chilling sliver of perfection... may well turn out to be the year's best thriller.' NEW YORK TIMES SUMMER READING ISSUE

'Readers of weary of domestic noir should pick up Our Kind of Cruelty, a splendidly written novel that gives the genre a shot in the arm … pacily written and hugely involving... I was gripped until the last pages.' DAILY EXPRESS

'A taut, fascinating psychological thriller. Original and powerful. Be prepared for questions to linger in your head for a long time afterward.' JULIA HEABERLIN

'Toxic love, obsession, and the unflinching unravelling of a mind. Scarily plausible, a great read.' ALI LAND

'Chilling. Disturbing. Addictive. I couldn't put this down.' EMMA FLINT

'Like watching a slow motion car-crash through splayed fingers' TAMMY COHEN

'An addictive dive into dangerous, extreme obsession. A must-read' JULIA CROUCH

'the orchestration of suspense is masterly' FINANCIAL TIMES

'disturbing and thrilling' DAILY MAIL

'This brilliant, thought-provoking thriller will keep you up at night' BEST MAGAZINE

'Darkly addictive, this is set to be one of the most talked-about thrillers of the year' HEAT MAGAZINE

'I devoured this gripping, unsettling, and brilliantly constructed thriller in one gulp' WOMAN AND HOME
Genre
Crime & mystery fiction, Political / legal thriller, Psychological thriller
Listen to a sample
A propulsive and addictive study of the darkness of obsessive love. I was completely gripped from the first word to the last!
I tore through Our Kind of Cruelty - toxic love, obsession and the unflinching unravelling of a mind. Scarily plausible, a great read.
A tense, intelligent thriller which kept me gripped and guessing until the last page, and thinking long after that.
Simply one of the most disturbing thrillers I've read in years. In short, I loved it, right down to the utterly chilling final line.
An addictive dive into dangerous, extreme obsession. A must-read for 2018