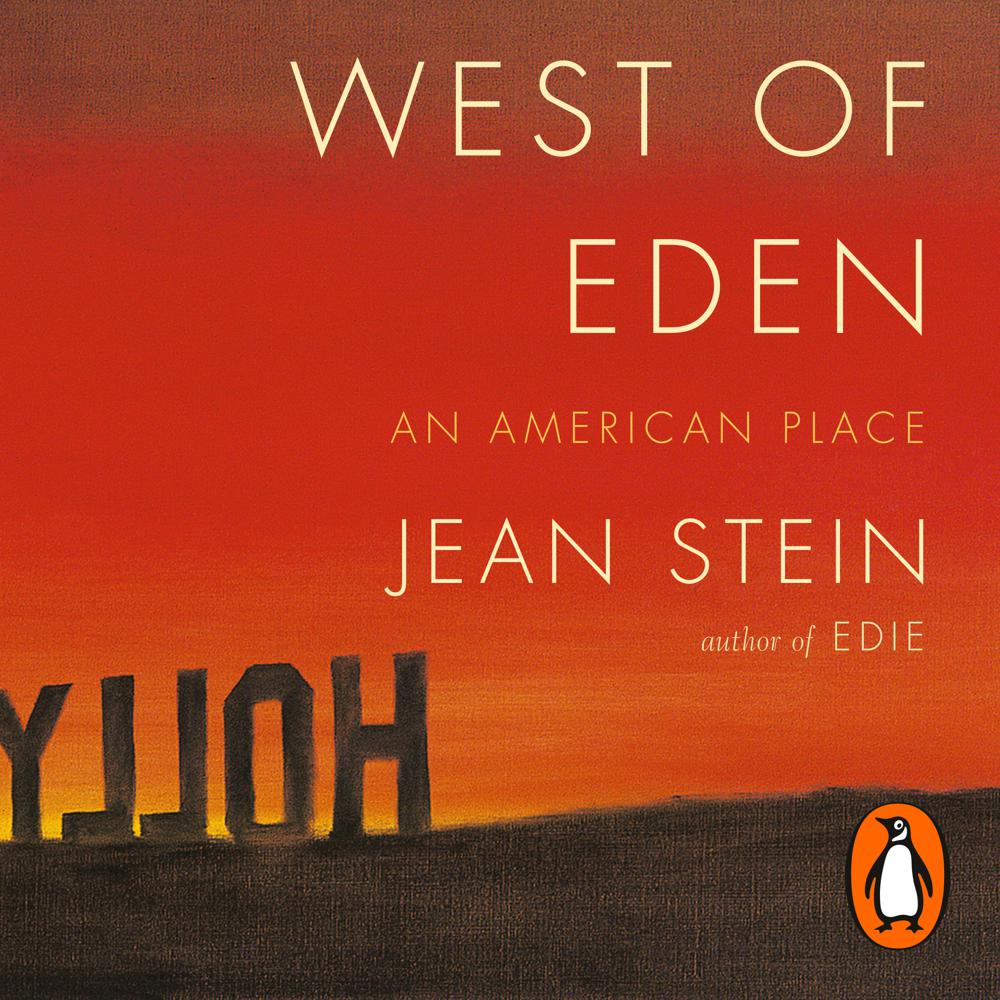 Narrated By: Scott Brick, Paul Boehmer, Tara Sands, Cassandra Campbell, Arthur Morey, Mark Bramhall, Kathleen McInerney, Ann Marie Lee, Fred Sanders, Jorjeana Marie, Keith Szarabajka, Will Damron, Bruce Mann
Duration: 11 hours and 17 minutes
What to expect
Random House presents the unabridged, downloadable audiobook edition of West of Eden by Jean Stein, read by Scott Brick, Paul Boehmer, Tara Sands, Cassandra Campbell, Arthur Morey, Mark Bramhall, Kathleen McInerney, Ann Marie Lee, Fred Sanders, Jorjeana Marie, Keith Szarabajka, Will Damron, and Bruce Mann.
'A selective, sly history of studio era Hollywood... This is undoubtedly one of the best books ever written about the movies.'
The Number One Daily Telegraph Book of the Year
West of Eden is the definitive story of Hollywood, told, in their own words, by the people on the inside: Lauren Bacall, Arthur Miller, Dennis Hopper, Frank Gehry, Ring Lardner, Joan Didion, Stephen Sondheim – all interviewed by Jean Stein, who grew up in the Forties in a fairytale mansion in the Hollywood Hills.
The book takes us from the discovery of oil in the Twenties with the story of the tycoon Edward Doheny (There Will Be Blood) and traces the growth of corruption through the syndicates, the mob, and the movie studios – from the beginnings of the film industry to the end, with News Corp. and Rupert Murdoch (who bought the Stein mansion in 1985).
West of Eden is about money, power, fame and terrible secrets: the doomed Hollywood of the late Fifties, early Sixties – 'the rotten heart of paradise'. Like her last book, the best-selling Edie, this is an oral history told through brilliantly edited interviews. As this is Hollywood, it's a book full of sex, drugs and celebrity glamour; but because it's built from the firsthand accounts of people who were actually there, many of them writers, actors and artists, it's also strangely claustrophobic, seductive, and completely compelling.
Genre
Memoirs, Films, cinema
Listen to a sample
The dark side of Tinseltown – the fame, the fortunes, the secrets – told by those in the know… Stein edits together the dizzying array of interviews she has collected, weaving them into a subtly revealing oral history that illuminates Hollywood life from the 1920s to the 1990s.
The best book ever done on the terrifying social dysfunction of the beautiful people… [Stein] is clear-eyed and knows where the bodies are buried… Though all "true", this book reads like a dream… A spellbinding record of that ancien régime.
One of the best books ever written about the movies.
A gripping story of money, power and fame… Highly entertaining stuff packed with memorable anecdotes.
Selective and sly, personal and political – and by far one of the best books ever written about Hollywood… The stories are vivid and the voices as clear as if the speakers were still alive… Like reading a secret diary and looking at a geologist's diagram at the same time: with each intimate revelation, the precise stratification of the world's most glamorous and closed society becomes clear.