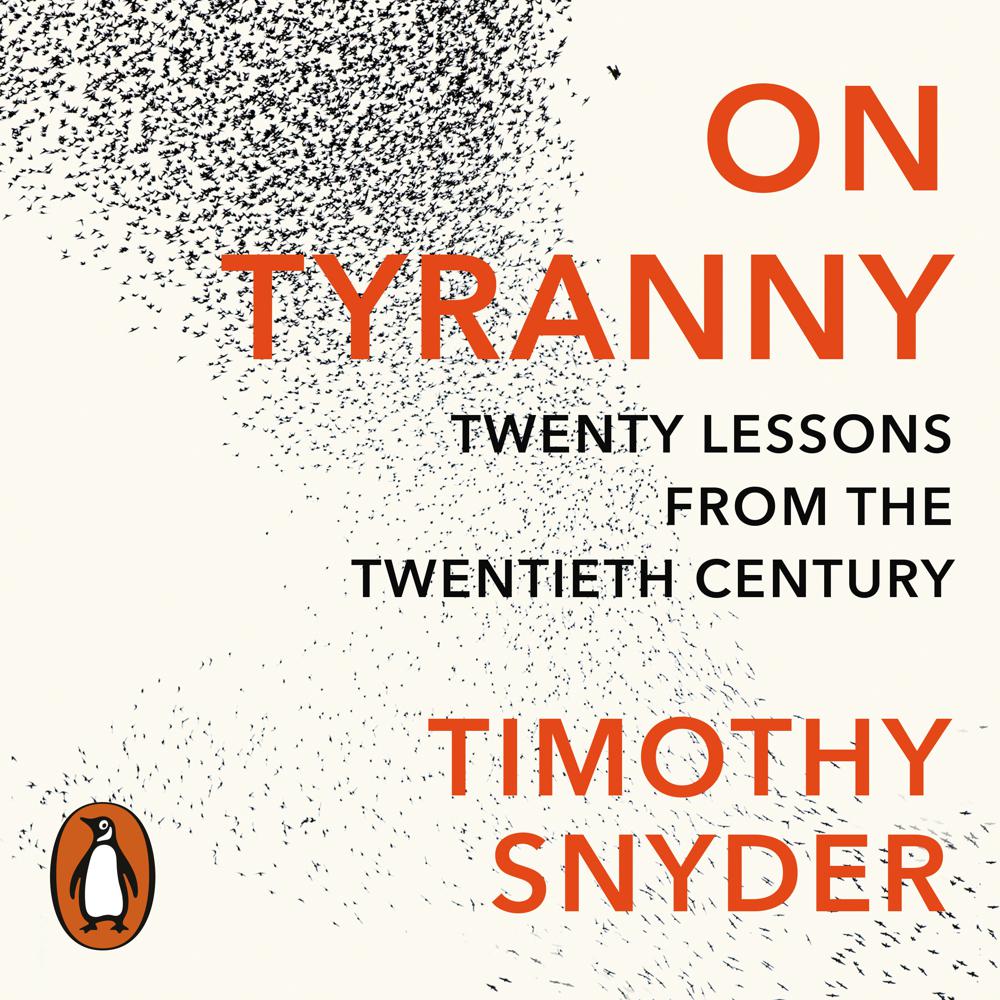 Narrated By: Timothy Snyder
Duration: 1 hour and 46 minutes
What to expect
Random House presents the unabridged, downloadable audiobook edition of On Tyranny: Twenty Lessons from the Twentieth Century, written and read by Timothy Snyder.

History does not repeat, but it does instruct.

In the twentieth century, European democracies collapsed into fascism, Nazism and communism. These were movements in which a leader or a party claimed to give voice to the people, promised to protect them from global existential threats, and rejected reason in favour of myth. European history shows us that societies can break, democracies can fall, ethics can collapse, and ordinary people can find themselves in unimaginable circumstances.

History can familiarise, and it can warn. Today, we are no wiser than the Europeans who saw democracy yield to totalitarianism in the twentieth century. But when the political order seems imperilled, our advantage is that we can learn from their experience to resist the advance of tyranny.

Now is a good time to do so.
Genre
Political structures: totalitarianism and dictatorship, Political structures: democracy
Listen to a sample
Snyder's beautifully weighted book is the perfect clear-eyed antidote to [Trump's] deliberate philistinism … Always measured in their observation, these 128 pages are a brief primer in every important thing we might have learned from the history of the last century, and all that we appear to have forgotten … You will read no more relevant field guide to that wisdom than this book.
On Tyranny is a slim book that fits alongside your pocket constitution and feels only slightly less vital... Clarifying and unnerving… a memorable work that is grounded in history yet imbued with the fierce urgency of what now.
Urgent, indignant, winningly ragged in execution, On Tyranny is in the best tradition of polemical pamphlets. Timely agitprop, it offers some relief from Trump anxiety disorder.
Following paths trodden by Hannah Arendt, Czeslaw Milosz and Václav Havel, Snyder has written a manifesto for surviving the political rampages of our time with our rights and freedoms intact… Snyder's book is addressed to the American reader, but its message is broader. Read in Budapest or Warsaw, it will have an especial resonance … Slim and accessible, On Tyranny is a book to read quickly, ponder slowly and pass on
The most coherent manifesto on confronting Trump… powerful.