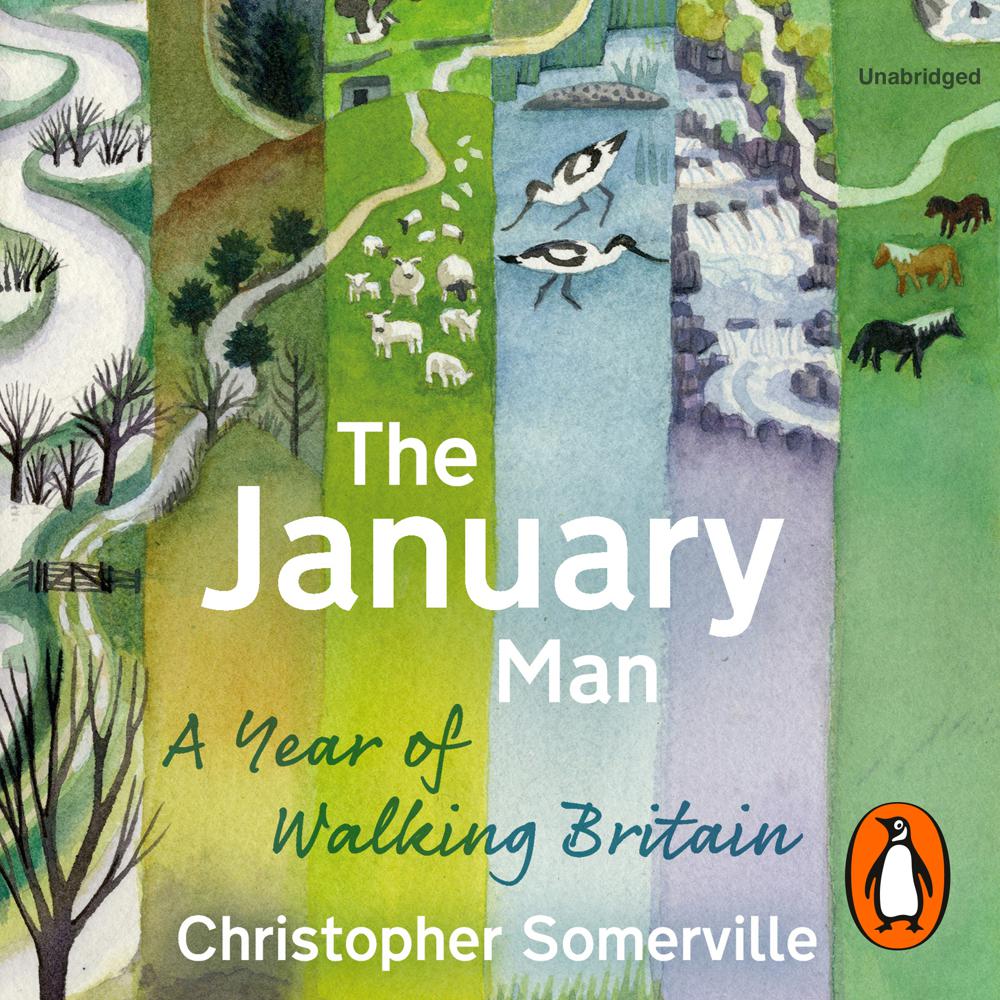 Narrated By: Christopher Somerville
Duration: 8 hours and 59 minutes
What to expect
Random House presents the unabridged, downloadable audiobook edition of The January Man by Christopher Somerville, read by Christopher Somerville.
In January 2006, a month or two after my father died, I thought I saw him again – a momentary impression of an old man, a little stooped, setting off for a walk in his characteristic fawn corduroys and shabby quilted jacket. After teenage rifts it was walking that brought us closer as father and son; and this 'ghost' of Dad has been walking at my elbow since his death, as I have ruminated on his great love of walking, his prodigious need to do it – and how and why I walk myself.

The January Man is the story of a year of walks that was inspired by a song, Dave Goulder's 'The January Man'. Month by month, season by season and region by region, Christopher Somerville walks the British Isles, following routes that continually bring his father to mind. As he travels the country – from the winter floodlands of the River Severn to the lambing pastures of Nidderdale, the towering seabird cliffs on the Shetland Isle of Foula in June and the ancient oaks of Sherwood Forest in autumn – he describes the history, wildlife, landscapes and people he encounters, down back lanes and old paths, in rain and fair weather.
This exquisitely written account of the British countryside not only inspires us to don our boots and explore the 140,000 miles of footpaths across the British Isles, but also illustrates how, on long-distance walks, we can come to an understanding of ourselves and our fellow walkers. Over the hills and along the byways, Christopher Somerville examines what moulded the men of his father's generation – so reticent about their wartime experiences, so self-effacing, upright and dutiful – as he searches for 'the man inside the man' that his own father really was.
Genre
Wildlife: general interest, Walking, hiking, trekking, The Earth: natural history: general interest, The countryside, country life: general interest
Listen to a sample
A delightful, poetical hotchpotch...three parts nature notes to one part history lesson, one part personal memoir and one part loving salute to his late father...Somerville is a great wordsmith and could write about mud and make it interesting...he supplies a bumper draught of inspiration to visit some enticing, intriguing corners of Britain.
This is nature at its most embracing; human nature richly-woven into the cycle of the seasons and the ecologies of father and son, observed with the passion and learning of Britain's favourite walker. A truly wonderful, uplifting book, bursting with life.
BOOK OF THE WEEK ... Like all the best nature writers, he's able to evoke an entire landscape with the lightest of touches.
This is the kind of book that will make you ache to leave the Tube or train at the very next stop and make for that distant ridge, that glimpsed wood.
Christopher Somerville's THE JANUARY MAN has taken me on such a happy journey. I have experienced every type of weather, and walked until my feet are very sore; I have learnt many ancient stories, and stopped to notice the crows, the gulls, the geese, not to mention moss, flowers and clouds. I have thought about churches, pubs, morris men, farming, mud, rain, boots, badgers, apples, climate change - as well as growing older. All this from the comfort of my chair in the kitchen. And of course in thinking about all these things, I have also thought about my own place in the world, and the things I love. I have thought about my dad too and his final years. By the time I came to the end, I was crying.

It is a wise, entertaining, kind book - one that makes you want to walk and want to read. The language is taut, beautiful, sparky and generous. It's a book not just for walkers or nature lovers, but anyone who loves a good plain story.