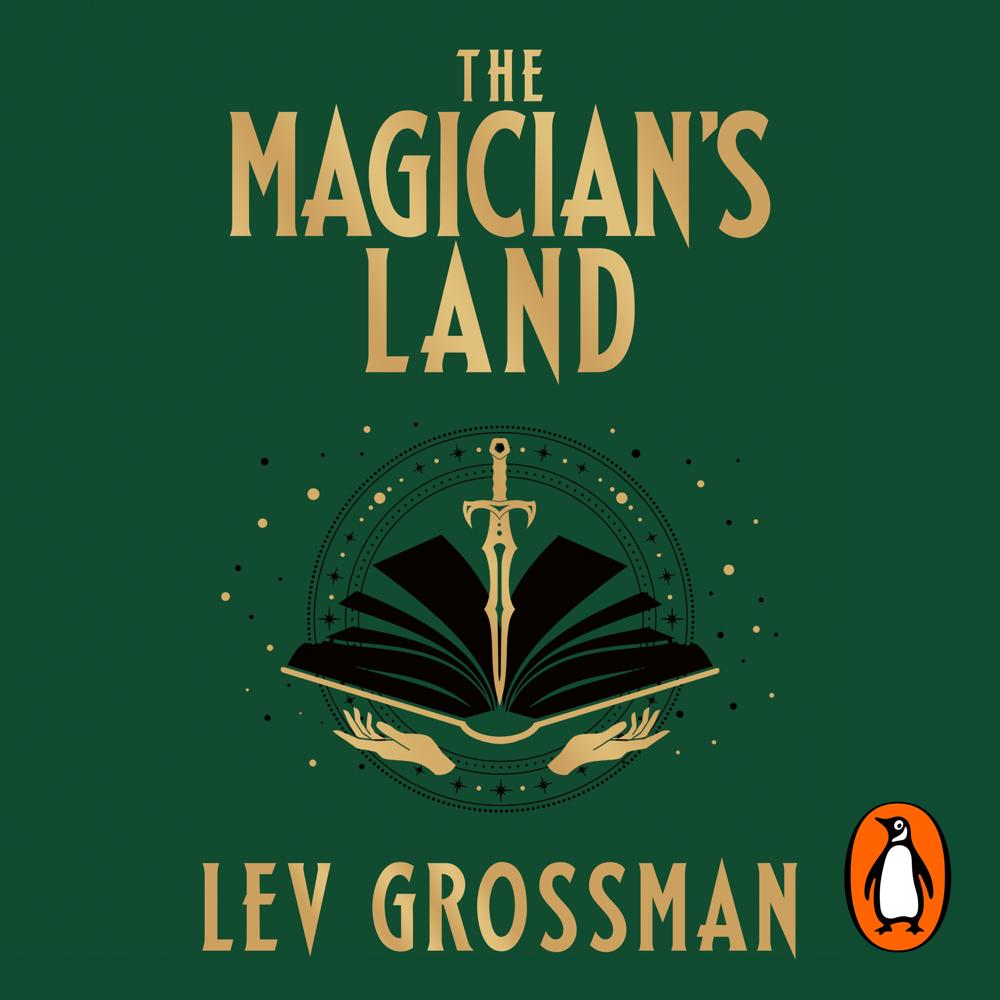 Narrated By: Mark Bramhall
Duration: 16 hours and 27 minutes
What to expect
'The Magicians is to Harry Potter as a shot of Irish whiskey is to a glass of weak tea . . . dark and dangerous and full of twists' – GEORGE R. R. MARTIN

THE BOOKS BEHIND THE HIT SYFY SHOW
_____________________________________
Quentin Coldwater has lost everything. He has been cast out of the secret magical land of Fillory and now, friendless and broke, he returns to where his story began: Brakebills Preparatory College of Magic. But Quentin's past soon catches up with him . . .

Meanwhile, Fillory's magical barriers are failing, and barbarians from the north have invaded. To save their beloved world from extinction, Eliot and Janet, High King and Queen of Fillory, must embark on a final, dangerous quest.

Quentin's adventure takes him from Antarctica to the enchanted Neitherlands, where he finds old friends. But all roads lead back to Fillory, where Quentin must put things right, or die trying.

THE FINAL BOOK IN LEV GROSSMAN'S CRITICALLY ACCLAIMED MAGICIAN TRILOGY
_____________________________________
Praise for the Magician Trilogy:

'Stirring, complex, adventurous . . . superb' – JUNOT DIAZ, author of DROWN and THE BRIEF WONDROUS LIFE OF OSCAR WAO

'A sophisticated, subtle novel that is also magical fun' – THE TIMES

'Lev Grossman has conjured a rare creature: a trilogy that simply gets better and better as it goes along . . . Literary perfection.' – ERIN MORGENSTERN, author of THE NIGHT CIRCUS

'The Magicians ought to be required reading . . . Lev Grossman has written a terrific, at times almost painfully perceptive novel of the fantastic' – KELLY LINK

'The best fantasy trilogy of the decade' – CHARLES STROSS

'The Magicians is angst-ridden, bleak, occasionally joyous and gloriously readable. Forget Hogwarts: this is where the magic really is.' – SFX

'The Magicians is fantastic, in all senses of the word. It's strange, fanciful, extravagant, eccentric, and truly remarkable – a great story, masterfully told.' – SCOTT SMITH, author of THE RUINS
Genre
Science fiction, Fantasy
Listen to a sample
The Magician's Land ... does all the things you want in a third book: winding up everyone's stories, tying up the loose ends - and giving you a bit more than you bargained for ... Starting very early in Magician's Land, Grossman kicks off a series of escalating magical battles, each more fantastic, taut, and brutal than the last ... At the same time, Grossman never loses sight of the idea of magic as unknowable and unsystematized, a thread of Borgesian Big Weird that culminates in a beautiful tribute to Borges himself. It's this welding together of adventure-fiction plotstuff and introspective, moody characterization that makes this book, and the trilogy it concludes, so worthy of your reading time, and your re-reading time.
[A] wonderful trilogy ... If the Narnia books were like catnip for a certain kind of kid, these books are like crack for a certain kind of adult ... Brakebills graduates can have a hard time adjusting to life outside ... Readers of Mr. Grossman's mesmerizing trilogy might experience the same kind of withdrawal upon finishing The Magician's Land. Short of wishing that a fourth book could suddenly appear by magic, there's not much we can do about it.
The final part of the outstanding Magicians trilogy ... Lev Grossman manipulates fantasy genres with skill ... The Magician's Land glitters with wit, but the warp and weft of the story is shot through with emotional rawness and a sense of peril.
Richly imagined and continually surprising … The strongest book in Grossman's series. It not only offers a satisfying conclusion to Quentin Coldwater's quests, earthly and otherwise, but also considers complex questions about identity and selfhood as profound as they are entertaining … This is a gifted writer, and his gifts are at their apex in The Magician's Land.
A wholly satisfying and stirring conclusion to this weird and wonderful tale ... Relentlessly subversive and inventive ... [Grossman] reminds us that good writing can beguile the senses, imagination and intellect. The door at the back of the book is still there, and we can go back to those magical lands, older and wiser, eager for the re-enchantment.