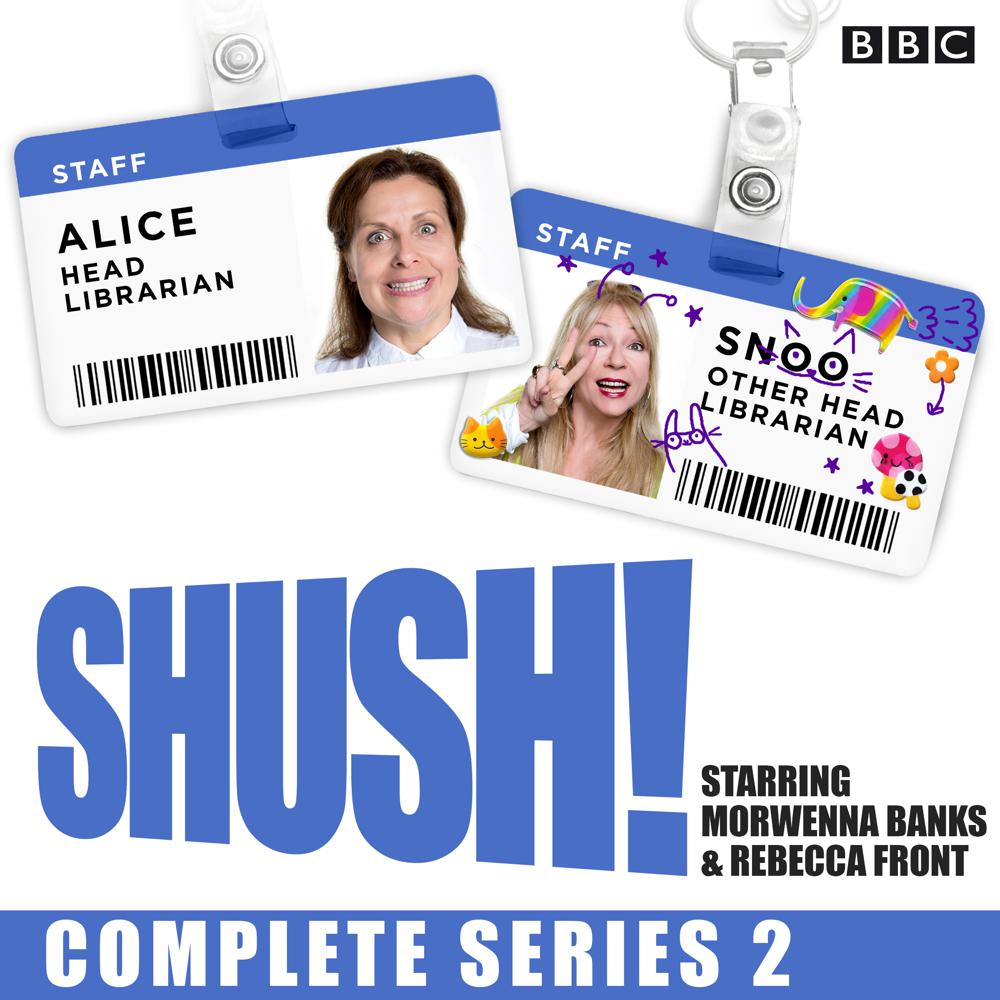 Narrated By: Morwenna Banks, Rebecca Front, Michael Fenton Stevens, Ben Willbond,
Duration: 1 hour and 51 minutes
What to expect
The second series of the award-winning sitcom written by and starring Morwenna Banks (Absolutely) and Rebecca Front (The Thick Of It) set in, yes, a library, but no ordinary library. This is the library overseen and run by the most unlikely pairing since Mills met Boon.
Meet Alice (Rebecca Front) - a former child prodigy who won a place at Oxford aged 9, but because Daddy went too she never needed to have any friends. She's scared of everything - everything that is, except libraries and…
…Snoo (Morwenna Banks), a slightly confused individual, with a have-a-go attitude to life, marriage, haircuts and reality. Snoo loves books, and fully intends to read one one day.
And forever popping into the library is Dr. Cadogan (Michael Fenton Stevens), celebrity doctor to the stars and a man with his finger in every pie. Charming, indiscreet and quite possibly wanted by Interpol, if you want a discrete nip and tuck and then photos of it accidentally left on the photocopier, Dr Cadogan is your man.
Their happy life is interrupted by the arrival of Simon Nielson (Ben Willbond), a man with a mission, a mission to close down inefficient libraries. Fortunately, he hates his mission. What he really wants to do is once, just once get even with his inexhaustible supply of high-achieving brothers...
In the first episode, when an International Librarians' Conference looms, Alice & Snoo have to resort to some rather unconventional means to get hold of a passport… methods that include a thousand hummingbirds, some over-tight jeans and an hilarious anagram…
In Show 2, when Snoo makes an unexpected purchase, Alice has to face an old rival, some electrical cables and a very dusty dictionary. Meanwhile, Dr Cadogan goes digital and Simon has to defend somebody's Crab Nebula...
Show 3, and when the library is threatened by a flood, Snoo gains some animal friends and Alice gets down to some basic biology with Simon's hunky brother. Meanwhile, Dr Cadogan unveils some deadly soup and a rather spiffy jacket...
And when family come to call, Snoo runs into problems with a grape and Alice has to learn a tricky manoeuvre in the fourth and final episode…
The show comes from Pozzitive, proud producers of Cabin Pressure, Thanks A Lot, Milton Jones!, Jeremy Hardy Speaks To The Nation, The Brig Society, The Castle, Armando Iannucci's Charm Offensive & Kevin Eldon Will See You Now...
Genre
Humour, Films, cinema
Listen to a sample