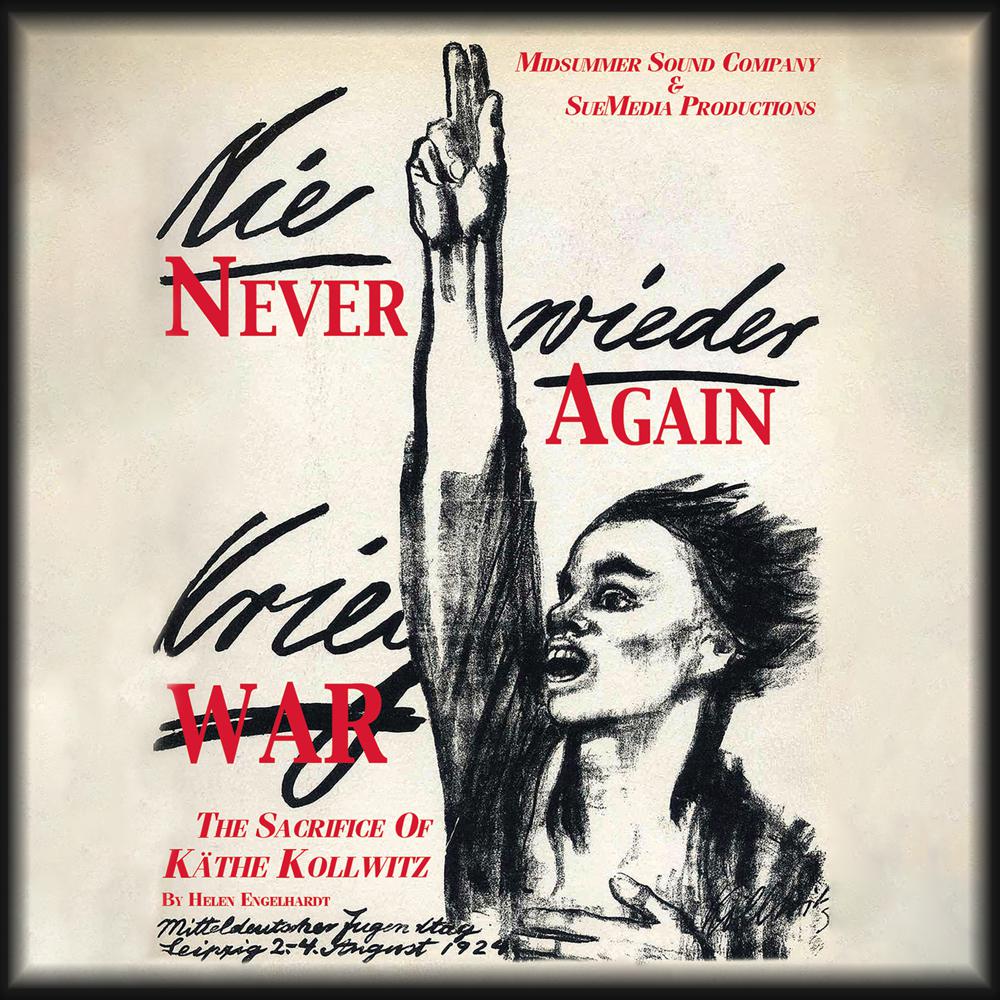 Narrated By: Yelena Shmulenson, Nick Sullivan, Katherine Kellgren, Robert Fass, a full cast
Duration: 52 minutes
What to expect
SueMedia Productions / Midsummer Sound Company present the original audio drama, Never Again War: The Sacrifice of Käthe Kollwitz by Helen Engelhardt.
Begun as a stage play by Engelhardt, this audio adaptation of Never Again War focuses on key biographical moments in Kollwitz's long life to give the audience an understanding of the complex world in which she lived and the destructive nature of war. Engelhardt is now working on a feature film to further bring awareness of Kollwitz's story to a larger audience.
Hosted by Marsha Mason, Oscar nominee and Golden Globe winner, Never Again War takes us into the mind and life of the great German graphic artist and sculptor, Käthe Kollwitz, renowned for her body of work dedicated to depicting the lives of the working poor.
After her youngest son Peter was killed in Belgium in October 1914 during the opening weeks of World War I, she devoted the rest of her life to using her art in the service of her grief and opposition to war.
Our play begins in Berlin in February 1914 at a party in the Kollwitz home celebrating the eighteenth birthday of her younger son Peter. A few months later, as soon as war begins, Peter implores his parents for permission to join his older brother Hans to become a soldier in the army.
To support the idealism of her sons to offer themselves for sacrifice on behalf of the Fatherland, the socialist Käthe finds herself supporting her sons in a war she deeply disapproved of. When the play concludes in Moritzburg, two weeks before Germany's defeat at the end of World War II in 1945, Kollwitz has learned that every war is answered by a new war until everything is smashed because every war already carries within it the war that will answer it, as World War II answered World War I.
Cast:
Käthe Kollwitz: Yelena ShmulensonHans amd Karl Kollitz: Nick SullivanPeter Kollwitz: Robert FassJutta Kollwitz: Katherine KellgrenAdditional voices: Natalia Bell, Wilson Bridges, Butch D'Ambrosio, Nicholas Herd, Ryan McCabe, and Alan SklarProduction credits:Audio play and booklet: Helen EngelhardtPoem translations: Professor Robert KramerTranslation assistants: Hanny Budnick, Almut FitzgeraldSpecial thanks: Dr. Krishna WinstonPackage design: David ShinnSculpture photos: Marjorie Van HalterenFront cover design: Sue ZizzaCrowd recordings: Natalie CorderoEngineering/Mastering: David ShinnDirector/Producer: Sue ZizzaSpecial thanks: The staff of the Käthe Kollwitz Museum Köln
Genre
Plays, playscripts, Biography: general, Gender studies: women and girls
Listen to a sample
"A lovely, meditative production of a story from a point of view very rarely, if ever heard, on American radio. Kollwitz' story, as detailed in her diaries, is indeed moving and dramatic and will interest listeners as something quite new to them. Beautiful words, music, sound, and performances."
"A full cast makes this production that much more powerful; listeners hear the anguish and loss felt by Käthe and her family as they struggle to make sense of what seems to be endless wars. The cast members' strong emotional performances draw listeners in with their raw tone, pitched sadness, and accented voices. Sue Zizza's leadership as director produces some great audio mixing, including a well-aligned musical score and overlapping voices that enhance meaning within the story."
"I was deeply moved by Never Again War, a very sensitive, quiet, and reflective production. And daring too, to show a German's point of view in a positive light during the two great wars. Wonderful performances by everyone. I haven't heard anything that touched me so deeply in a long, long time."