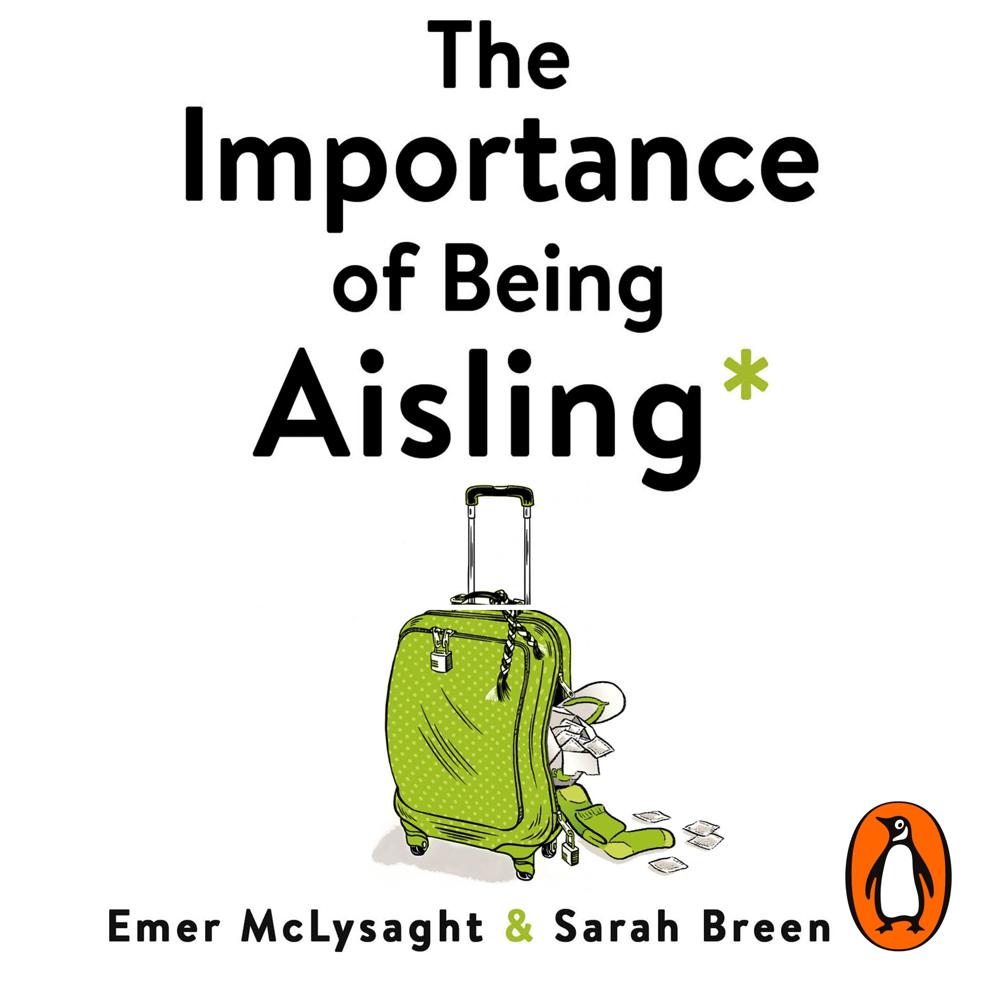 Narrated By: Amy McAllister
Duration: 9 hours and 17 minutes
What to expect
Penguin presents the audiobook edition of The Importance of Being Aisling by Emer McLysaght and Sarah Breen, read by Amy McAllister.
Meet Aisling.
She's a country girl learning to love the city sophistication of unlimited Pinot Greej and brunch, though smashed avocado still mystifies her. She can plan anything, from Secret Santa for her ungrateful colleagues to a hen party for not one but two brides.
But even Aisling is thrown off course when her job and relationship suddenly go up in smoke.
Life in the city was supposed to be glamorous and grown-up, but all at once she's heading home to live with her mother. (Not without a detour to Vegas first - she's unemployed and single, not dead.)
But between making new friends and rivals, and finding her eye caught by a very handsome but very unavailable new man, going home is full of surprises. Could small town life actually hold the answers Aisling is missing?
People can't get enough of Aisling:
'There aren't enough words for how much I love it' Marian Keyes

'The year's funniest book to date' Hello

'Will have you shedding a tear as well as laughing your socks off' Fabulous

'Both Aisling and the novel have a great big thumping heart' Sunday Times
Genre
Contemporary romance, Humorous fiction, Modern & contemporary fiction, Contemporary lifestyle fiction, Family life fiction
Listen to a sample
Hilarious and life-affirming, this is just the book to banish the winter blues
Hilariously funny, but often very moving too. Aisling is the real Voice of Ireland
The funniest, warmest, loveliest book I've read in so long. The characters are so hilarious and relatable, I laughed non-stop and genuinely didn't want it to end
A gift of both books this Christmas will see the recipient barely stir from reading for days
Her voice leaps off the page . . . it's this depth of character and eye for detail that makes comparisons with Helen Fielding's Bridget Jones series spot-on
A runaway success . . . it's an uplifting romcom that combines elements of Bridget Jones and Four Weddings with Father Ted
Funny and touching . . . we fell in love with the heroine of Oh My God What a Complete Aisling, about a small-town girl in Dublin
Aisling is the perfect heroine for these strange times we live in. They say that we get the heroes we deserve, so we must have all done something pretty amazing to live in the Age Of Aisling
One of my fave novels of 2017. It really does remind me of Marian Keyes
Just as charming as its predecessor. Funny and human, Aisling is already queen of Irish comic fiction. Long may she reign
Hilarious . . . A well-crafted tale with warmth and emotion
Should come with a health warning. Ten pages in my face hurts from grinning and my neck hurts from nodding along in recognition at the universal wisdoms. There's a smile in every page, some genuinely hilarious moments, and so much heart. The Importance of Being Aisling is a day-maker - the cure for cynicism, Trump and whatever else ails you
This hilarious Irish bestseller, which came to life via a viral Facebook page, follows country girl Aisling as she moves from her hometown to big city living in Dublin. She's sweet, a little clueless but a force to be reckoned with
One of the funniest books I've read in twenty years
An utter ray of sunshine
Another funny and lovable take on everyone's favourite small-town girl Aisling. A highly entertaining and absorbing addition to your bookshelves
My unofficial autobiography
This quickfire tragi-comedy is bursting with clever one-liners and acute observations
Incredibly funny, warm, fabulous, how do they do it?
With its ability to have you laughing out loud one minute and crying the next, this is a joyful, emotional, heartfelt, hilarious romp of a novel
It's like a hug in a book
Every Irish person knows an Aisling, and there is nothing more delightful than recognising something familiar being projected back at you through a novel. While the books are both extremely funny, they also reflect a period in Irish culture and centre around a heartwarming story for Aisilings of the ages
Aisling is an absolute gem of a character and this book is a breath of fresh air
I've spent the last forty-eight hours laughing my head off at this novel . . . but it's not just comic, there's a real heart to it and it's often very moving
Oh lads! This book! There aren't enough words for how much I love it. It's feicin' HILAIRE and very touching
Hailed as the Irish answer to Bridget Jones . . . it's stuffed with laughs
If I had a book of the year award for 2017 it would go to Oh My God, What a Complete Aisling . . . It left me giggling at some pages and sobbing at others
This duo's beloved Irish heroine is back with a bang . . . Brilliantly funny, with a lead character you can easily see yourself in
Praise for Oh My God, What a Complete Aisling
Both Aisling and the novel have a great big thumping heart
With witty dialogue, sharp observations and piles of humour, this is a riot of a read, but with plenty of depth, too - we found ourselves choking up as well as, erm . . . peeing with laughter
It's sweet and it's funny and it's moving and it's perfect
This hilarious and heart-warming book had us alternately laughing and crying. The year's funniest book to date
Excellent craic that will have you shedding a tear as well as laughing your socks off
You'll laugh, you'll cry, you'll want to invest in a shumper (though not for going OUT OUT) and as soon as you've finished it, you'll want to reread this hilarious novel, which will also get you in the right feels