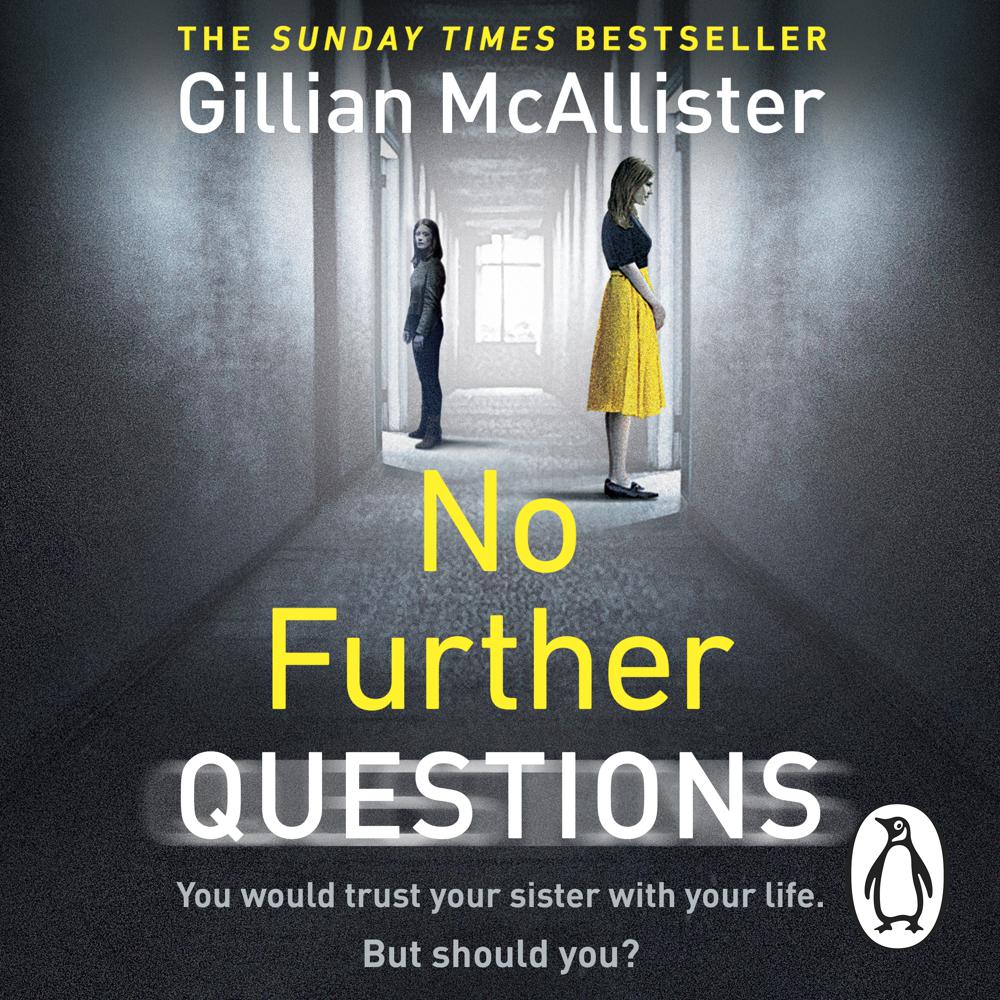 Narrated By: Imogen Church, Charlie Sanderson, Andy Cresswell, Jan Cramer, Penny Andrews, Cassie Layton, Rachael Beresford, Malk Williams
Duration: 12 hours and 40 minutes
What to expect
Penguin presents the audiobook edition of No Further Questions by Gillian McAllister, read by Imogen Church, Charlie Sanderson, Andy Cresswell, Jan Cramer, Penny Andrews, Cassie Layton, Rachael Beresford and Malk Williams.

'Addictive, clever, twisty. McAllister's best book yet' Sun

The police say she's guilty.
She insists she's innocent.

She's your sister.
You loved her.
You trusted her.
But they say she killed your child.

Who do you believe?
Genre
Crime & mystery fiction, Modern & contemporary fiction, Political / legal thriller, Family life fiction
Listen to a sample
A perfectly plotted courtroom drama and an emotional roller-coaster in one book
Gillian McAllister does 'what if' and wrings every drop of psychological tension out of a seemingly simple conundrum . . . a twisty, nailbiting road to the truth
Clever, compelling. You won't be able to put it down
Moving, horribly plausible, at times unbearably tense
Addictive, clever, twisty. McAllister's best book yet
The verdict - lock me up so I can read it again! Unforgettable. Gillian McAllister has a new fan in me
This tense and compelling courtroom drama is written with convincing details, and the suspense is expertly controlled
One of the most gripping and moving books I've ever read. Gillian McAllister tackles an unbearable situation with scalpel precision and incredible humanity. I read No Further Questions at every opportunity and haven't stopped thinking about it since. Unmissable
Gripping, cleverly-constructed, and heart-wrenching. Gillian McAllister uses her inside knowledge of the law to produce a truly original thriller that you won't be able to put down. Bravo!
I read it in a breathless day and a half. Such a perfect balance of courtroom drama and family drama, so smooth and assured, it just flowed, seamlessly. I loved every page, every character, every twist and turn
An ingeniously constructed courtroom drama with real flesh-and-blood characters and cliff-hanging suspense
Be warned - you will not be able to put this thriller down. Bestselling author Gillian McAllister hits the spot with this page-turner
A gripping "did-she", "didn't-she" scenario . . . As tense as a piano string, but vibrates with a heartfelt examination of motherhood and sisterly relationships that lifts it above the usual female-centric grip lit
Part courtroom drama, this moving thriller puts the bond between sisters to the ultimate test
Kept me glued to every page
I was totally swept up - and challenged - by this dark courtroom drama and am still wrestling with the brilliantly written dilemma at its heart
An emotionally charged story which explores the joys and challenges that come with motherhood, with a twist I didn't see coming
I raced through the impressive No Further Questions. Loved this gripping and thought-provoking read
One of the best courtroom dramas I've ever read - keeps you guessing right up to the very end
I couldn't put No Further Questions down. An original, beautifully written and moving story about sisters that had me racing through the pages. That ending will stay with me for a long time. Perfect
Grippy and compelling but also nuanced and insightful and sad
Meticulously plotted, gripping . . . An outstanding story about a heartbreaking subject
Heart-rending and brilliant. Such incredible storytelling. I loved this
Gillian McAllister isn't afraid to tread where some authors are scared to go. Intelligent. Compulsive. Heart-wrenching. Unforgettable
Tense, compelling, with convincing detail and a clever grand reveal
This is a deeply gratifying, taut courtroom drama and so much more. I don't know how Gillian did it, but I'm so happy she did
A thrilling mystery with a strong emotional heart
Structured so compellingly that you have no choice but to keep turning those pages, this is an exceptional thriller with a thumping, emotional heart