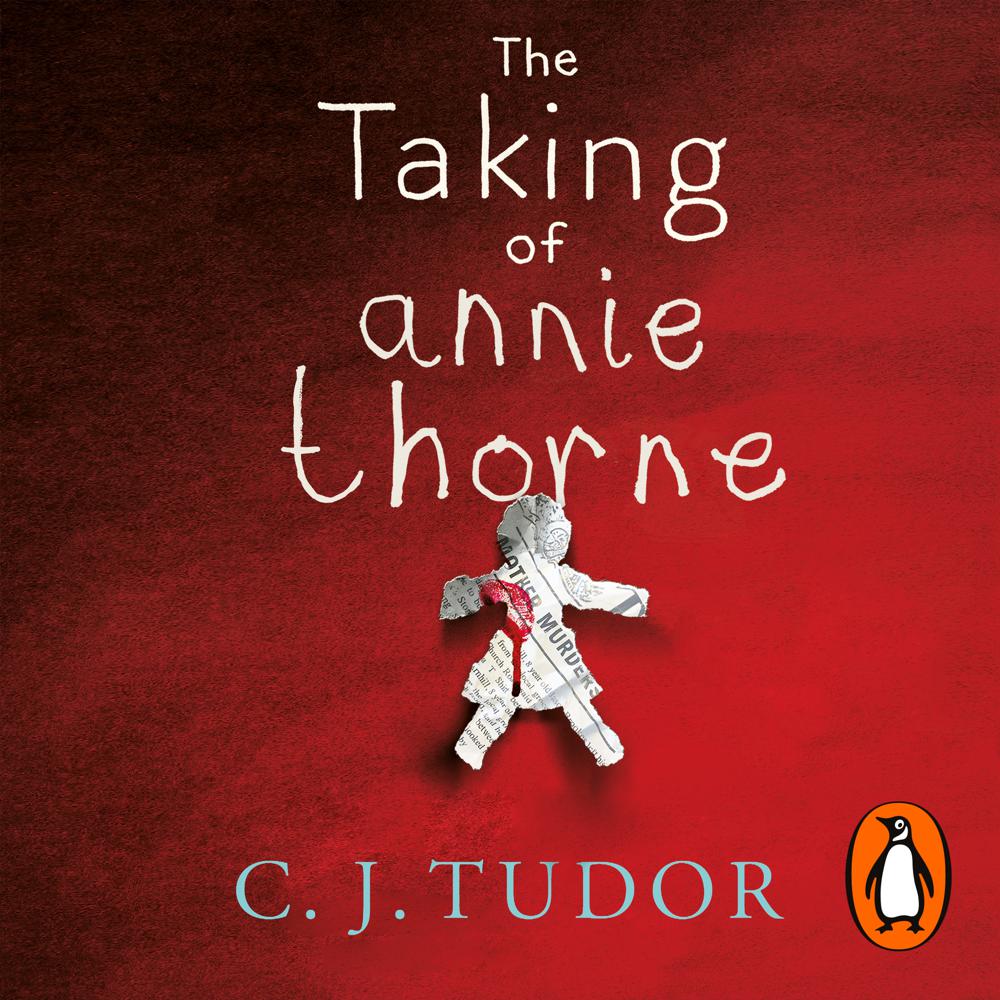 Narrated By: Richard Armitage
Duration: 10 hours and 43 minutes
What to expect
Penguin presents the audiobook edition of The Taking of Annie Thorne by C. J. Tudor, read by Richard Armitage.

Then . . .

One night, Annie went missing. Disappeared from her own bed. There were searches, appeals. Everyone thought the worst. And then, miraculously, after forty-eight hours, she came back. Though she couldn't, or wouldn't, say what had happened to her.

But something happened to my sister. I can't explain what.
I just know that when she came back, she wasn't the same.
She wasn't my Annie.

I didn't want to admit, even to myself, that sometimes I was scared to death of my own little sister.

Now . . .

The email arrived in my inbox nearly two months ago.
I almost deleted it straight away - but I clicked Open:

I know what happened to your sister. It's happening again . . .
Genre
Thriller / suspense fiction, Crime and mystery fiction, Modern and contemporary fiction, Contemporary horror and ghost stories
Listen to a sample
From the author of The Chalk Man comes an equally creepy story about missing children
Gripping and dark, The Taking of Annie Thorne descends like its very own mine shaft, getting creepier the further you go. You'll race to the finish
If you found your pulse racing as you read Tudor's previous book, you won't be disappointed in The Taking of Annie Thorne, another spooky, sinister slice of tension
The Hot List
Dark, gothic and utterly compelling, The Taking of Annie Thorne pulls off a rare combination - an atmosphere of unsettling evil along with richly nuanced characterisation
Finished this creepy corker last night. Utterly compelling with a host of intriguing characters and brilliant writing. Fans of The Chalk Man will definitely not be disappointed
Creepy beyond words. Just like Stephen King, the fact that Tudor's characters are so believable makes the events even creepier
Confirms Tudor as Britain's female Stephen King. There is a creeping dread on every page and, as you start a new chapter, a dark shadow over your shoulder. Tudor's punk prose style and her great eye for menace make this a book no one should read at night.
The Taking of Annie Thorne deserves every plaudit it receives
Shows that her excellent The Chalk Man was no one-off in matching Stephen King for creepiness
With shades of Pet Sematary and an all-round aura of creepiness, The Taking of Annie Thorne cements C. J. Tudor's position as a major new talent at the dark heart of crime writing. Her characters are compelling, the village of Arnhill as atmospheric as its abandoned pit, and she possesses that rare ability to keep the reader turning the pages, desperate to discover what happens next. Brilliant
C. J. Tudor writes evil with aplomb - The Taking of Annie Thorne reveals how evil casts its resonance through places, people and our shared past. This book lingers with you long after the lights go out
There is no sign of second-album syndrome: the mix of grotty provincial realism and amateur cold-case sleuthing works just as well here
C. J. Tudor nails it again with this clever, disturbing novel where the scars of an old mining community are opened by a slash of cold murder. From the shocking opening to the explosive finale, The Taking of Annie Thorne is a chilling page-turner that will leave you checking the locks at night. Brilliant
Spine-tingling
A Stephen King style thriller that will have you transfixed and submerged in the entanglement of the twisting plot. This book kept me intrigued all the way to the very end
Delicious in every way. A deliciously creepy story, deliciously told. Storytelling like a siren's song: your hair will prickle and stand on end but you won't be able to tear your eyes from the page. If you like Tana French, you will love, love, love C. J. Tudor
Following on from C J Tudor's successful debut, comes a novel about bullying, cruelty and deceit. . . Tudor keeps the novel moving at a fast pace
A can't-put-it-down thriller if ever I met one. I loved The Chalk Man and this is equally as fabulous. The Taking of Annie Thorne by lead head-rattler C. J. Tudor!
Deliciously creepy, impeccably plotted and laced with both wicked humor and genuine shocks, The Taking of Annie Thorne is the kind of read-under-the-covers thriller you didn't think people wrote anymore. Lucky for us, C. J. Tudor still does. An absolute corker of a book
I read this novel with a sense of creeping dread. It was an achingly good, well-plotted, dark, disturbing piece of pure brilliance! C J Tudor is my new favourite author.
So dark, so dastardly, so incredible. Still pondering this one, it's just that disturbing. C. J. Tudor has done it again. Bravo!
C. J. Tudor has proven that she is the true master at creating perfectly dark, highly propulsive, and tightly coiled mysteries that are utterly impossible to put down. From page one, the reader is pulled in, in a gathering sense of dread, and taken on an addictive, thrilling ride to the very last page
WOW WOW WOW! C. J. Tudor's follow-up to her impressive debut is superbly chilling and delightfully creepy. Smartly written and brilliantly plotted, here is a book that crawls under your skin and hooks on until you reach that jaw-dropping ending
Matches Stephen King for creepiness. A must-read for horror fans
Deliciously creepy, and written with such skill and fluency it's hard to believe this is only her second book. Indeed I think it gives King a run for his money
Loved this. Funny, frightening, goes out with a BANG. Believe the hype!
Razor-sharp writing and masterful plotting drive this dark story about a small town, buried secrets, and ghosts from the past. Witty and compelling all at once, The Taking of Annie Thorne is a must read page-turner
Tudor's 2018 The Chalk Man was a standout mystery novel with a fresh voice and a spooky plot. This is even better
Spine tinglingly good
A brilliantly sharp and distinctive voice and super-creepy plot. Fab
C. J. Tudor is a writer of real creepiness. The Taking of Annie Thorne is no exception - a dark, chilling mystery that had me reading until the early hours
Dark and creeping and utterly unpredictable, The Taking of Annie Thorne is another triumph of a novel by C J Tudor. With its compelling characters and witty writing, it grips from the very first page
I loved The Chalk Man, but The Taking of Annie Thorne is even better, creepier and more addictive! I was so creeped out I had to stop reading until my husband came home one night! Brilliant stuff - well done, C. J. Tudor!
Crime meets psychological suspense meets out-and-out horror. From the stomach-churning first chapter to the grand guignol ending that is as shocking as it is surprising, Tudor racks up the nastiness . . . Another hit.
I rattled through The Taking of Annie Thorne by C. J. Tudor - it reads like a Stephen King novel, and I can't think of a higher compliment than that!
As enjoyable and well written as her first, The Chalk Man
Some writers have it, and some don't. C. J. Tudor has it big time . . . The Taking of Annie Thorne is terrific in every way
I loved it. The quality of her writing meant it was an absolute pleasure to read, as well as being genuinely terrifying. It made my hair stand on end! Genius
I loved everything about this book
What an absolute treat of a novel this was. Such an assured, distinct voice and an absolute belter of a plot