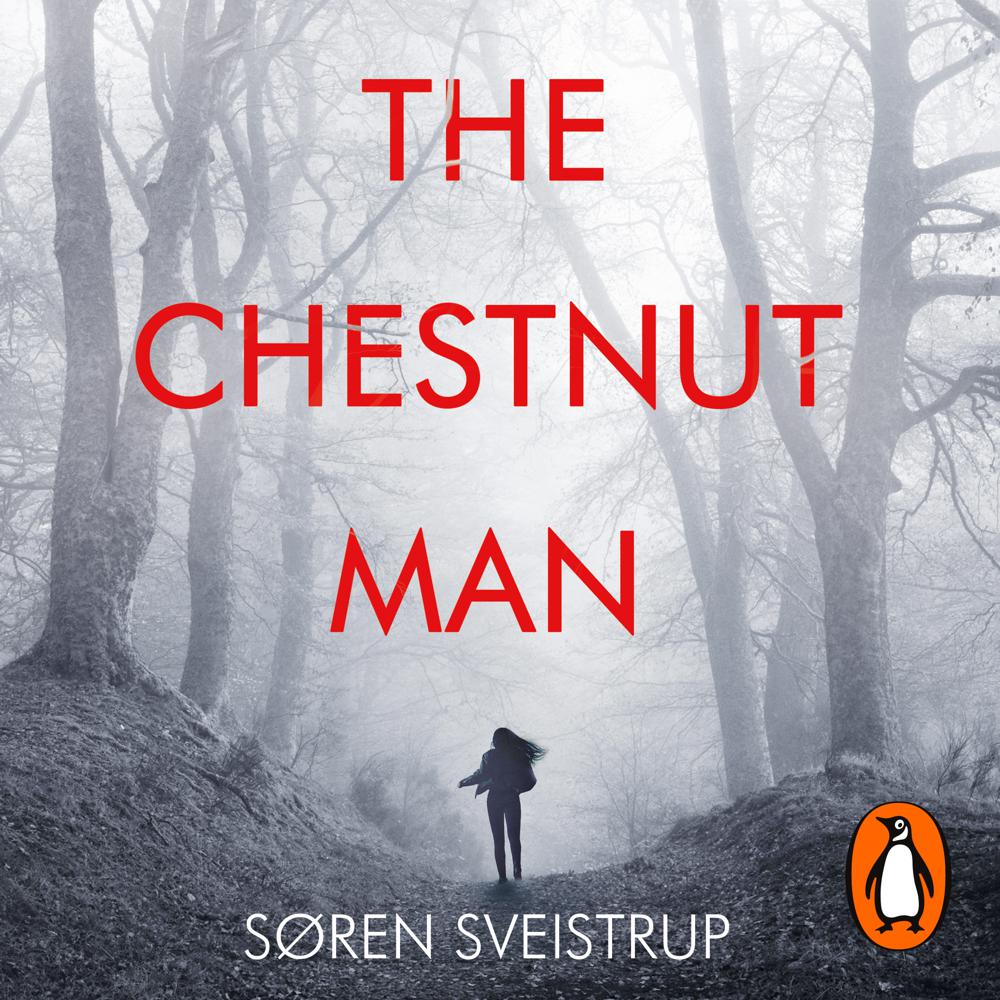 Narrated By: Charlotte Melén
Duration: 13 hours and 32 minutes
What to expect
Penguin presents the audiobook edition of The Chestnut Man by Søren Sveistrup, read by Charlotte Melén.

THE DEBUT NOVEL FROM THE CREATOR AND WRITER OF THE KILLING
The police make a terrible discovery in a suburb of Copenhagen. A young woman has been killed and dumped at a playground. One of her hands has been cut off, and above her hangs a small doll made of chestnuts.
Young detective Naia Thulin is assigned the case. Her partner is Mark Hess, a burned-out investigator who's just been kicked out of Europol's headquarters in The Hague. They soon discover a mysterious piece of evidence on the chestnut man - evidence connecting it to a girl who went missing a year earlier and is presumed dead, the daughter of politician Rosa Hartung. A man confessed to her murder, and the case is long since solved.
Soon afterwards, another woman is found murdered, along with another chestnut man. Thulin and Hess suspect that there's a connection between the Hartung case, the murdered women and a killer who is spreading fear throughout the country. But what is it?
Thulin and Hess are racing against the clock, because it's clear that the murderer is on a mission that is far from over . . .
Genre
Crime & mystery: police procedural, Crime & mystery: women sleuths, Fiction in translation, Psychological thriller, Espionage & spy thriller, Modern & contemporary fiction, Crime & mystery: hard-boiled crime, noir fiction, Contemporary horror & ghost stories
Listen to a sample
If you are one of the millions who enjoyed The Killing, you'll want to read the first novel by its creator. Sveistrup's ability at building tension is evident, and this will undoubtedly make for a compelling television adaptation
Simply an unparalleled page-turner
Sveistrup sets new standards in crime
Sveistrup's brilliant and brutal The Chestnut Man sets a new benchmark. The Steig Larsson comparisons seem unfair - on Sveistrup. He is quite simply in another league. Scandi noir is back with a bang with this sensational debut novel *****
Crime lovers, rejoice. This is a thrilling, fast-paced page-turner that promises to hook readers from the first page
Best books to read this Spring
A full-throttle thriller in the tradition of classic Stieg Larsson, drenched in atmosphere and charged with adrenaline. Buckle up. You'll gulp down every word. I loved this book
Søren Sveistrup, is clearly a master craftsman
Superbly written and carries you along at breakneck speed. If you liked The Killing, you are going to love this
Inside Soap's Hot List
Individual scenes in the narrative stand out knife-sharp in all their calculated evil. Their encounter with brutal reality nearly overwhelms those involved, and the reader is profoundly challenged by the novel's material. But you survive because you retain a clear sense that there must be a deep well of sorrow behind the crimes, and because the author depicts his cast of characters in such a nuanced way that you sympathise with the hard-pressed investigative team, the victims, and the person behind the terrible murders. Sveistrup keeps the reader gripped until the very end. This is professional writing in the very best sense, and I'm looking forward to more.
If you're pining for a dose of Jo Nesbo-style Scandi noir, The Chestnut Man should hit the spot. The twisty, tricksy storyline, delivered in short, sharp chapters that don't let anyone catch their breath, gathers an unstoppable momentum so that 500 pages disappear in a trice - and the ending is satisfyingly grand guignol, with room left for a sequel
Sveistrup is a skilled weaver of plot, able to surprise the reader and maintain a well-developed sense of pacing, tension and action. He keeps the reader hooked until the final page
Sviestrup shows off his Scandi-noir know-how in this Stieg Larsson-worthy mystery featuring blood-curdling murders and a couple of ill-assorted investigators
Crime fiction of the highest quality - fascinating characters, great storytelling, and unbearable suspense. I absolutely loved it
This one will have your heart in your mouth
TV of the absolute finest quality . . . the writing shines
Creepy, clever and packed with tension
I was completely blown away by this debut novel
A superb debut novel from the writer behind hit TV series The Killing. This book grips you from the out and boils and boils to an almost sickening conclusion. It just does not let up
A powerful portrait of two intriguing detectives who are here to stay . . .
If you are one of the millions who enjoyed the Scandinavian crime series The Killing, you'll want to read the first novel by its creator. . . this will undoubtedly make for a compelling television adaptation
***** The Chestnut Man has success written all over it. You will never want to play with conkers again
Excellent . . . A shrewd mix of police procedural, political thriller and domestic drama
A nail-biting, atmospheric thriller
While other writers come across as formulaic, Sveistrup's plot develops naturally, and he finds space amid the child abuse and harassment for enough injections of humanity that The Chestnut Man never turns into violence porn, a stumbling block for several of his Danish colleagues. The key is Thulin and Hess, the most promising pair of investigators in Nordic crime since Saga and Martin first met over a corpse on a bridge in 2011
Praise for The Killing
A tension-charged debut, sharing elements of his signature TV writing with incendiary twists
The ingredients in this stew are familiar to everyone who reads crime novels. Sveistrup's great skill becomes apparent in the solid, complex plot, as well as in the pacing and impact that drives the reader onward page after page. The Chestnut Man is a demonstration of how a novel of this type should be sewn together. The result is incredibly thrilling!
Absolutely fantastic crime novel. The plot keeps you gripped, and you always end up wanting to read just one more page. Nerve-racking. Nail-biting. Thrilling. Hair-raising
The books everyone's devouring right now - and you should add to your spring reading list
The Chestnut Man is an intensely gripping first novel that feels anything but debut-like. Seasoned crime fans with feel as though they're in very safe hands ... [Sveistrup] throws his hat into the ring with extreme professionalism and a talent for deploying his special tricks in precisely calibrated doses.
Simply so well written, well constructed and suspenseful. I've read a lot of fantastic crime novels, but this is far and away the best I've read in a long time. . . . insanely suspenseful and gripping
Sveistrup keeps the reader gripped until the very end
Søren Sveistrup's page-turning thriller is a tale of crime and passion
A taut, high-octane thriller. Sveistrup snares his reader with his house-of-horrors opening and keeps us gripped. . . suffice to say that he leads and wrongfoots us through numerous twists, turns, cliff-hangers and red herrings to an outcome which is as bold as it is explosive. He makes every page count - it's a joy to be so immersed on the edge of a seat
As in The Killing television series, Sveistrup offers lessons to seasoned practitioners of the serial-killer whodunit in how to inject new energy into this near-exhausted sub-genre, and a reminder (via his portrayal of the families, homes and workplaces that his cops visit) that crime writing has the potential to be eye-opening, panoramic social realism
This might just be the thriller of the year. The Chestnut Man grips you from the opening page and never lets go, as we're pulled into a haunting whirlwind of secrets, deception and the dark side of the soul. The policing is top-notch, of course, and the characters - good and bad - are so real we're sure we've met them before. Brilliant!
The action surges along in swinging the spotlight of suspicion around without ever letting the reader feel confident they have the right culprit, and the denouement is intense and very gory
BBC Top Fiction Picks of 2019
This nerve-racking debut novel has a brilliant plot . . .
Not all good scriptwriters can produce a detective story designed to be read rather than watched on TV. But Søren Sveistrup, the man responsible for The Killing, proves . . . that it can be done . . . The characters, the plot with its deep, eerie undercurrent of the unknown, and the intense, compelling manipulation of suspense are qualities reminiscent of The Killing
Nerve-racking, you're sitting on the edge of your seat, and by the time you've finished the book you've got no nails left
A debut thriller from the creator of The Killing opens with a gruesome discovery in a Copenhagen suburb