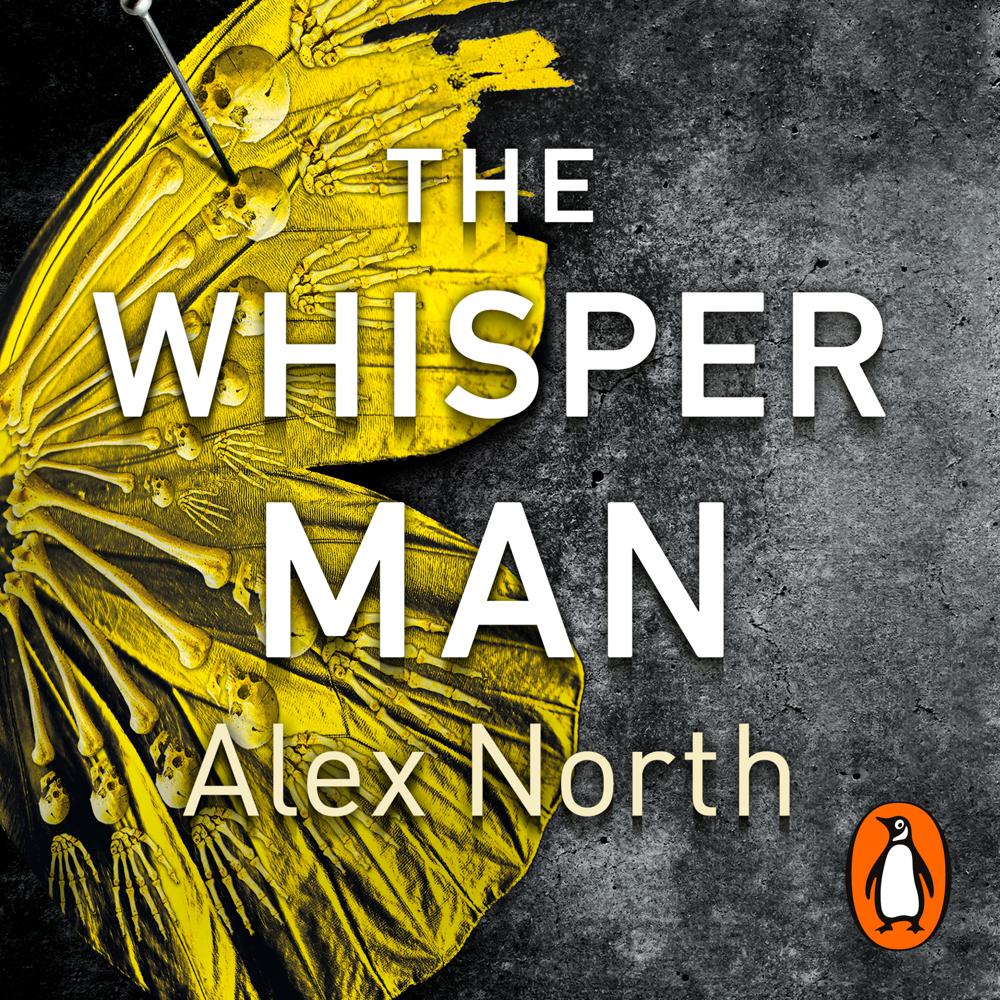 Narrated By: Christopher Eccleston
Duration: 9 hours and 41 minutes
What to expect
Penguin presents the audiobook edition of The Whisper Man by Alex North, read by Christopher Eccleston.

If you leave a door half-open, soon you'll hear the whispers spoken...
Still devastated after the loss of his wife, Tom Kennedy and his young son Jake move to the sleepy village of Featherbank, looking for a fresh start.
But Featherbank has a dark past. Fifteen years ago a twisted serial killer abducted and murdered five young boys. Until he was finally caught, the killer was known as 'The Whisper Man'.
Of course, an old crime need not trouble Tom and Jake as they try to settle in to their new home. Except that now another young boy has gone missing. And then Jake begins acting strangely.
He says he hears a whispering at his window...
"The best crime novel of the decade" Steve Cavanagh
"Terrifying and utterly heartbreaking" Mark Billingham
"A dark, creepy, thriller with a huge amount of heart" Stuart MacBride
Genre
Crime & mystery: hard-boiled crime, noir fiction, Crime & mystery: police procedural, Psychological thriller, Family life fiction, Contemporary horror & ghost stories
Listen to a sample
The Whisper Man is the most stunning thriller you will read this year, examining the relationships between fathers and sons, loss, betrayal, abduction and murder. It is a story that will unravel the reader as the plot itself unravels, leaving us winded, choking, gasping for air and wrung out, while disturbing, entertaining and enthralling us at the same time.
A creepy, serial killer-inflected thriller
This exceptionally creepy thriller is also a touching portrait of a bereaved father and son learning to depend on each other
One of the best crime novels I've read in ages. Alex North has crafted a book that manages to be thrilling, terrifying and genuinely moving.
A police procedural with supernatural overtones
The Whisper Man is going to be huge. Dark enough to chill your blood but so beautifully written you will not be able to put it down. Utterly brilliant.
Alex North weaves a stunningly captivating narrative that's a nuanced and grounded exploration of father-son relationships. He strikes such a delicate balance that consistently elevates itself, he ultimately provides a master class in genre exploration. An incredible read
If you like a touch of Stephen King mixed with British crime, then this is for you . . . this is a spooky read, but also holds its own as a police procedural novel
There's a soft voice outside your window and it demands your attention. The Whisper Man is coming. In fact, he's already here. Get ready to be unnerved. This novel is thrilling
[A] superb thriller... Readers will have a tough time putting down this truly unnerving tale, with its seemingly unexplainable elements and glimpses of broken and dangerous minds
A fine, chilling tale. Alex North paints a world that is so believable and at the same time utterly terrifying. The characters are beautifully rendered, and the tenderness of the central relationship between father and son deepened the sense of terror
An ultra-creepy tinge of the supernatural, blended with a petrifying threat from all-too-human monsters, conjures truly blood-chilling menace. Built on a tender theme, this flawlessly plotted thriller absolutely deserves to be shouted about
A nerve-shredding emotional rollercoaster that'll keep you up late at night, whether you're still reading it or not. A compulsive read that's sure to give you nightmares
First it's spooky. Then it's scary. Then it's terrifying. And then... well, dear reader, proceed at your own risk. An ambitious, deeply satisfying thriller - a seamless blend of Harlan Coben, Stephen King, and Thomas Harris. My flesh is still crawling
Extraordinarily well-written, deeply moving . . . The stories are deftly marshalled and interwoven by North with a mastery that would be astonishing were he a debut novelist
A police procedural with supernatural overtones, this is a true skin-crawler
Summer Books of 2019
The best crime novel of the decade
Fantastic. He writes beautifully, with a powerful understanding of the effects of loss and damage on the human psyche and a style that sweeps you into its grip and never lets go. I'm totally sold on Alex North
As much an exploration of grief and of the father-son bond as it is a nerve-shredder, this is a good choice for Stephen King fans
A painful and moving novel. Ostensibly about the abduction and murder of children, it is also an exploration of fatherhood and its challenges and rewards
A gripping exploration of father-son relationships with a propulsive plot, The Whisper Man is a true skin-crawler
A phenomenal read. Terrifying and heartbreaking in equal measure and if it wasn't so hot I'd definitely be sleeping with the windows shut tonight! The Whisper Man will be the book everyone's talking about next summer, mark my words
More than just superbly creepy, this beautifully written thriller might just break your heart a little, too
Gripping, disturbing, and creepy as hell - The Whisper Man deserves to be a huge hit. Absorbing writing, characters that will live with you long after finishing, and guaranteed to show up in a nightmare or three. Heartbreaking and unsettling in equal measure, it's destined to be the book that will readers won't be able to forget
Ostensibly a suspense novel involving the abduction and murder of children, The Whisper Man is also a study of fatherhood. Alex North's writing is impeccable as he spins out his plot . . . At once painful and moving, this story feels both real and important
Alex North has achieved the seemingly impossible. The Whisper Man is a thriller that is both terrifying and utterly heartbreaking. Mesmerising and masterful.
ALEX NORTH'S tightly plotted crime thriller presses all the right buttons for the genre
This flawless thriller lives long in the memory
You might think you've read too many of these "next generation serial killer" novels but this is a very good example with strong characters and a palpable sense of sadness behind the scariness
Beautifully written. Beautifully plotted. Shades of Thomas Harris and Stephen King but brilliant in its own right
Beautifully crafted, heart-rending and spine-tinglingly chilling, the Whisper Man is a thrilling tour de force. Assured and compelling, I can't wait to see what Alex North does next
A dark, creepy, thriller with a huge amount of heart. Damn, but Alex North can write!
The Whisper Man is the most unsettling thriller I have read since Jo Nesbo's The Snowman. Much more than the sum of its parts, it is nightmarish and disturbing and, at the same time, a moving and life-affirming novel about fathers and sons, and grief, loss, and recovery
The Whisper Man is a chilling, gripping read but also deeply moving. It's a novel that succeeds on all kinds of levels and deserves all the success that is no doubt coming it's way
Standout thriller
No one does Dark with a Heart like Alex North and The Whisper Man delivers a sucker punch that stays with you. Beautifully crafted, chilling & emotional, this's going to be topping Books of the Year lists as soon as it's out
With a tender theme about the complexity of father son relationships at its heart, this thriller is immaculately plotted, superbly written, and so good it deserves to be shouted about
Utterly absorbing and intense, so deliciously creepy I think I held my breath for half the book. I couldn't walk away from this affecting story until it was done with me. Loved it!
This flawless thriller will touch your heart and live long in your memory
Creepy. With the movie rights sold to Hollywood, Alfred Hitchcock would have loved every spine-tingling moment
Compelling, creepy and beautifully written, The Whisper Man will stay with you long after the last page is turned - and make you double-check all your doors and windows are locked at night
I read The Whisper Man in one go, barely remembering to breathe. North writes brilliantly about the cruelties of life, great and small, and the terrors that afflict young children (not to mention their parents). Tender, terrifying and utterly compelling, The Whisper Man will haunt you to the final page and beyond.
Deliciously creepy and kept me up long after I'd turned the last page
Hollywood has snapped up this psychological thriller - and no wonder
The Whisper Man is a tour de force, utterly absorbing and brilliantly realised
A riveting page turner! Dark and unsettling, this one creeps under your skin
A psychological thriller that's both terrifying and heartbreaking - you won't want to miss this one
A debut that will disturb and intrigue in equal measure
Wonderfully dark, gently creepy and completely bloody heartbreaking. Alex North is a fantastic writer. The Whisper Man left me in pieces
A debut novel set to disturb and intrigue. Truly chilling
A novel about the dark places that are recognisably our own, The Whisper Man plays on our emotions as much as on our fears. A tremendous calling card for the brilliant Alex North.
Deliciously dark and twisty, this is a page-turner from start to finish