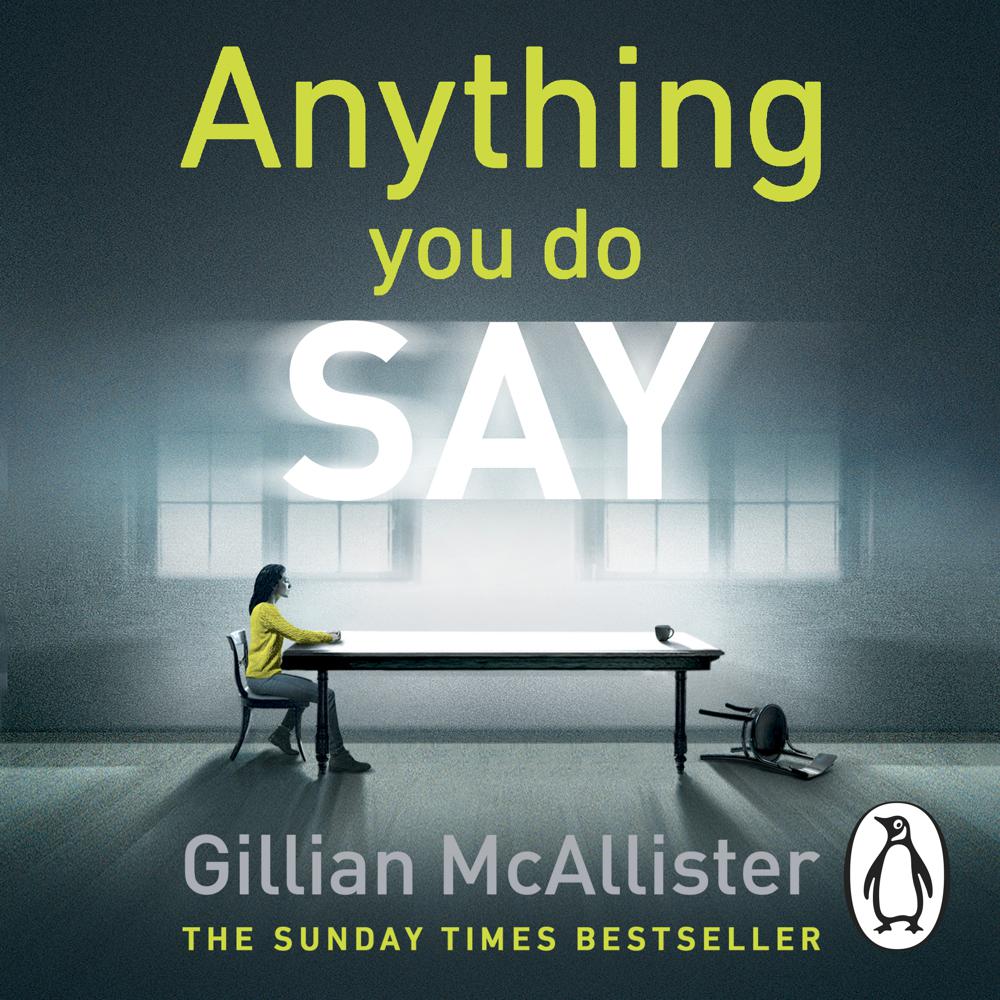 Narrated By: Katie Clarkson-Hill
Duration: 11 hours and 36 minutes
What to expect
Penguin presents the audiobook edition of Anything You Do Say by Gillian McAllister, read by Katie Clarkson-Hill.

'A Sliding Doors thriller with a moral dilemma at its heart. Brilliant' Claire Doulas, bestselling author of Last Seen Alive

It's the end of the night. You're walking home on your own.

Then you hear the sound every woman dreads. Footsteps.Behind you. Coming fast.

You're sure it's him - the man from the bar who wouldn'tleave you alone.

You make a snap decision. You turn. You push. Your pursuertumbles down the steps. He lies motionless, face-down on the floor.

Now What?

Call 999
Wait for the police to arrive. For judgement, for justice,whatever that may be. You just hope you husband, family and friends, everyoneyou love, will stand by you.

Run
Stay silent. You didn't mean to do it. You were scared, youpanicked. And no one saw. No one will ever know. If you leave now. If you keepquiet. Forever.

Which is it to be?


Praise for Anything You Do Say

'The novel is ingenious . . . a beautiful and original book'Claire Kendal bestselling author of The Book of You

'An expertly crafted novel full of drama and tension. . . Animpossible feat accomplished with great skill. Bravo' Imran Mahmood author of You Don't Know Me

'An addictive, exciting and devilishly clever book . . .exceptional' Holly Seddon author of Try Not To Breathe
Genre
Modern & contemporary fiction, Psychological thriller, Crime & mystery fiction, Romance
Listen to a sample
Praise for Anything You Do Say
A terrific premise, delivered with panache
I loved Gillian's latest book. Another winner. One of the most inventive and original thrillers I've read in recent memory. The Sliding Doors structure kept me turning page after page to discover Joanna's destiny. I devoured this book in one sitting. It's official! Gillian McAllister is fast becoming one of my favourite authors!
An expertly crafted novel full of drama and tension . . . An impossible feat accomplished with great skill. Bravo
Praise for Everything but the Truth
Completely original. I was gripped
An assured and gripping debut
A smartly conceived psychological thriller
A thrilling book club read
All the hallmarks of a stunning psychological thriller: Pace, twists and turns and the heart-stopping realisation that it could easily be you
The novel is ingenious . . . a beautiful and original book
This clever novel reminds me of Sliding Doors - it will challenge every belief you have
Tense and compelling
A beautifully written domestic noir full of secrets and lies
This contemporary love story wrapped up in a thriller is a brilliant read. Compelling and intense
Top domestic noir
Perfection. Intriguing and compelling. An exceptional debut
This gripping thriller will make you wonder: What would I do? We couldn't put this book down!
A gripping, compelling page turner that kept me up half the night
Intriguing and atmospheric
Wonderful writing and a brilliant story. An amazing debut
A Sliding Doors thriller with a moral dilemma at its heart. Brilliant
An addictive, exciting and devilishly clever book . . . exceptional
Startlingly good. Gillian McAllister is a new star in psychological thrillers
Prepare to be gripping by this tense thriller
A Sliding Doors-style thriller that will keep you gripped until the final page
Once I'd started I was powerless to stop. Brilliantly executed, clever and utterly realistic
I found myself wanting to pick it up at every opportunity. Brilliant
Joanna has two choices: does she call 999 or run? Ingeniously, the novel's alternating chapters depict both riveting options
An utterly unique story . . . my heart was in my mouth the whole time
Breathlessly brilliant
Packed with twists and turns that will make it almost impossible to put down
This is a book to devour
Dark and intense . . . An exhilarating hold-your-breath read!
You won't be able to put it down!
Hard to put down. The two storylines work so well and the balance is perfect . . . A gripping story with real characters