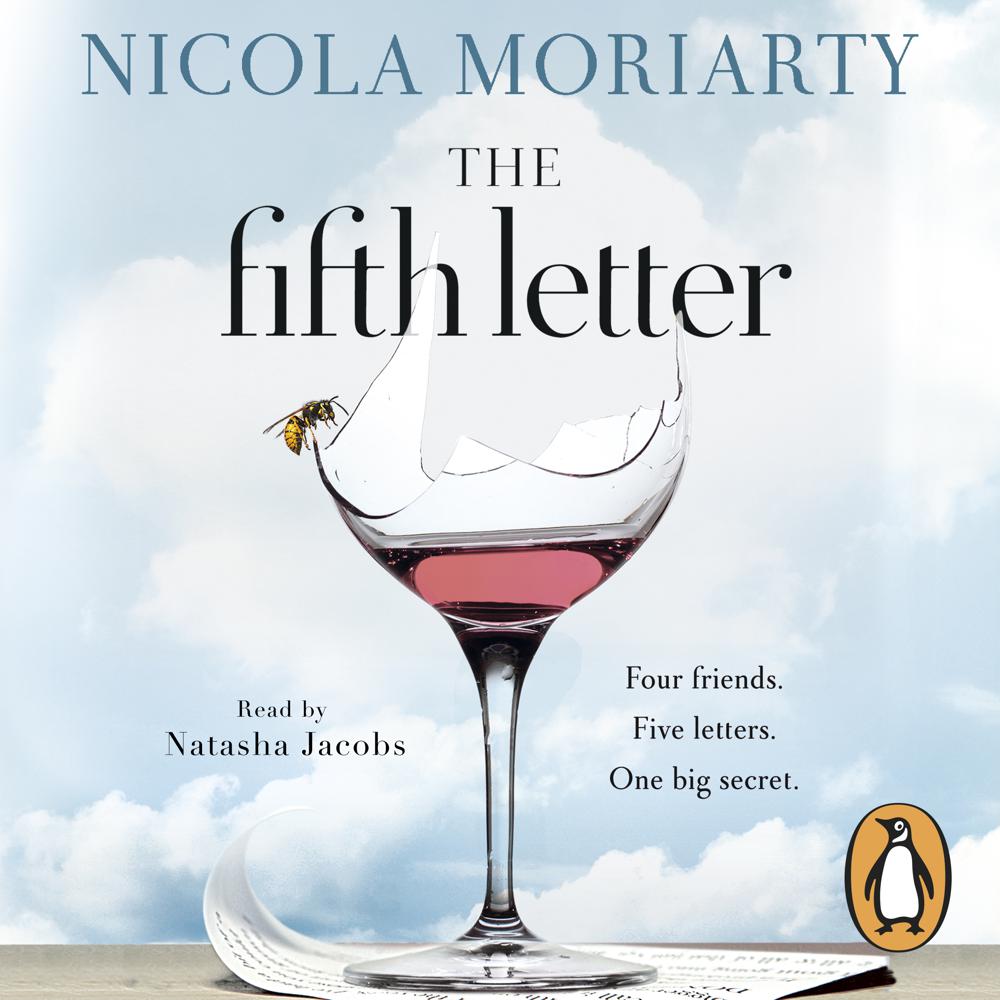 Narrated By: Natasha Jacobs
Duration: 6 hours and 35 minutes
What to expect
Penguin presents the unabridged, downloadable audiobook edition of The Fifth Letter by Nicola Moriarty, read by Natasha Jacobs.

Four friends. Five Letters. One Secret.
A scandalous breakthrough novel from Nicola Moriarty that will leave you asking, how well do I really know my friends?

Joni, Trina, Deb and Eden.

Best friends since the first day of school. Best friends, they liked to say, forever.

But now they are in their thirties and real life - husbands, children, work - has got in the way. So, resurrecting their annual trip away, Joni has an idea, something to help them reconnect.

Each woman will write an anonymous letter, sharing with their friends the things that are really going on in their lives.

But as the confessions come tumbling out, Joni starts to feel the certainty of their decades-long friendships slip from her fingers.

Anger. Accusations. Desires. Deceit.

And then she finds another letter. One that was never supposed to be read. A fifth letter. Containing a secret so big that its writer had tried to destroy it. And now Joni is starting to wonder, did she ever really know her friends at all?
Genre
Modern and contemporary fiction, Contemporary romance, Contemporary lifestyle fiction, Family life fiction
Listen to a sample
Dramatic, mysterious and compelling . . . it's easy to read this book in one sitting
Younger sister Nicola gives novelists Liane and Jaclyn Moriarty a serious run for the literary awards in this pacey, circle-of-friends thriller, which accelerates in its intensity and sheer originality with every page . . . An Agatha Christie Mousetrap of a "who-wrote-it?" to solve
The premise in this third novel from one of the clever Moriarty sisters is irresistible . . . You'll be hard pressed not to giggle and compare these girls to your own besties
Page-turning mystery
It's hard not to get roped into this delightfully twisted tale of suspicion and mystery intertwined with a frank look at how relationships evolve and sometimes become obsolete. Moriarty has a knack for making you feel like one of the girls, compelling you to solve the mystery of the author of the fifth letter
The brilliant unraveling of this sisterhood of secrets will leave you wondering how well you really know the best friends you've known forever. A must-read before your next Girl's Night
Lifelong friendships, secrets, and pages I couldn't turn fast enough. The Fifth Letter is one of my favorite books this year, and Nicola Moriarty is now on my short list of favorite women's fiction authors
Readers . . . will race to the end as a credit to Nicola's fine sense of pacing and suspense. An author to watch
The meandering stories of these women are held together with the powerful question of who wrote the last letter, which reveals just how precarious childhood friendships are . . . the book adeptly exposes the striking differences among the four friends and the five letters
A delightful, heartwarming exploration of the twists and turns of true friendship, The Fifth Letter was simply delicious from the very first page to the last. Relatable characters, a fast-moving plot and just the right amount of mystery. I was hooked!
A brilliant and compelling novel where a twenty-year-old friendship is tested by the secrets they have been keeping. The plot is fascinating and I found the characters likeable and irritating at the same time. Playing on the anonymity of the letters, the author creates suspense and anticipation as truths - and lies - are spilled page after page
This is one of those books you have to make sure you've got nothing scheduled when you start reading. Because once you start, you're not going to want to stop. Page turner indeed. Wow. And some scenes that made me cry
With secrets and intrigue, this is a compulsive read
Entertaining
A darkly humorous story about friendship
Intrigue, hatred and accusations - phew, it kept me guessing to the end
The premise and its execution will grab readers and refuse to let go. Readers may pick this one up to see how Moriarty's writing compares to her sister Liane's wildly popular novels, but they'll race to the end as a credit to Nicola's fine sense of pacing and suspense. An author to watch.
Entertaining and easy to read