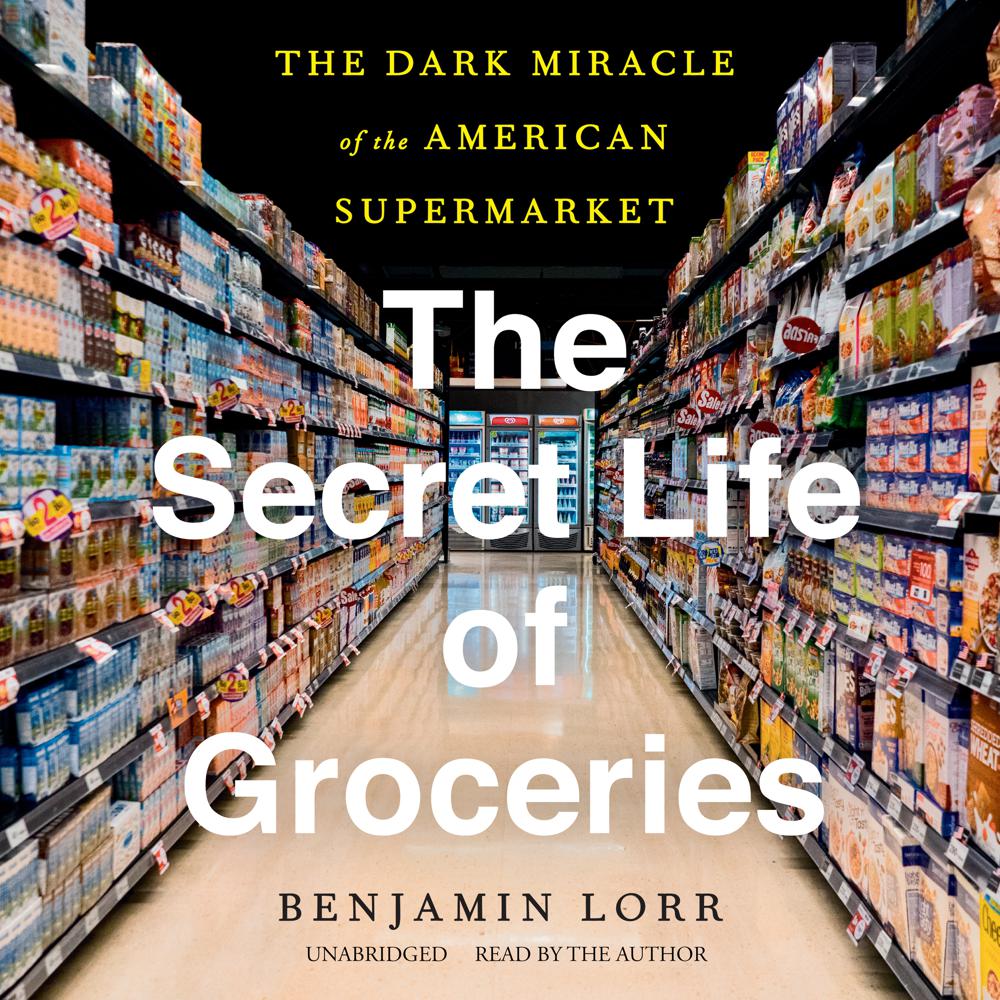 Narrated By: Benjamin Lorr
Duration: 8 hours and 57 minutes
What to expect
In the tradition of Fast Food Nation and The Omnivore's Dilemma, an extraordinary investigation into the human lives at the heart of the American grocery store
The American supermarket is an everyday miracle. But what does it take to run one? What are the inner workings of product delivery and distribution? Who sets the price? And who suffers for the convenience and efficiency we've come to expect? In this rollicking exposé, author Benjamin Lorr pulls back the curtain on this highly secretive industry. Combining deep sourcing, immersive reporting, and compulsively readable prose, Lorr leads a wild investigation to
learn the secrets of Trader Joe's success from Trader Joe himself;drive with truckers caught in a job they call "sharecropping on wheels;"break into industrial farms with activists to learn what it takes for a product to earn certification labels like "rainforest friendly" and "fair trade;"follow entrepreneurs as they fight for shelf space, learning essential tips, tricks, and traps for any new food business; andjourney with migrants to examine shocking forced labor practices through their eyes.
The result is a page-turning portrait of an industry in flux, filled with the passion, ingenuity, and inequity required to make this piece of the American dream run. The product of five years of research and hundreds of interviews across every level of the industry, The Secret Life of Groceries is essential reading for those who want to understand our food system—delivering powerful social commentary on the inherently American quest for more and compassionate insight into the lives that provide it.
Genre
Cultural studies: food and society, Agriculture, agribusiness and food production industries
Listen to a sample
"This book is at once a satisfying, enjoyable meal and a glass of cold water to the face. The modern shopper wants groceries that are ethical, sustainable, humane, affordable, fresh, and convenient. But, as Lorr discovers, the costs of our demands are recouped from the bottom of the food chain: debt-ruined truckers, foreign slave labor, and Whole Foods workers in our own communities—the people whose lives Lorr shared (and sometimes lived) for weeks or months…Does it sound grim? It's not! The Secret Life of Groceries is a terrific read. The stories flow, and the hard truths are seasoned with wit and hope."
"What Kitchen Confidential did for restaurants, Lorr's book does for supermarkets.You won't look at a supermarket shelf the same way after reading this sharp-edged exposé."



"Journalist Lorr investigates the production, distribution, sales, and marketing of retail food products in this wide-ranging and acerbic exposé…His research astonishes. Socially conscious readers will want to take note.
"Lorr's exploration of the systems and individuals that create the modern grocery store will move readers to ask far more probing questions about what they're putting on the table."
"A titanic achievement of reportage, insight, humor, and humanity, The Secret Life of Groceries will forever change the way you think about the American food system. Lorr journeys deep into our troubled supply chain with propulsive force and insight and brings us back the goods."
"In The Secret Life of Groceries, Benjamin Lorr demonstrates through lively and meticulous reporting how much the enthronement of the American consumer has cost workers…With compassion and humor, Lorr introduces us to very real people who constitute that abstraction we call the 'supply chain' and challenges us, in a thoughtful and nuanced way, to consider the high price we pay for supermarket bargains."