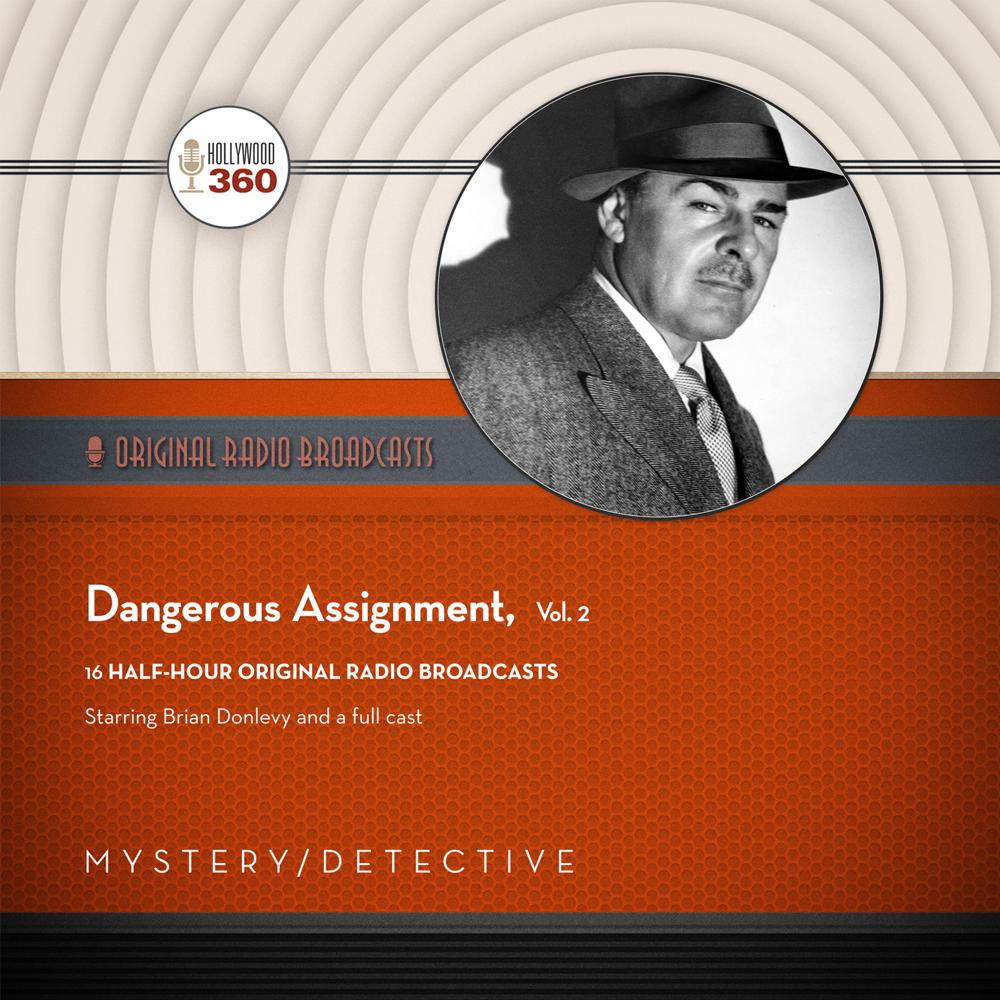 Narrated By: Brian Donlevy, a full cast
Duration: 6 hours and 36 minutes
What to expect
Brian Donlevy stars as US government secret agent Steve Mitchell, who spans the globe troubleshooting for our country.
In 1949, NBC brought mustachioed Irish-American actor Brian Donlevy to the radio microphones as international troubleshooter Steve Mitchell in the spy series Dangerous Assignment. Mitchell worked for an unnamed US government intelligence agency whose boss, The Commissioner, dispatched him to world trouble spots. Mitchell's assignment was to solve problems in record time and in accordance with US interests.
The radio series lasted three seasons (1949–1953) due in part to Donlevy's terrific performances and the mystique of the foreign locations and situations, which radio listeners could create in their theater of the mind. During its last year on radio, Donlevy formed a production company to convert the series to television, producing thirty-nine episodes for syndication. Enjoy sixteen exciting, half-hour radio adventures of globetrotting troubleshooter Steve Mitchell as he solves another Dangerous Assignment.
5/11/51 - "Find Cause of Landsberg Epidemic"3/10/52 - "Find American Traitor Eli Bryant"10/8/52 - "Retrieve Dummy Issue of Osterreich Courier"10/15/52 - "Indonesia Gun Running"10/22/52 - "Recover Document from Butterfly Chasers"11/12/52 - "Recover Diplomatic File from Mr. Alexander"11/19/52 - "Retrieve Emerson from Private Sanatorium"11/26/52 - "Stop Coded-Secret Peddlers"12/3/52 - "Smash Eastern European Protection Racket Stop"12/10/52 - "Uncover G.I. Attackers Frame-Up"12/17/52 - "Defeat Road Project Sabotage"12/24/52 - "New Guinea Gun Smuggling"12/31/52 - "London Passport Racket"2/4/53 - "Bring Back Physicist Arnold Freed"2/11/53 - "Resolve Strategic Mining Lease Family Squabble"2/18/53 - "Resolve Doctor Mitsuko Scandal"
Genre
Radio / podcasts
Listen to a sample