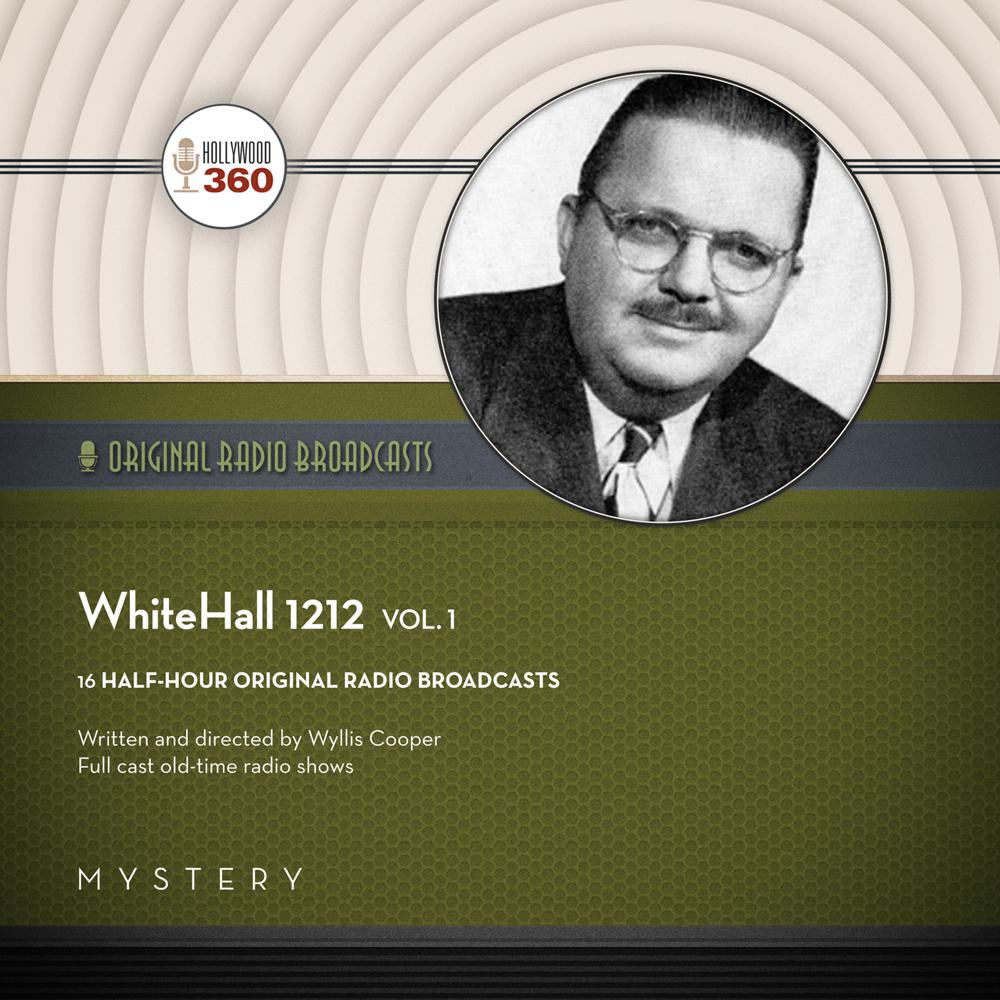 Narrated By: a full cast
Duration: 7 hours and 49 minutes
What to expect
Whitehall 1212 was the famous telephone number for Scotland Yard—the headquarters of the London Metropolitan Police Force—and also an exciting true crime drama from the golden age of radio!
Written and directed by Wyllis Cooper (the creator of Lights Out and Quiet Please), Whitehall 1212 was a crime drama that aired on NBC from 1951 until 1952. It was hosted by Chief Superintendent John Davidson, curator of the Black Museum, Scotland Yard's repository of death. Similar to The Black Museum, starring Orson Welles, Whitehall 1212 dramatized true-crime cases solved by Scotland Yard. The announcer cued up each episode with, "These are the true stories, the unvarnished facts, just as they occurred, reenacted for you by an all-British cast. Only the names of the participants have for obvious reasons been changed. The stories are presented with the full cooperation of Scotland Yard."
The researcher for the series was Percy Hoskins, the chief crime reporter for London Daily Telegraph. Hoskins was the newspaperman who had initially reported on some of the crimes being dramatized. Enjoy sixteen episodes from this excellent crime series—all true stories from Scotland Yard!
1/6/52 - "The Murder of Charles Brooks"1/13/52 - "Murder in the Black Market"1/20/52 - "The King's Housekeeper's Murder"1/27/52 - "The Murder of Little Philip Avery"2/3/52 - "The Pete Williams Case"2/10/52 - "The Case of the Innocent Bystander"2/17/52 - "The Case of the Late Mrs. Harvey"3/2/52 - "The Case of Air Cadet Gordon"3/30/52 - "The Murder of a Bloody Belgiam"4/27/52 - "The Case of Francesca Nicholson5/18/52 - "The Case of Sidney Wolfe"5/25/52 - "The Case of Maggie Rawlinson"6/1/52 - "The Case of Winifred Hogg"6/15/52 - "The Case of the Homemade Reticule"7/6/52 - "The Murder of Mr. Street"8/3/52 - "The Case of Nora Brady"
Genre
Radio / podcasts
Listen to a sample