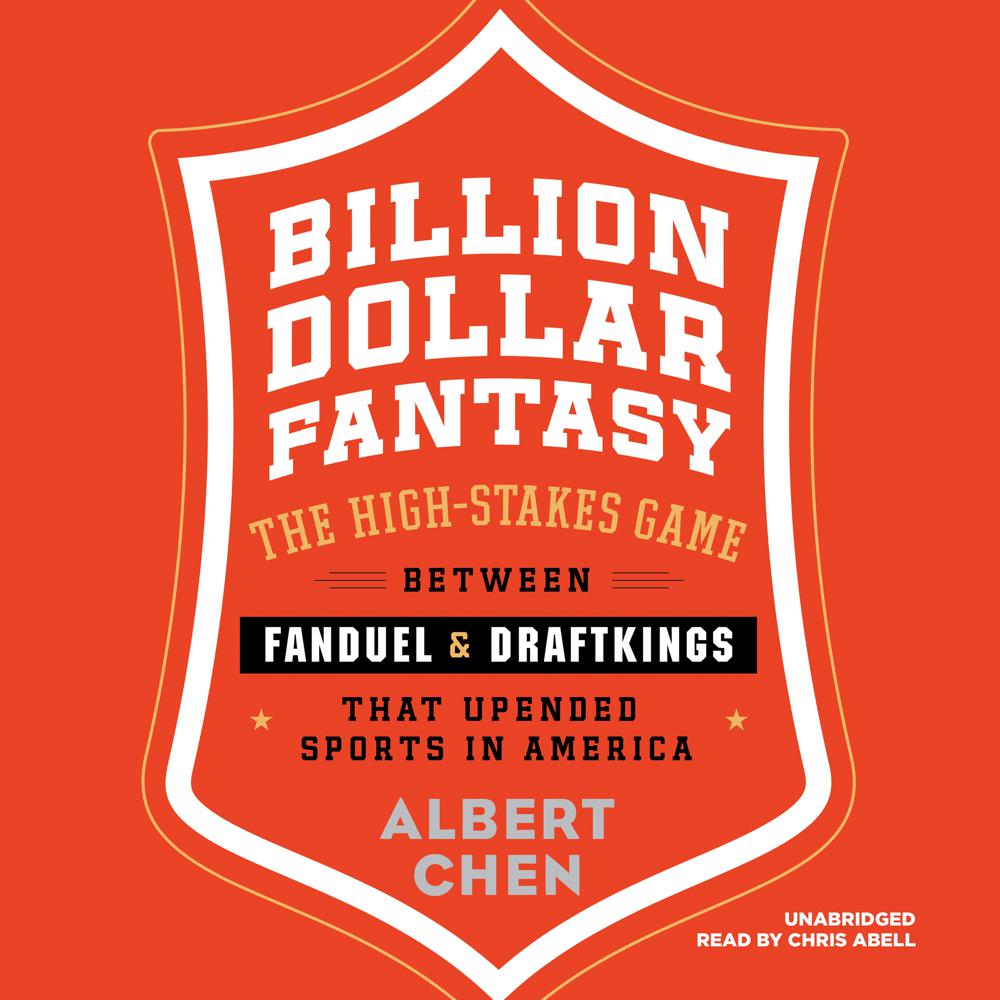 Narrated By: Chris Abell
Duration: 8 hours and 41 minutes
What to expect
The story of the rise of daily fantasy sports, and the brilliant entrepreneurs disrupting the way we consume sports
The inside story of the rise, fall, and rise of FanDuel and DraftKings—two companies that began as obscure start-ups and, seemingly overnight, became billion-dollar companies, and just as quickly found themselves the target of the FBI and Department of Justice and the center of a national scandal.
Veteran sportswriter Albert Chen draws on candid, unprecedented interviews with every key player in tech, sports, gambling, and the fantasy leagues to create a breakneck narrative around a group of entrepreneurs, players, and gamblers. Billion Dollar Fantasy recounts the origins of modern gambling and fantasy sports in America, and follows the unlikely rise of the fantasy sports world through the lens of the two start-ups at the center of the story.
For fans of The Big Short, The Facebook Effect, or Bringing Down the House, this book tells the tale of a culture of risk, hubris, greed, redemption, and a group of larger-than-life characters trying to make sense of the complex new world they've created.
Genre
American football, E-commerce: business aspects, Online finance and investing, Popular culture
Listen to a sample
"When FanDuel and DraftKings exploded onto the scene, I thought, 'I'm not sure one of these businesses can work. How possibly can two?' In Billion Dollar Fantasy, Albert Chen answers all the questions about the strange intersection of sports, gambling, start-ups, and fast money that spawned these improbable companies. A great read."
"Billion Dollar Fantasy is The Social Network, only more scandalous. Albert Chen has written an exhilarating, cinematic account of the rapid rise and fall and rise again of a pair of odds-defying unicorns and the bootstrapping impresarios who created them. This book deserves to be devoured by gamblers and entrepreneurs, in poker rooms and boardrooms alike."
"Fans of financial thrillers such as Barbarians at the Gate will be excited by this insider account of the dizzying rise of fantasy sports websites."
"The brisk narrative moves nimbly through the online entertainment industry and will find fans among those intrigued by fantasy sports."
"A rollicking, riveting account of an improbable start-up war that invaded all of our living rooms and paved the way for sports gambling across America. Magic/Bird, Red Sox / Yankees, Federer/Nadal…FanDuel/DraftKings: The same rivalry dynamics that fuel such passion and tribalism in sports come alive in this addictive account that's about so much more than the business of sports. For anyone who's ever had a billion-dollar fantasy, it's both an inspirational story and a cautionary tale."