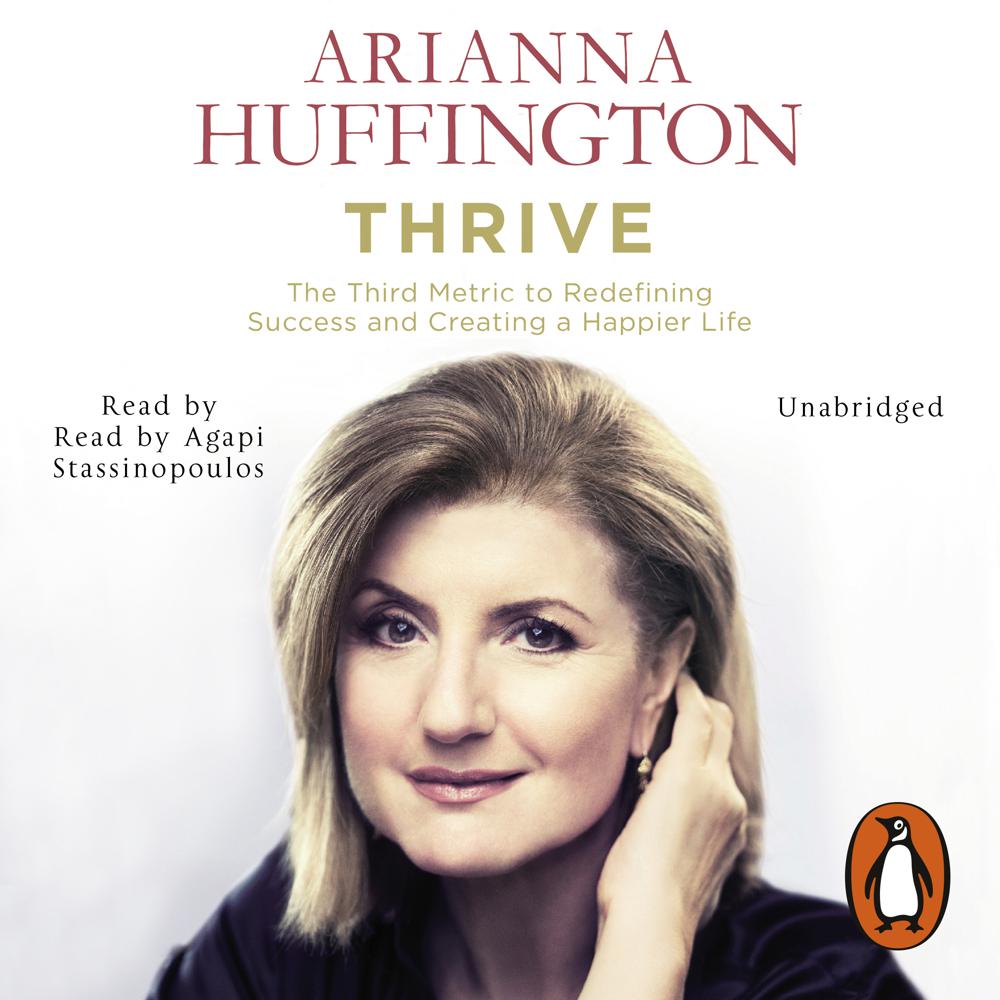 Narrated By: Agapi Stassinopoulos
Duration: 9 hours and 54 minutes
What to expect
Brought to you by Penguin.


In Thrive, Arianna Huffington, the co-founder and editor-in-chief of the Huffington Post and one of the most influential women in the world, has written a passionate call to arms, looking to redefine what it means to be successful in today's world.

She likens our drive for money and power to two legs of a three-legged stool. It may hold us up temporarily, but sooner or later we're going to topple over. We need a third leg - a Third Metric for defining success - in order to live a healthy, productive, and meaningful life.

In this deeply personal book, Arianna talks candidly about her own challenges with managing time and prioritising the demands of a career and two daughters. Drawing on the latest groundbreaking research and scientific findings in the fields of psychology, sports, sleep and physiology that show the profound and transformative effects of meditation, mindfulness, unplugging and giving, Arianna shows us the way to a revolution in our culture, our thinking, our workplaces, and our lives.


© Arianna Huffington 2014 (P) Penguin Audio 2014
Genre
Memoirs, Self-help, personal development and practical advice
Listen to a sample
In Thrive, Arianna urges all of us to get in touch with who we really are so that we can live life on our own terms. From the importance of sleep to the imperative to listen to our own inner voice for ways to deal with the daily time crunches we all feel, this book lays out a path for each of us to look within and make our lives more authentic and fulfilling.
At once intimate and formidable, this book is Arianna Huffington at her persuasive best. Thrive is a clarion call, a meditation, and a practical response to the question of how to live.
Once in a generation, a book comes along that can truly transform your life. This is it. The most unhappy people are those who have achieved unfathomable money, power, and fame and found that it didn't bring them the happiness they were seeking. Now what? Thrive doesn't show just how to become more successful; it shows how to realize and experience what matters most.
Thrive is a captivating look at what it takes to live a more meaningful, satisfying life. Brimming with passion, supported by science, and crowned with practical insights, Arianna's exceptional book will transform our workplaces, schools, and families.
Arianna Huffington has written a passionate and much needed prescription for reshaping life from the inside out. Turn off your cell phone, your email, Facebook, Twitter, Instagram and every other tool of the stressed-out, distracted world to spend some time thinking about grace, joy and wonder. You'll be glad you did.