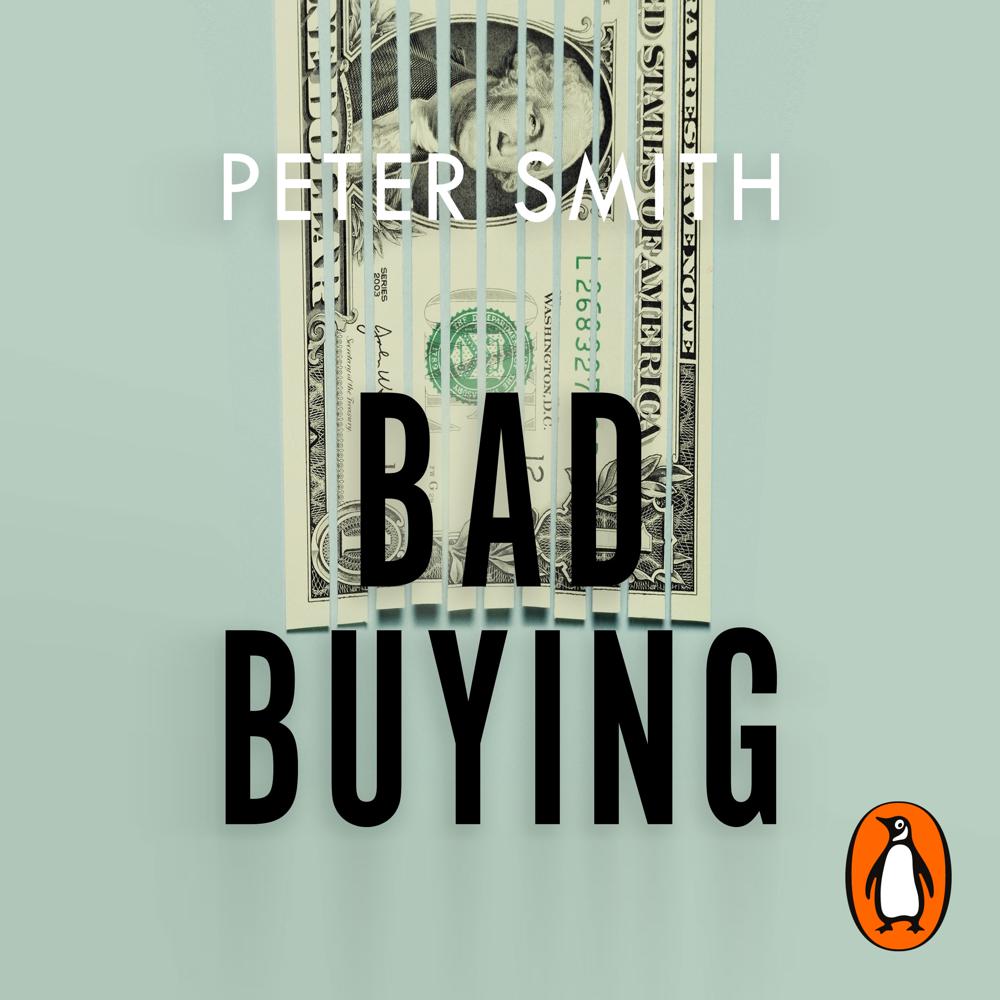 Narrated By: Peter Noble
Duration: 10 hours and 27 minutes
What to expect
Brought to you by Penguin.

Why is the Berlin Brandenburg Airport ten years behind schedule and nearly four billion euros over budget? And what possessed Kenya's government to spend a whopping $35 million on a chain link fence just six miles long?

In this hilarious, fascinating and insightful expose, industry insider Peter Smith reveals the massive blunders and dodgy dealings taking place around the world as private companies and public sector bodies buy goods and services. A recent report showed that over 90% of procurement projects fail. So, why are so many billions wasted on ineptitude, mismanagement and, in some cases, fraud?

By turns an entertaining account of some of the worst procurement scams in history and also a resounding lesson in how not to operate, Bad Buying offers clear and practical advice on how to avoid embarrassing mistakes, minimise needless waste and make sound, strategic procurement decisions on your next initiative.

'Had this been published pre-Covid, some of the recent f*ck-ups and waste might have been avoided. It's a must read for the public and private sector alike' Lt-Gen. Sir Andrew Gregory, SSAFA: The Armed Forces Charity

'Hilarious, enlightening and brilliant....This book will make you think twice about buying anything - but do buy this' Antonio Weiss, bestselling author of 101 Business Ideas That Will Change the Way you Work, and Director, The PSC

© Peter Smith 2020 (P) Penguin Audio 2020
Genre
Purchasing & supply management, Fraud, Takeovers, mergers & buy-outs, Business negotiation, International trade & commerce, Project management, Soft skills & dealing with other people
Listen to a sample
This book is a revelation ... actually it's full of them, all costly catastrophes. Factually rich, funny and full of practical hard-earned wisdom, it is also an extensively-referenced portal into a parallel how-to universe where great buying delivers remarkable business results. If you don't read this book, you may find yourself in the next one!
This book is a great effort to dig the challenges out of the back office of procurement and bring to the fore the opportunities for improvement... If you want to improve your chances of not being done by Bad Buying, there's no better place than this book to see what the risks are and begin to understand how to avoid them
Bad buying tells story after story of bad buying for both novices and experts alike - and shows us a roadmap to doing it better.
A must read for Boards, CEOs and Governments. The case studies remind us all that there is 'no such thing as a free lunch' and 'if it's too good to be true it usually is'. Buyer beware, and never underestimate you stakeholder or your suppliers. Instead, build relationships and trust
This book is a fascinating account of the biggest buying blunders by private and public sectors alike. Written in his trademark dashing and fluent style, doesn't just expose hilarious dodgy stories with Schadenfreude but offers insightful and practical advice on how to avoid career limiting mistakes
Purchasing plays such an important role in business success, but is also one of the least understood activities. Using case studies from around the globe, Bad Buying has illuminated how and why organisations can get it wrong when it comes to spending money with suppliers. This is a timely, informative and highly entertaining read!
An unusual business book in that it is both useful to readers and also genuinely entertaining with fascinating stories of failure and fraud from around the world and every sector
A hilarious, enlightening and brilliant look at how organisations - public and private - have been guilty of horrendous buying failures. Not content with just lifting the lid on some of the most egregious excesses in history, Peter Smith provides insightful and practical advice to avoid repeating such disasters. This book will make you think twice about buying anything - but do buy this
Colossal, costly disasters could be averted if those holding the purse strings read this book.
Bad Buying has a rich set of examples of both corrupt practices and unintentional but costly and wasteful mistakes made by business professionals. With trillions spent by organisations buying goods and services, every executive who is involved in or oversees those processes needs to make this a must read
Covid-19 restrictions have put the spotlight on global supply chains and the difficulties caused when everybody wants to buy the same thing at the same time. Peter's book highlights where buying can go catastrophically wrong and how to avoid these pitfalls. Had this been published pre-Covid, some of the recent c*ck-ups and waste might have been avoided. It's a must read for the public and private sector alike
A great opportunity to learn from other people's mistakes, not your own. Through exceptionally well researched examples, Peter teaches both new and established professionals how to avoid the same mistakes. I thoroughly recommend this book to anybody involved in, or responsible for spending money for their organisation
In turns informative, shocking and amusing, Bad Buying explores the career-limiting catastrophes to avoid and sets out a vision for better buying, not only stewarding finances responsibly but also supporting the firm's purpose and place in the community
A refreshingly different take on how to be great at procurement by learning from a plethora of examples of painful, unbelievable, funny and downright stupid buying by organisations, or more precisely the people in them. A brilliantly unique and insightful read from one of the most experienced individuals in this space