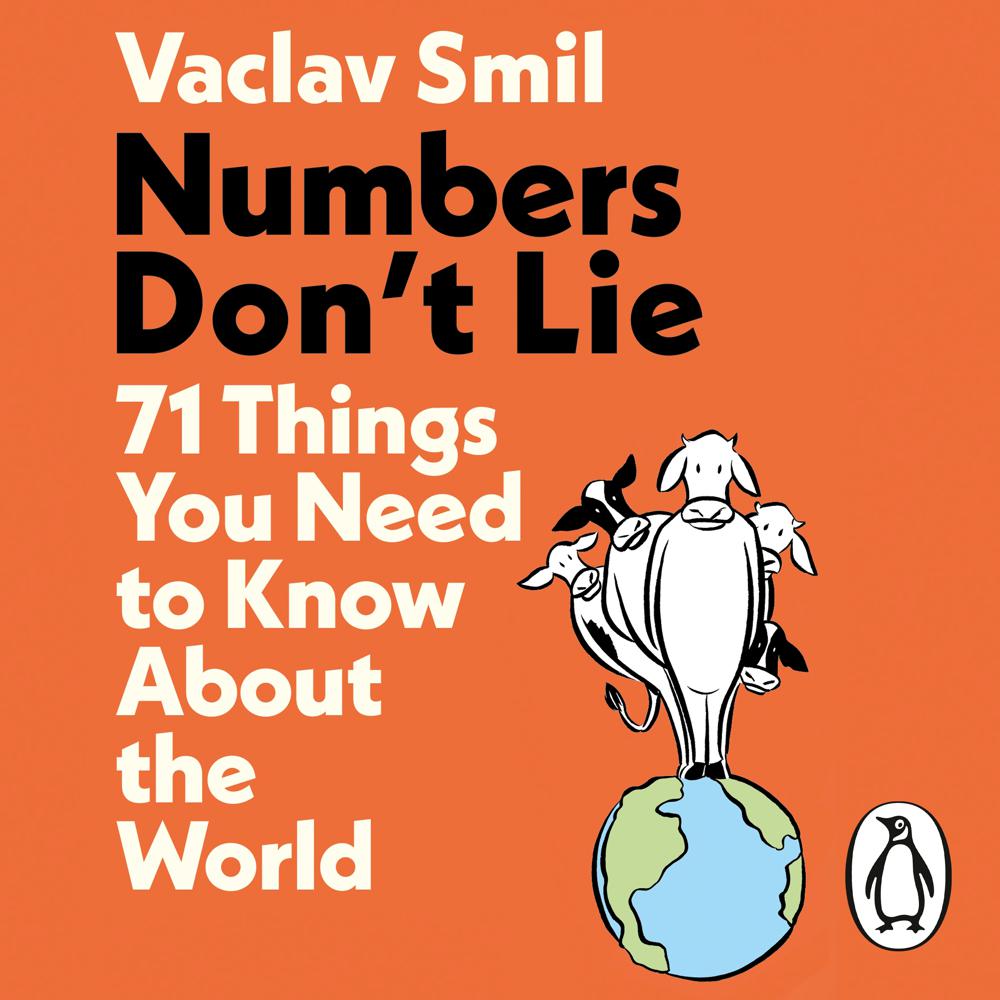 Narrated By: Stephen Perring
Duration: 5 hours and 46 minutes
What to expect
Brought to you by Penguin.

Is flying dangerous? How much do the world's cows weigh? And what makes people happy?

From earth's nations and inhabitants, through the fuels and foods that energize them, to the transportation and inventions of our modern world - and how all of this affects the planet itself - in Numbers Don't Lie, Professor Vaclav Smil takes us on a fact-finding adventure, using surprising statistics and illuminating graphs to challenge lazy thinking.

Packed with 'Well-I-never-knew-that' information and with fascinating and unusual examples throughout, we find out how many people it took to build the Great Pyramid, that vaccination yields the best return on investment, and why electric cars aren't as great as we think (yet). There's a wonderful mix of science, history and wit, all in bite-sized chapters on a broad range of topics.

Urgent and essential, Numbers Don't Lie inspires readers to interrogate what they take to be true in these significant times. Smil is on a mission to make facts matter, because after all, numbers may not lie, but which truth do they convey?

'There is no author whose books I look forward to more than Vaclav Smil' Bill Gates

'The best book to read to better understand our world. Once in a while a book comes along that helps us see our planet more clearly. By showing us numbers about science, health, green technology and more, Smil's book does just that. It should be on every bookshelf!' Linda Yueh, author of The Great Economists

'He is rigorously numeric, using data to illuminate every topic he writes about. The word "polymath" was invented to describe people like him' Bill Gates

'Important' Mark Zuckerberg, on Energy

'One of the world's foremost thinkers on development history and a master of statistical analysis . . . The nerd's nerd' Guardian

'There is perhaps no other academic who paints pictures with numbers like Smil' Guardian

'In a world of specialized intellectuals, Smil is an ambitious and astonishing polymath who swings for fences . . . They're among the most data-heavy books you'll find, with a remarkable way of framing basic facts' Wired

'He's a slayer of bullshit' David Keith, Gordon McKay Professor of Applied Physics & Professor of Public Policy, Harvard University

© Vaclav Smil 2020 (P) Penguin Audio 2020
Genre
Popular and recreational mathematics, Probability & statistics, General & world history, History of science, Impact of science & technology on society, Scientific research, Industrial applications of scientific research & technological innovation, Materials / States of matter, Environmentalist thought & ideology, Petroleum technology, Wind power, Energy efficiency
Listen to a sample
A book for anyone confused by statistics or dubious of data in a world where numbers seem to mean everything and nothing. Vaclav Smil's new book reveals why diesel isn't as bad as you think, how much food is really being wasted, what actually makes people happy, and much more.
The human mind soaks up the images and narratives conveyed by the press, but they are a highly nonrandom sample of reality: the lurid, the sudden, the photogenic. Smil's title says it all: to understand the world, you need to follow the trendlines, not the headlines. This is a compelling, fascinating, and most important, realistic portrait of the world and where it's going
One of the world's foremost thinkers on development history and a master of statistical analysis . . . The nerd's nerd
The best book to read to better understand our world. Once in a while a book comes along that helps us see our planet more clearly. By showing us numbers about science, health, green technology and more, Smil's book does just that. It should be on every bookshelf!
Important