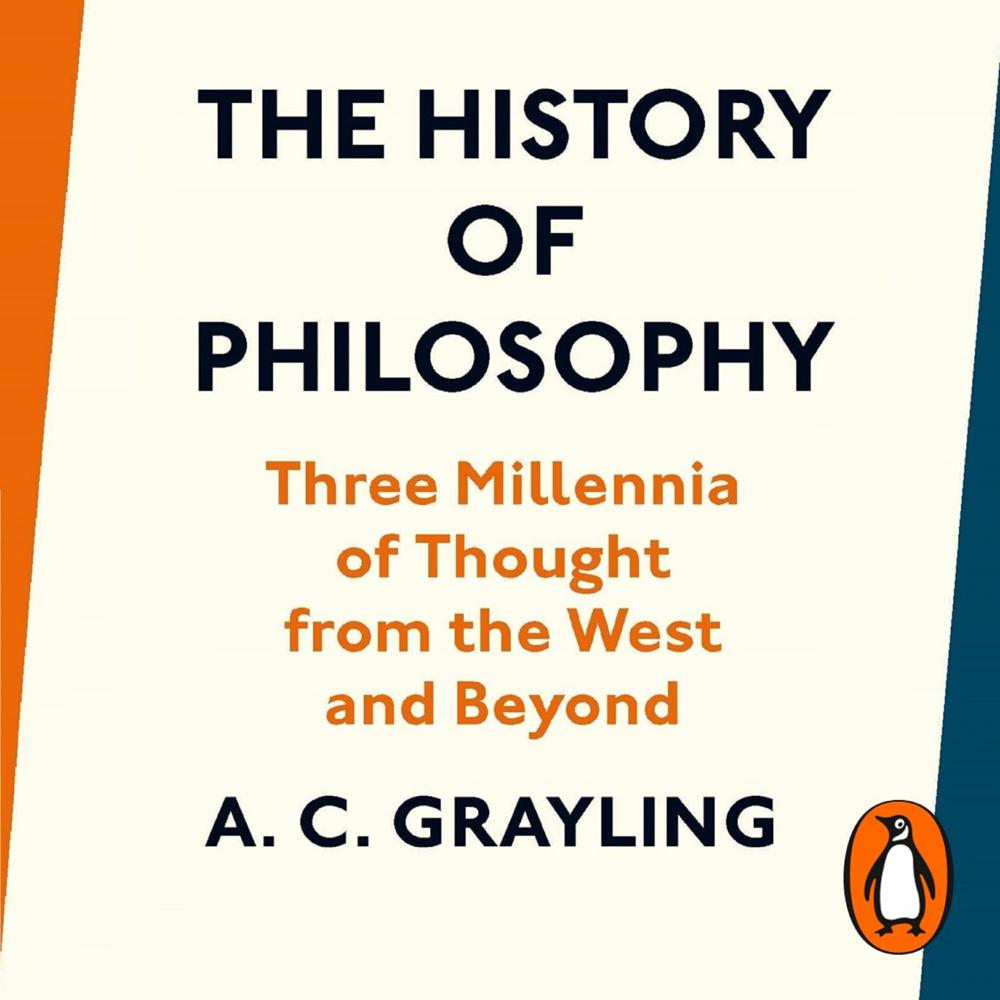 Narrated By: Neil Gardner
Duration: 1 day, 4 hours and 7 minutes
What to expect
Penguin presents the audiobook edition of The History of Philosophy written by A.C. Grayling, read by Neil Gardner.

The story of philosophy is an epic tale: an exploration of the ideas, views and teachings of some of the most creative minds known to humanity. But since the long-popular classic Bertrand Russell's History of Western Philosophy, first published in 1945, there has been no comprehensive and entertaining, single-volume history of this great intellectual journey.

With his characteristic clarity and elegance A. C. Grayling takes the reader from the world-views and moralities before the age of the Buddha, Confucius and Socrates, through Christianity's dominance of the European mind to the Renaissance and Enlightenment, and on to Mill, Nietzsche, Sartre, and philosophy today. And, since the story of philosophy is incomplete without mention of the great philosophical traditions of India, China and the Persian-Arabic world, he gives a comparative survey of them too.

Intelligible for students and eye-opening for philosophy readers, he covers epistemology, metaphysics, ethics, aesthetics, logic, the philosophy of mind, the philosophy of language, political philosophy and the history of debates in these areas of enquiry, through the ideas of the celebrated philosophers as well as less well-known influential thinkers. He also asks what we have learnt from this body of thought, and what progress is still to be made.

The first authoritative and accessible single-volume history of philosophy for decades, remarkable for its range and clarity, this is a landmark work.
Genre
Popular philosophy, Humanist philosophy, East Asian & Indian philosophy, Western philosophy: Enlightenment, Topics in philosophy, History of ideas, History of religion, Biography: philosophy & social sciences, General & world history
Listen to a sample
Five minutes with any passage will have you contemplating all day
Lucid, informative and admirably accessible
If there is any such person in Britain as The Thinking Man, it is A. C. Grayling
He's more historically-minded than Russell, less dogmatic than Dawkins and less in thrall to the charms of his own fluency than Hitchens
Grayling writes with clarity, elegance and the occasional aphoristic twist
Grayling has written a masterful and often entertaining chronicle of the epic intellectual journey we humans have taken, in different periods, countries and cultures, to understand ourselves, our world, and how we ought to live. An extraordinary accomplishment that transcends the usual bounds of academic specialization
The History of Philosophy is an excellent overview of great philosophical thought by an insightful practitioner of the field. It is a credit to Grayling's abilities that he has penned such a perspicuous book on some very difficult subjects-giving the a reader a clear overview of the complexities of Scholastic logic, Analytic philosophies of language and mind, and much else besides is no easy feat, but Grayling has achieved it. This is a book to be treasured, both as a guide to the subject and as a beautiful piece of writing in itself, containing great insight and wisdom. It is a testament to the continuing importance and value of philosophy.
Accurately offers itself as a successor to [Bertrand] Russell's classic survey . . . No other popular survey possesses this range . . . The History of Philosophy isn't just worth buying; it's worth scribbling in and dog-earing. For a work of scholarship, there can be no higher praise.
Undeniably thought-provoking
I find the clarity of his thinking so refreshing
Grayling is particularly good at illuminating the knottiness of moral discourse
A cerebrally enjoyable survey, written with great clarity and touches of wit . . . The non-western section throws up some fascinating revelations