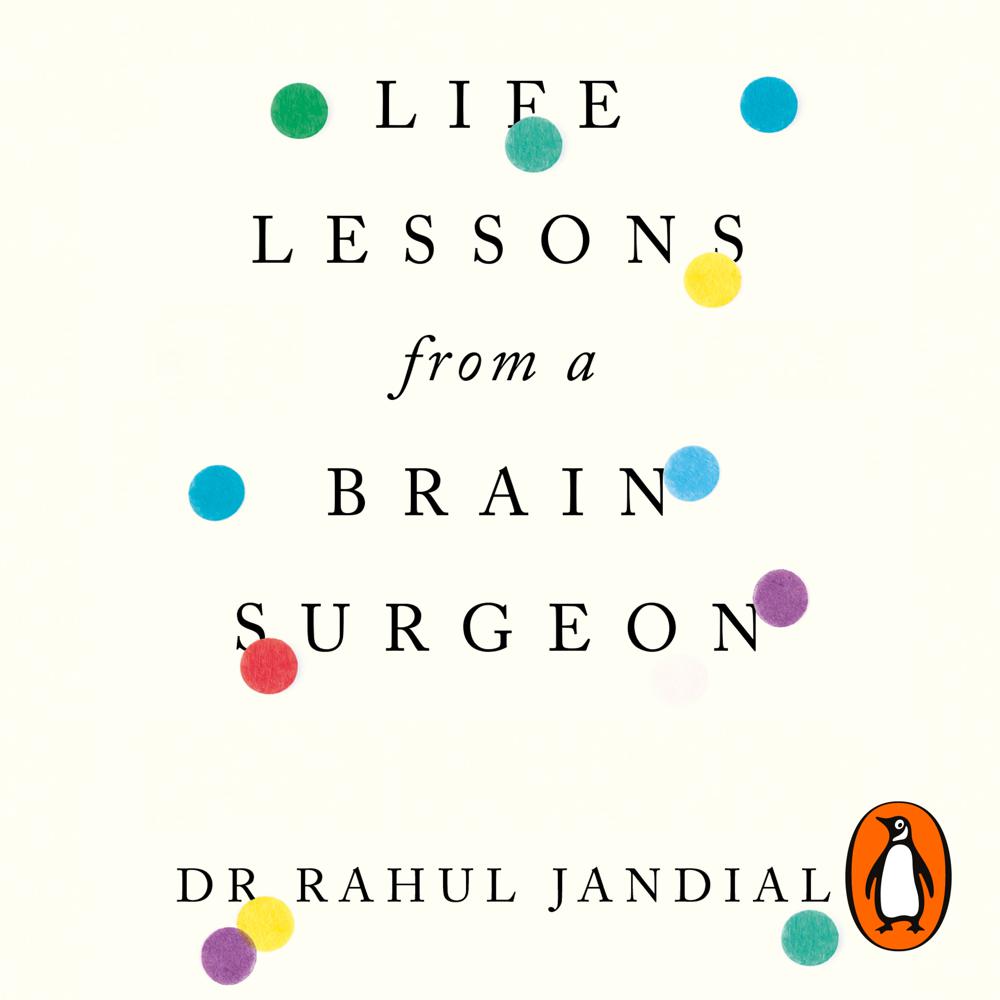 Narrated By: Graham Winton
Duration: 6 hours and 55 minutes
What to expect
Penguin presents the audiobook edition of Life Lessons from a Brain Surgeon written by Rahul Jandial, read by Graham Winton.

**THE SUNDAY TIMES BESTSELLER**

'You're amazing I could talk to you (Rahul) all day' Chris Evans

'This is a gripping new book' The Times

World-leading neuroscientist and neurosurgeon Dr Rahul Jandial draws on his years of work with patients suffering from the most extreme cases of brain damage, disorders and illnesses to reveal what they can tell us about the science of the mind.

From a languages teacher who has to choose whether to lose her ability to speak Spanish or English after brain surgery, to a former TV exec, now homeless, who discovers that his life-altering despondency is the result of a tumour, to a fainting teen who learns that deep breathing can mean the difference between life or death, these stories uncover the secret workings of the brain.

Blending cutting-edge research and beautiful storytelling, Life Lessons from a Brain Surgeon is a vital resource on the best ways to boost your memory, control stress and emotions, minimize pain, unleash your creativity, raise smart kids and reduce the risk of Alzheimer's. This is a deeply practical and readable book, which will take you on an expedition through the anatomy of the most fascinating - and mysterious - of organs.

Rahul's new book Life on a Knife's Edge is out June and available to pre-order now.
Genre
Popular medicine and health, Rehabilitation: brain and spinal injuries, Health psychology, Autobiography: science, technology and medicine, Neurosurgery, Neurosciences
Listen to a sample
A compelling insight into that special organ that surgeons cannot replace
A powerful and trustworthy insight into the brain. You will love his playful story telling and guidance
Rahul Jandial's truth and honesty is fantastic and his knowledge is amazing
Forget supplements and pricey potions - these easy, doctor-approved exercises and lifestyle upgrades can help boost your brain at any age
Want to be happier, feel younger AND stave off dementia? Then try a leading neurosurgeon's brilliantly simple workouts for your little grey cells with this ingenious "BOOTCAMP FOR YOUR BRAIN"
Finally! A book about the brain that has gripping stories, easy to understand science, and useful tips that people can use in their daily lives. If you only read one book about the human brain, this should be the one. This book makes me even more proud of our unique craft - brain surgery and neuroscience
World-leading neuroscientist Dr Rahul Jandial takes readers on a journey through the body's most mysterious organ. As well as revealing the secrets of the working brain, he offers tips on boosting memory, minimising pain and cutting Alzheimer's risk
Who knew a book about the human brain could be so enlightening and enjoyable at the same time? Science has come a long way and Dr. Rahul Jandial is on the leading edge of some of the most promising and innovative breakthroughs in treating the brain. In Life Lessons from a Brain Surgeon Jandial strikes an elegant balance between highlighting scientific discoveries, "busting" popular myths and providing realistic tips that can be applied to everyday life. The stories he shares about his experiences and the brain's ability to adapt and heal are incredibly inspiring